As the days of 2019 slowly drip away with the New Year steadily approaching, it's a time when we reflect on the year behind us. For me, that obviously means it's time to look back at my past year of covering theatre in the Kawarthas.
To me, covering the arts is more than a job but a lifestyle, and an element of my life that is interesting, enriching, and exciting. Just as the people who perform have a passion in creating it, I have a passion for writing about it. As a result, I covered 53 art events in 2019 for kawarthaNOW (and saw even more that I wasn't able to cover). This not only kept me busy, but marked the most events I've ever covered in a single year.
In 2019, I took a bit of a different approach in writing about theatre. Instead of acting as a "reviewer", I looked at my role as an arts writer, working with the directors and companies whenever possible to help promote every show by giving readers the information they needed to decide whether to go to a show.
Advertisement - content continues below
Whenever possible, I reported on what you'd see but left it in each individual audience member's hands to decide for themselves if it was "good" or "bad." The result was a new sort of relationship with the theatre community made up of mutual trust and respect, which I feel created a better way of reporting on theatre and a richer way to support the arts.
In all honesty, there was a higher percentage of truly good theatre this year than ever before, and when compiling a list of "the best of 2019", my shortlist was filled with memorable shows. The result is that it is harder than usual to narrow the list down to only a few highlights. So, in creating a list of the best I chose the shows that, for one reason or another, captured my imagination and stuck with me for days — and sometimes even weeks — after I saw them.
Best Plays of 2019 (in chronological order)
Grace (June 2019 at The Theatre on King)
Written and directed by Frank Flynn and featuring Sheila Charleton
There is a tradition of storytelling that belongs to older women, who can weave a narrative about people we don't know and places we'll never be, so we hold onto every word as if the next sentence will provide the secret of life.
Local writer Frank Flynn captures that special brand of narrative in his one-woman show Grace. Written in 2006, Grace has since been performed throughout the world, but it was with actress Sheila Charleton that Frank finally brought his powerful and emotional show to Peterborough for the first time.
Standing strong and proud, Sheila gave a hypnotizing performance as a smart and practical woman filled with years of common sense and wisdom, packing away her home to start a new beginning. As she talks about a series of different subjects, she eventually goes down the rabbit hole of telling the story of two of her eight children: Tom, who has conquered life despite ailing of a crippling disability, and Janie, who became estranged from the family due to joining a religious cult.
With a strong stage presence that sucked the audience in, you could hear a pin drop during Sheila's moving performance. Afterwards I was filled with the memories of the wise women from my own past, trying to remember the stories that they told me. Sheila became an embodiment of the souls of these women in a truly powerful one-woman performance.
Bloom: A Rock n' Roll Fable (July 2019 at 4th Line Theatre)
Written by Beau Dixon, directed by Kim Blackwell, and featuring Kate Suhr, Owen Stahn, and Eli Tanner with music by Beau Dixon and Dave Tough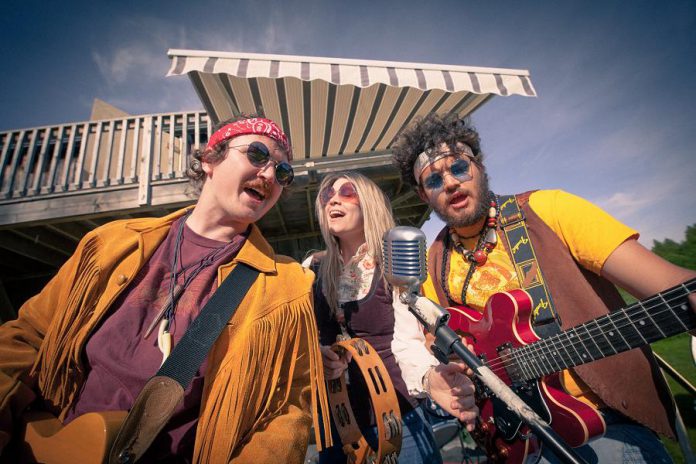 Local musical icon Beau Dixon teamed up with 4th Line Theatre's Kim Blackwell to create a new rock n' roll story in Bloom: A Rock n' Roll Fable, which made its world debut at the Winslow Farm this past summer.
Together they brought to life the story of fictional Canadian folk-rock band The Spruce Street Ramblers, formed by best friends Nef Burnstall (Owen Stahn) and Griffin Clark (Eli Tanner), two rock n' roll dreamers from the nearby town of Assumption. Toiling as a cover band in bars and taverns between Peterborough and Ottawa, it's not until the boys meet folk singer Tess Wilson (Kate Suhr) that their group finally breaks into the Canadian music scene.
Following the group's rise and fall from 1956 to 1976, Bloom captured all the elements of a good rock n' roll story: joy and passion, ambition and greed, betrayal and jealousy, and tragedy and redemption. But at the heart of it, Bloom explored the thrill and love of creating music.
Bloom was not just a crowd-pleasing drama filled with fantastic original music and endearing characters, but also doubled as a love letter to the Canadian music industry. Filled with references to recognizable icons from Ian and Sylvia to Rush, Bloom was a story that felt distinctly Canadian, and echoed the experiences, sounds, and attitudes of Canadian musicians from yesterday and today.
Advertisement - content continues below
Repatriation to the Moon (August 2019 at Artspace)
Written by Chris Whidden and starring Chris Whidden and Peyton Le Barr
When Chris Whidden and Peyton Le Barr introduced themselves this summer by forming a new theatre company, Grassboots Theatre, they made a huge impression among the theatre community with their debut presentation of Chris' original show Repatriation to the Moon.
Inspired by a photograph of Chris' great uncle Wladyslav Dutkiewic, an actor and a member of the Polish resistance during WWII, this remarkable show explored romance and displacement in front of a backdrop of fascism and totalitarianism. Focusing on movement and physical theatre and with limited moments of dialogue, Chris and Peyton told the story of an unlikely romance between a Polish janitor and an Italian rocket scientist.
Featuring equal parts comedy and horror, Repatriation to the Moon was a memorable debut filled with laughter, fantasy, suspense, and shocks. Along the way, Chris and Peyton gave moving and emotional performances that brought the audience to tears and left them wanting more.
Chris and Peyton secured their place in Peterborough's theatre community with this powerful and charming piece of performance art.
Little One (October 2019 at Peterborough Theatre Guild)
Written by Hannah Moscovitch, directed by Lee Bolton, and starring Chris Whidden and Peyton Le Barr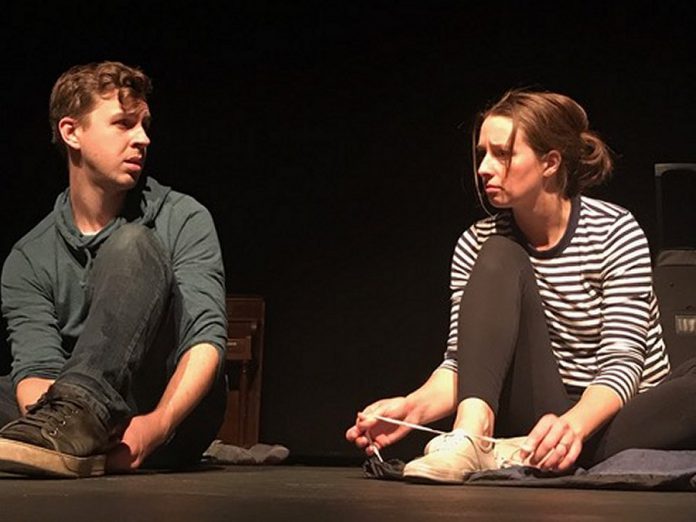 I'll admit I have a difficult relationship with Little One. Was it a show that I enjoyed? I'm not certain. Would I want to sit through it again? Doubtful.
So why would it be on my list of the best? Well, despite the lack of enjoyment factor in this dark psychological drama, Hannah Moscovitch's Little One was not only masterfully performed and produced, but left an imprint on my mind as if a cigarette had been put out on my brain. Potentially the most disturbing piece of theatre I have ever seen during my time writing for kawarthaNOW, it left me thinking for weeks afterwards, which is what a powerful piece of theatre should do.
Coming off of their success with Repatriation to the Moon, Chris Whiddon and Peyton Le Barr teamed up with Lee Bolton to tell a very different type of story. Chris and Peyton played two orphans, Aaron and Claire, who are adopted into a well-meaning family. But while Chris is well adjusted and normal, Claire came from an abusive background and exhibits psychopathic behaviour. As Aaron tries to be the good son and obey his parents' attempts at giving Claire a safe and loving home, his life becomes a horror story as the witness to Claire's violent and destructive behaviours.
A disturbing portrait of childhood trauma and abuse, Little One was not an easy show to watch, but under the careful sensibilities of director Lee Bolton the show was presented with dignity, depth, and humanity. What made the show so horrifying was the reality and sensitivity the actors brought to their characters, especially Peyton who succeeded in bringing a sympathetic soul to her character. I shudder at what a less-experienced team would have done with Little One.
After Little One was over, I just wanted to go straight home and hug my cat. The next morning, the first thought through my head was the haunting final line of the show, which shot chills down my spine again hours after I heard it. And I wasn't alone in my thoughts. Little One went on to sweep the Eastern Ontario Drama League Festival with awards for best production, best actor, best actress, and best director.
Spring Awakening (October 2019 at Market Hall Performing Arts Centre)
Directed by Dane Shumak and featuring Kevin Lemieux, Alessandra Ferreri, and Ryan Hancock
Now I'll be honest: when I heard director Dane Shumak of Cordwainer Productions was remounting the cult musical Spring Awakening, I wasn't very excited. Remembering his ambitious production of the same musical in 2014, I questioned why he was returning to that play and wondered if I really wanted to sit through it again.
But now six years older, wiser, and more experienced, Dane revived the production out of the ashes and into white hot flames with a vibrant and good-looking company made up of some of his original cast and some incredible new additions.
Based on a controversial 19th-century play by Frank Wedekind and turned into a rock opera by Duncan Sheik and Steven Sater, Spring Awakening was a Broadway sensation with a massive following of fans. Dealing with a plethora of subjects including teenage sexuality, rape, abuse, homosexuality, mental illness, and suicide, the play was a century ahead of its time when it was written in 1891 and still contains difficult material in 2019.
Dane assembled a powerhouse cast, fronted by Kevin Lemieux, Alessandra Ferreri, and Ryan Hancock, who brought the passion and the power of this show to the stage. I was so enamoured with the cast and the power of their performances, primarily the group musical numbers directed by Justin Hiscox, that I took every opportunity to go back and see it again and again.
Relevant, provocative, sexy and honest, Spring Awakening was filled with fire and passion presented by one of the most dynamic ensembles of the year.
Best Musical of 2019
Chicago: High School Edition (November 2019 at Lakefield College School)
Directed by Geoff and Rachel Bemrose and starring Catherine Kim, Kate Bemrose, Emile Boisjooly, Liam Davidson, and many more
This was a banner year for musicals, with theatre groups presenting one strong musical after another. But, for 2019, I need to bend my rules by selecting the Lakefield College School production of Chicago: High School Edition as the year's best musical — even though I did not write a review for kawarthaNOW due to the production being sold out prior to its opening.
However, while I didn't review the show, I was invited to attend and was blown away by the production. While it is a tough race for best musical, I'd be betraying Chicago if I did not acknowledge it as the most exciting musical of 2019.
Directed by the team of Rachel and Geoff Bemrose, there were multiple elements that made Chicago so memorable. One of the best production teams in the Kawarthas, Geoff and Rachel know how to direct young performers, and they constantly get the best out of them making the annual Lakefield College School musical an event in its own. But this year the pair brought their students far beyond anything I've seen before.
One of the best chorographers around, Rachel has always had a talent at creating memorable and inventive large group numbers. However, this time she had her performers defy physics in Chicago. She literally had dancers walking on their hands and swinging off of scarves from the rafters. Kate Bemrose, in the role of Velma Kelly, created a whirlwind in her performance of "I Can't Do It Alone" without losing her breath. The huge group numbers in this show were phenomenal, and left me stunned.
Also adding to the quality of the show was the performance of Catherine Kim as Roxie Hart. The third time I've seen her on stage in a Lakefield College School production, Catherine is the best upcoming musical actress anywhere, and if she pursues it, could become one of the theatrical giants within the industry. A triple threat who can sing, dance, and act, Catherine is a true gift.
While some questioned the appropriateness of Chicago as a high school production given the provocative nature of the subject matter, the cast proved themselves to be mature and capable enough to handle the material. They walked a fine line between being sexy and appropriate, but managed to make it work.
I was lucky and thrilled to be invited to this show filled with future stars. I only wish more people could have seen it. Chicago had style, young talent, and acrobatic chorography that allowed it to rise to the top in what was a strong year for musicals in Peterborough.
Advertisement - content continues below
Emerging Performer of 2019: Connor Clarkin
Although Connor Clarkin has been a part of Peterborough's theatre community for a number of years, in 2019 the young actor pushed himself to the top of his game in back-to-back musical performances as two iconic yet challenging classic roles.
In March, Connor played the wildly enigmatic Emcee in the Anne Shirley Theatre Company production of Cabaret, followed by a spirited performance in June as Hedwig in FO Theatrics production of Hedwig and the Angry Inch. For these two roles, Connor not only took a leap into creating two wildly larger-than-life characters, but he also managed to bring a sense of humanity and tragedy to the characters, pulling off their whimsical personas and revealing the pain and darkness that lay beneath the surface.
Connor proved himself to not only be a gifted musical actor, but a tremendous dramatic actor who, in both roles, left me in tears at the end of his performances. His masterful take on these two beloved but difficult characters proved that Connor is one of the finest young performers in Peterborough, making him step out of the background and into the role of a leading man with the ability to pull off eccentric characters.
I've since learned of Connor's next project in 2020, which I won't reveal at this time, but it may be his most challenging and potentially controversial role yet. However, with the sense of depth and tremendous talent at bringing both excitement and raw emotion to the stage, I know that Connor is the actor to bring this yet-to-be-announced project to life. Exciting things are in store for Connor in 2020 and I am excited to see what comes next.
Additional Shout-outs
The local film community
In 2019, I found myself covering more local films than ever before. There is a colourful and vibrant film community within the Kawarthas, and in the past year they were more active than ever.
Starting with Slater Jewel-Kemker's documentary Youth Unstoppable, which opened the ReFrame Film Festival last January, I became extremely aware of more local film projects as the year continued, primarily via connections with the Kawartha Lakes Film Industry — a collective of filmmakers with different talents who support and collaborate on local film projects.
In August, I sat down with Frank Flynn to discuss his film Surfacing, which he created with Blake Edwards and Rachel Bemrose via Art for Awareness. Although it had made its debut in 2017's ReFrame festival, kawarthaNOW helped bring it to a wider audience once it became available online.
In October, I was delighted to cover Michael Hayes and Brendan Fell's family fantasy film The Basement Monster which had its premiere at Showplace Performance Centre in a charity event that raised funds for Habitat for Humanity.
I closed the year in November with Wyatt Lamoureux and Jamie Oxenham's psychosocial thriller Apple Pie, Ice Cream which premiered at Market Hall to an appreciative audience.
It's a real joy to not only see the community coming together to support one another in creating astonishingly inspirational cinema, but also to see these films reach an audience.
I would like all filmmakers in the Kawarthas to know that I want to visit with them about their projects, and if they have a film near completion that is going to be accessible to an audience (whether online, on a streaming service, or at a screening), please reach out to me. I want to share your story and your film.
Andy Carroll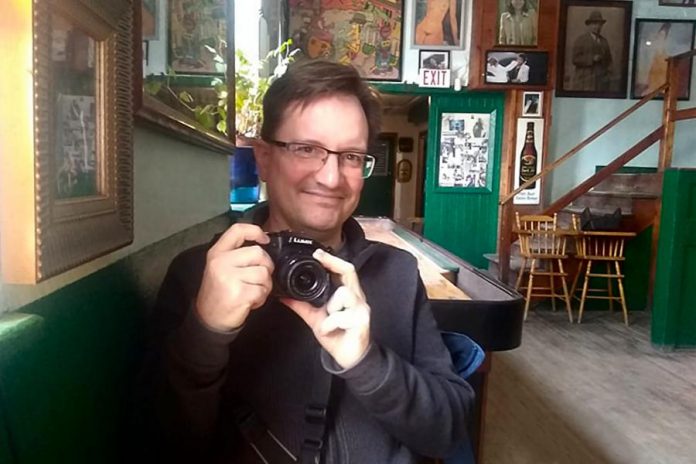 In a similar way to my chronicling Peterborough's theatre community with words, Andy Carroll has been chronicling the entertainment landscape with his photographs.
One of Peterborough's most recognizable and respected photographers, Andy's archive of vibrant entertainment photos and haunting cityscapes have created a following for him all its own. Andy and I have had a long collaboration of combining our words and photos and I am eternally thankful that Andy shares his photos for my articles at kawarthaNOW, making for some of the most stunning visuals that accompany my write-ups.
This year it was a great honour to have Andy sit with me and talk for a feature article dedicated to him and his work. Always modest, Andy was reluctant to do so, saying that there was no story to be told. However, my story on Andy and his camera was one of my most read stories of 2019.
Thank you Andy for the work you do, and for sharing your photos and unique vision with kawarthaNOW.
Altaire Gural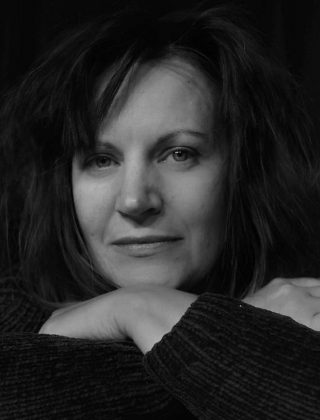 People come into our lives to challenge us and teach us.
Although my understanding of theatre arts has grown organically, in 2019 playwright and director Altaire Gural helped me increase my understanding like no one has ever done before and pushed me to places I never thought I'd ever go, giving me a true education in the performance arts.
A frequent companion as I toured theatres and I previewed shows, Altaire taught me new things to look for and challenged my opinions and ideas.
We didn't always agree on everything I wrote, but through our conversations I felt I began to understand theatre in a different way.
Altaire also pushed me beyond being an observer and drew back the curtain so that I could actually gain practical experience and learn about the real theatre experience.
Making her home base at the Lindsay Little Theatre, where she has gained the reputation as a prominent acting coach for young performers (propelling many towards opportunities in television, film, and commercials), Altaire allowed me to sit through weeks of her acting intensive Kaleidoscope in the spring of 2019, where I not only watched the development of young performers from the audition process to the final performance, but discovered what it was like to be part of a theatre family.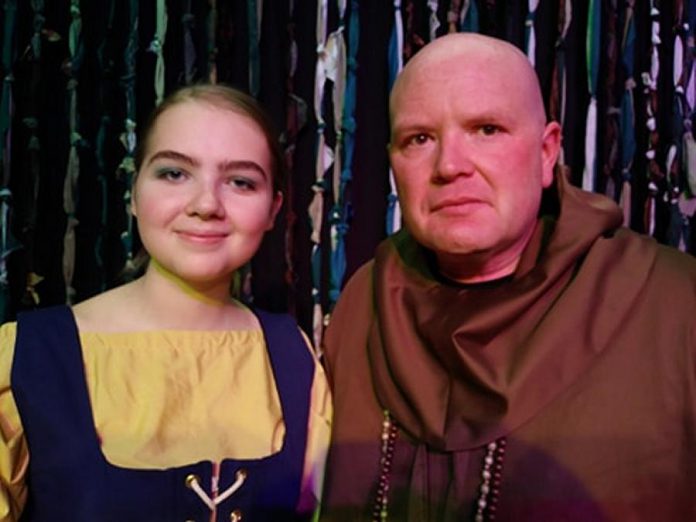 This led to Altaire "voluntelling" me for a small role in her production of The Heart of Robin Hood, that went on stage to a sell-out audience in November. From learning lines to attending rehearsals to getting in front of an audience, I learned real lessons about the dedication and drive that goes into putting on productions.
Altaire has not only been a cherished confidante to me this year, but as a teacher, a mentor, and an influence who has helped me understand theatre more, she has also helped me become a better arts writer.
Thank you Altaire for everything you've taught me this past year, and for helping to shape the next generation of young performers in Ontario. The work you do with these actors is always among the most exciting things I watch all year.
Advertisement - content continues below
What to Look for in 2020
There are lots of exciting shows and films coming their way in 2020 that I'm looking forward to. Here are just a few:
In January, local filmmaker Rob Viscardis and LA Alfonso will be presenting their respective films, City of Widows and Circus Boy, at ReFrame Film Festival.
Also in January, New Stages take over The Theatre on King when Randy Read and Linda Kash direct Steve Ross in Duncan McMillan and Jonny Donahoe's Every Brilliant Thing.
Robert Ainsworth will be premiering his new show Frozen Dreams at the Peterborough Theatre Guild in February.
St. James Players is levelling up their spring 2020 production with Matilda: The Musical.
Enter Stage Right is producing a new original comedy/musical Of Mortal and Myths in April.
Ryan Kerr is bringing Peter Shaffer's Equus to the stage at The Theatre on King.
The Peterborough Theatre Guild is producing Annie, one of my personal all-time favourite musicals in May.
4th Line Theatre will be doing a double shot of world-premiere shows in summer with Alex Poch-Goldin's The Great Shadow and Maja Ardal's Wishful Seeing.
Kat Shaw will make her directorial debut with Qui Nguyen's She Kills Monsters later in the summer of 2020.
Planet 12 is holding a short play festival, and the Kawartha Lakes Film Industry 2020 Project will be ready to go by the end of the year.
There are also a number of exciting projects I've heard rumblings about, making me believe 2020 will be an exceptionally brilliant year for theatre in the Kawarthas.
In closing, I want to thank all of the directors, producers, performers and theatres that invited me into their spaces, talked with me, and allowed me to see the projects they have brought to life. The performance space is a safe place, and there is a lot of trust involved in allowing an outsider, and especially one in the media, to enter it.
I love representing you and writing about your work. All I want is for every show to succeed, and to give people the knowledge and information to come out and see the work you do.
Thank you for allowing me to be part of your theatrical family, and for giving me quality entertainment to write about. I can't wait to see what all of you do in 2020!