From January 23rd to the 26th, the ReFrame Film Festival returns to downtown Peterborough for its 16th year.
Presenting 39 documentaries from around the world, this year the festival is featuring two films by locally celebrated filmmakers with content closely connected to Peterborough.
LA Alfonso returns to ReFrame for the world premiere of his film Circus Boy and Rob Viscardis presents the extended version of his and Natasha Luckhardt's film Town of Widows.
Advertisement - story continues below
Last featured at ReFrame in 2018 when he debuted his well-received film Birthmark, LA Alfonso's Circus Boy is a look at a special "day in the life" of local circus performer Thomas Vaccaro and his protégé Ethan Hinshelwood.
The artistic director of the Peterborough Academy of Circus Arts, Thomas began training Ethan when he was 12 years old and, in the years that followed, their relationship went far beyond that of teacher and student. Thomas has become a father figure to the boy, which led to Thomas and his husband Michael adopting Ethan into their family.
In Circus Boy, LA documents a visit from Thomas' mother who travels from North Carolina to meet Ethan for the first time and to watch the team perform with the cyr wheel.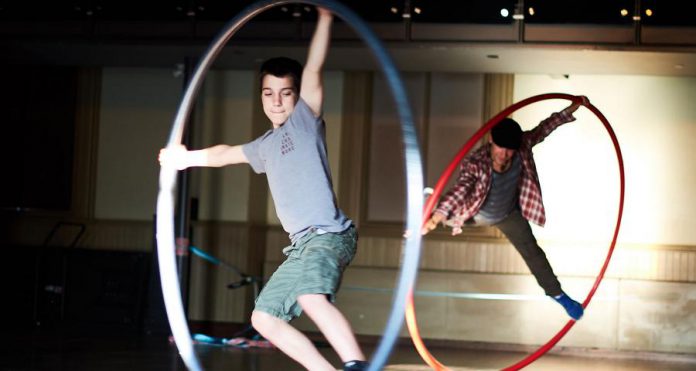 "I'm a member of the circus community," LA says. "When my friend Thomas met his student Ethan, he asked me if I'd be interested in filming them working together. I started seeing it in my head, and thought maybe it'd be interesting to follow this story for years and see how this kid develops."
After a few year of sporadically filming the pair, the course of the project changed in April when Thomas called LA and told him of his mother's upcoming visit.
Advertisement - story continues below
"I got a call from Tom and he said 'My mom is going to meet Ethan for the first time, do you want to film it?'", LA recalls. "I said 'I don't want to film it unless this is for real. I want to do this if this event becomes the focal point for the whole story.' So we ended up scraping money together to hire two professional cinematographers (one being Rob Viscardis) and decided to do a 'day in the life'."
An emotional and joyous film, Circus Boy features the thoughts and feelings of all the players in the film, including a very eye-opening conversation between Thomas and Ethan's mothers, that ends with Ethan and Thomas performing their signature performance piece on the cyr wheel, called Parallels.
"Parallels is about a mentor and a mentee and what you pass on as a mentor is passed on by the mentee, who will one day be a mentor himself," LA explains. "I chose the cyr wheel as the focus for the film because, as it is a circle, it represents the cycle of the mentor and mentee. Notice all the circles I put in the film. It was on purpose."
VIDEO: "Circus Boy" Teaser

Known for his emotional and personal autobiographical documentaries, Circus Boy is LA's first film that isn't about him, but LA does put his own heart on the line when creating this film.
"This film is about missing fathers and how mothers compensate for that," LA says. "It's a story that hasn't been told very much, but we all know it. It's a very human story. The undercurrent of the film is that Thomas is the new father trying to compensate what he experienced from his father. Ethan's father had trauma that made him unable to accept his child, so Ethan needed more than what his father could provide — and that's when Thomas came in."
"By making it, I'm hiding behind everything with my own father. It's being told through another person's story, but being told through my craft of editing and focusing on telling a true story that's not just in front of me, but inside of me."
The 75-minute Circus Boy will screen at 5 p.m. on Friday, January 24th at Market Hall Performance Centre (140 Charlotte St., Peterborough). There will be a live circus performance at the screening.
Advertisement - story continues below
In Town of Widows, Rob Viscardis tells a very different type of story. When he heard about a crowdfunding campaign by Natasha Luckhardt to document the story of cancer survivors and widows of deceased General Electric workers in Peterborough fighting for compensation, the two teamed up to create a hard-hitting and emotional investigative documentary.
In honest and poignant interviews with the survivors, Rob and Natasha have created a film centred on a piece of Peterborough history many people don't know about, or at least don't want to acknowledge.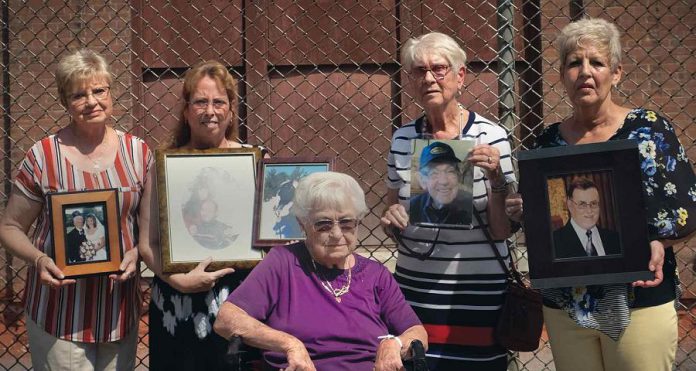 "The people in the film call it 'the conspiracy of silence,'" Rob points out. "There is this company that has provided all these families their way of living, and it's done good things for the community. They've donated to the United Way and to local sports teams. So people don't want to bite the hand that feeds them. Employees themselves would be scared to say anything and risk losing their jobs or their pension. At least that's what they think."
"It's so personal for so many people,. When you see the film, you see how much people opened up. What's in the film is just the tip of the iceberg of what people shared with us. It was very emotional and we got to know a lot of people during it and their stories — so many devastating stories. So it was tough. It was a lot."
Starting filming in 2016, Rob and Natasha followed the story for two years. While shooting the film, GE announced it was closing its operations in Peterborough permanently.
Advertisement - story continues below
"GE announced the closing while we were still shooting and I was rushing around to people's homes trying to get reactions," Rob recalls. "With GE leaving, that makes this film more important. It's important for people to know the full picture. It's easy to only remember GE for certain things. But it's also important because there could be a lot of people suffering because of GE and not even know. So this hopefully brings some attention to it, so people can have some closure or get some help.'
Town of Widows was featured on CBC television and a 45-minute version of the film can be seen online. In preparing it for CBC, Rob had to edit the film to a shorter length than intended. The version appearing at ReFrame will be the full version of the documentary.
A powerful watch, Town of Widows unveils the silent battle of people in our own community, and their continuing fight for compensation in the face of their personal tragedies. The film won three awards at the Canadian Labour International Film Festival in November, including Best Canadian Film.
VIDEO: "Town of Widows" Trailer (CBC version)

"A big part of this film for us was to give a voice to people who had been ignored for so long," Rob explains. "We're just happy that we can give that voice because it's hard for these people to grow their cause. It's nice to give them this avenue."
The 90-minute Town of Widows will screen at 4:30 p.m. on Sunday, January 26th at Showplace Performance Centre (290 George St N, Peterborough). Filmmakers Rob and Natasha, along with several subjects featured in the film, will be in attendance at the screening.
Two local stories with very different focuses, Circus Boy and Town of Widows are both emotional films telling the real stories of real people in our own community.
With so many films rich with inspirational storytelling being featured at ReFrame, it is unique to have representation from our own community as part of their programming. This month, head to ReFrame to support local filmmakers and discover our community's stories.
ReFrame passes and tickets are available online at reframe.tickit.ca. A festival pass costs $60 ($50 for students, seniors, and the underwaged), opening night tickets cost $15 ($10 with a festival pass), and day passes (all films on either Friday, Saturday, or Sunday) cost $25.
Tickets are also available at the GreenUP Store (378 Aylmer St. N., Peterborough, 705-745-3238) and Watson & Lou (383 Water St., Peterborough, 705-775-7568), and in Lakefield at Happenstance Books and Yarn (44 Queen St., Lakefield, 705-652-7535).
As always, rush pay-what-you-can tickets will be available at the door for every screening (subject to availability).
The full schedule of the more than 80 documentaries screening during the ReFrame Film Festival, including dates and locations, is available at reframefilmfestival.ca and on kawarthaNOW. You can also follow ReFrame on Instagram, Facebook, and Twitter.
kawarthaNOW is proud to be a sponsor of the 2020 ReFrame Film Festival.