Environment Canada has issued both rainfall warnings and freezing rain warnings for the Kawarthas, as a moisture-laden low from Texas brings a significant heavy rainfall event to southern and eastern Ontario on Saturday (January 11).
Heavy rain will continue on Saturday, with the following amounts expected to fall by Saturday evening: 40 to 60 mm in Northumberland, 30 to 50 mm in Peterborough and Kawartha Lakes, 20 to 40 mm in Haliburton, and 20 to 30 mm in Hastings Highlands. Localized flooding in low-lying areas is possible.
The rain will turn into freezing rain by early Saturday evening, with an extended period of freezing rain — possibly mixed with ice pellets — likely before precipitation comes to an end on Sunday morning.
Advertisement - story continues below
The following amounts of ice accumulation are possible by Sunday morning: 10 to 20 mm for Peterborough, Kawartha Lakes, and Haliburton, and 5 to 10 mm in Hastings Highland and Northumberland.
Surfaces such as highways, roads, walkways, and parking lots will become icy, slippery, and hazardous. Consider postponing non-essential travel until conditions improve.
Power outages may be caused by ice accumulation on power lines or other electrical equipment along with nearby tree limbs. Ontario Hydro crews are prepared to respond.
"We have been tracking this weather system and are getting crews and equipment ready in the areas anticipated to be hardest hit," says Lyla Garzouzi, vice president of distribution for Hydro One. "We encourage everyone in these areas to be prepared with an emergency kit."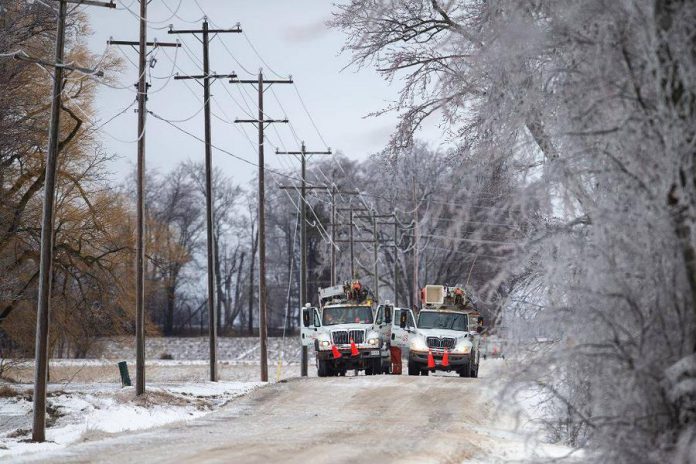 Garzouzi says Hydro One is getting crews in position to assess damage in order to restore power as quickly and safely as possible. An estimated time of restoration will be determined for each outage once damage has been assessed.
For detailed information on outages and estimated restoration times, visit stormcentre.hydroone.com or download the Hydro One free mobile app. Outage tools are updated every 10 minutes as information comes in from the crews on-site.
Hydro One advises people to stay clear of any fallen power lines. If you spot a fallen line, keep at least 10 meters back, even if it does not appear to be live. Report it to the police and call Hydro One at 1-800-434-1235.