On Saturday, February 29th, local youth theatre organization Enter Stage Right returns to the auditorium at Peterborough Collegiate (formerly PCVS) to present playwright Amanda Murray Cutalo's one-act play Typecast.
Directed by Greg Nugent and Emily Chute, this one-night event will also feature musical performances by members of the cast following the show, as well as presentations of this year's Enter Stage Right scholarships.
Started in 2014 by brother-and-sister team Greg and Jen Nugent, Enter Stage Right (ESR) is an alternative theatre company for local high school students looking for opportunities to develop stage productions beyond those available at their high schools. Traditionally, ESR's annual show is an original musical production, but this year the group decided to change gears and present a previously written one-act show that highlights their individual talents.
Advertisement - content continues below
"What been interesting this year is that we've been able to give the kids a lot more ownership of the company," Greg says. "In the past the kids have always been involved in everything, but this year they've been more involved in finding the script, choreographing, directing, trying different things, and taking on new leadership roles."
For Typecast, a 2015 comedy by American playwright and high school English teacher Amanda Murray Cutalo, ESR's cast of high school student actors play high school student actors (and a couple of teachers).
"Typecast is a show within a show," Greg explains. "There are all these actors auditioning for parts in their high school play. The drama teacher, who has been teaching for many years, already has the show precast in her mind. But through some comedic episodes, she ends up not directing."
"The new director casts the roles in the polar opposite of what the actors normally would be playing. So it's kind of neat to see the characters introduce themselves having certain stereotypes, but then you watch them break out of that mould."
Typecast revolves around a high school production of a show called "Cinder White", in which drama teacher Ms. Diane Thespis (Aisling MacQuarrie) has cast her show based on the individual strengths and personalities of her students.
The students are based on stereotypes: Debra "The Diva" (Alexis Mantler), Juliet "The Ingénue" (Annika Goeckel), Jane "The Control Freak" (Lena Ross), Myra "The Slacker" (Meagan Hewie), Audrey "The Ensemble Girl" (Eden Farris), Willow "The Politician" (Julian Pawchuck), and Heidi "The Mom/Sidekick" (Jenny Berry).
Advertisement - content continues below
When Ms. Thespis has to leave the production suddenly, gym teacher Ms. Colleen Ball (Taite Cullen) takes over the show and mixes up the casting, forcing the actors to step out of their traditional roles into ones for which they are not as well suited.
Made up of a group of returning players from previous ESR shows and some new members of the group, Typecast is a testament to the dedication of the students who have put the show together.
"It came together very quickly over a month and a half of really hard work and really extensive rehearsals," Greg recalls. "It's really amazing how dedicated the kids are. We had barely a rehearsal where anyone has been away, and we've put in really long hours on Saturdays. It's impressive, when you have a group that really wants to do something, to see how much heart and effort they put into it."
"Some are graduating students that have been with us for a while, and some are newcomers and this is the first time they've been working with us," Greg adds. "Right from the get-go it was clear this was a group who wanted to put something together and was very dedicated to doing so."
To assist with the quick turnaround of the show, Greg brought on a former member of ESR, Emily Chute, to co-direct the show. Now a third-year university student, Emily worked with ESR between 2014 and 2016, marking her return to the group after four years.
"Something I really enjoyed when I was in Enter Stage Right was getting to meet a bunch of new people and make a bunch of new friends," Emily says. "As an alumnus, I really enjoy watching all of these new people come in and make friends and meet people. Truly two of the best parts of Enter Stage Right are the co-founders Jen and Greg. Jen is so much fun and makes everyone so happy and Greg is so sweet and just cares so much about the whole cast. "
Advertisement - content continues below
Although the visibility and opportunities for young actors have certainly grown since Greg and Jen started ESR, the program continues to be a unique one because of the collaborative nature of the group, which creates strong bond between the actors as they are given opportunities to shape the shows in ways far beyond other student theatre groups.
"When I first started acting with ESR I realized that it was not like a lot of other experiences I had," says Taite Cullen, who has been with ESR for four years, making her a senior member of the group. "Everyone who is part of the show cares about the show. We feel like part of a team and I don't feel like I'm working by myself. There is a sense of comradery where everyone respects each other and their creative opinions. You have the opportunity to talk and share ideas, and no one feels bossed around."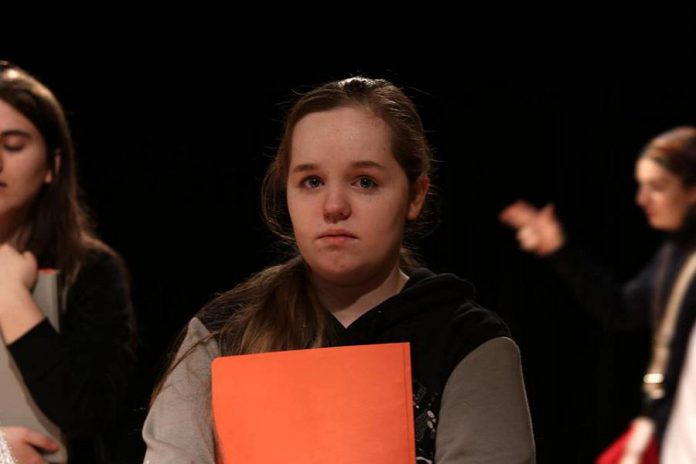 "ESR is unique because we are all involved in building the show from the ground up," adds Lena Ross. "You really get to be involved with all aspects of the creative process."
But ESR is also important as it gives Peterborough youth a safe and inclusive space to create theatre of their own.
"ESR is important because it is inclusive for everyone," points out Megan Hewie. "It's truly just a great place where we can all just be ourselves and show our talents. There is absolutely no judgement and we all just have a great time."
Advertisement - content continues below
ESR is a theatre program in Peterborough that remains close to my heart. While I love and am committed to other youth theatre programs in the Kawarthas, with each having its own strengths, the kids in ESR remind me so much of the type of teenager I was.
There seems to be a much more grassroots and hands-on approach to the shows that they do. They work so hard to piece together shows with limited resources — except for their own dedication, passion, and tons of spirit. That's why supporting ERS is so important and why the students in these shows are so endearing to me.
I hope that the community will join me on Saturday night at the Peterborough Collegiate auditorium to support this ambitious group of performers.
Typecast will be performed on Saturday, February 29th at the PCVS Auditorium (201 McDonnel St., Peterborough). The show will be followed by musical performances by Taite Cullen and Joseph Roper, Annika Goeckle, Aisling MacQuarrie, Isaac Martin, Julian Pawchuk, and Lena Ross.
Tickets are $10 at the door. Doors open at 6:30 p.m. with the show starting at 7 p.m.