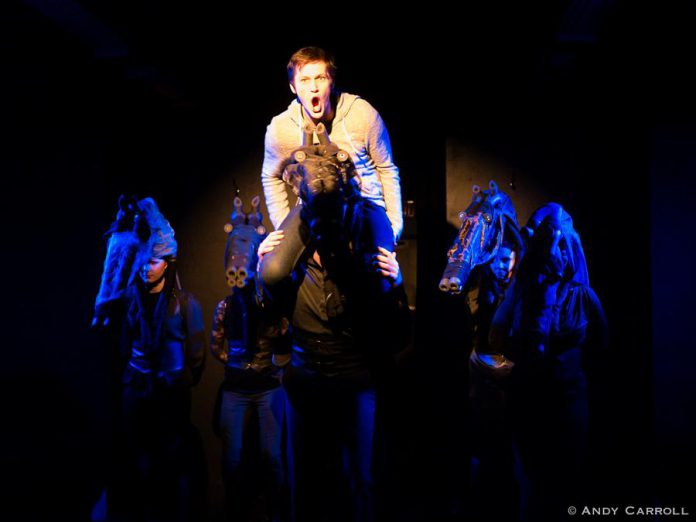 From Wednesday, March 11th to Saturday, March 14th, The Theatre on King (TTOK) in downtown Peterborough brings English playwright Peter Shaffer's controversial and award-winning 1973 play Equus back to the Peterborough stage.
Directed by Ryan Kerr, Equus features a talented cast of performers in a nightmarish ride fronted by Dan Smith as psychiatrist Dr. Martin Dysart and Conner Clarkin as his disturbed young patient Alan Strang. A story that examines the connections between religion, sexuality, and violence through one boy's obsession with horses, Equus is a shocking, powerful, and thought-provoking piece of theatre that will challenge even the most experienced audience.
Playwright Peter Shaffler found his inspiration for Equus when he read about a strange crime where a 17-year-old boy from Suffolk, England had blinded six horses. Pondering what would drive someone to commit such an atrocious act of violence, without investigating the actual crime further, Shaffer set out to write a drama that took this basic premise and fleshed out the reasons for the attack on the animals.
Advertisement - content continues below
The original production opened at the National Theatre in London in 1973 featuring Alec McCowen in the role of Dr. Martin Dysart and Peter Firth as Alan Strang. Instantly a hit with audiences and critics alike, the production ran until 1975.
Peter Firth left the London production to recreate the role in New York when the play opened on Broadway in 1974. In the role of Dysart, the production cast Anthony Hopkins who would be the first of a succession of heavy hitters that would later step into the role on Broadway, including Richard Burton, Leonard Nimoy, and Anthony Perkins. The Broadway production would go on to win the Tony Award and Drama Desk Award for best play of 1975.
In 1977, members of the Broadway cast brought Equus to the big screen, garnering three Academy Award nominations including best actor and supporting actor for Richard Burton and Peter Firth as Dysart and Strang. Although the pair did not win the Oscars, they did win the Golden Globe Awards in their respective categories.
Since then, Equus has been brought back to the stage many times, but gained newfound interest in 2007 when Harry Potter fans swarmed Gielgud Theatre in London's West End to see the film franchise's star Daniel Radcliffe in the role of Alan Strang and Richard Griffiths (who played the mean spirited Uncle Dudley in the Harry Potter films) in the role of Dysart. With the Harry Potter films still in production, Radcliffe's performance raised eyebrows for its mature nature and on-stage nudity, but curious onlookers and frenzied fans made it another theatrical sensation.
In the TTOK production of Equus, the audience is introduced to the show's primary protagonist Dr. Martin Dysart (Dan Smith), a child psychologist who has a disturbed young man Alan Strang (Conner Clarkin) brought to him by court magistrate Hesther Soloman (Lindsay Unterlander).
With Alan in a near catatonic state of madness, and speaking only in TV commercial jingles, Dysart is given the task of discovering why the boy blinded six horses at the stable in which he worked.
Through meetings with Alan's parents Frank and Dora (Matt Gilbert and Heather Knechtel) and the stable owner Harry Dalton (Mark McGilveray), Dysart discovers that Alan has had a lifelong obsession with horses, although nobody has ever known him to ride one.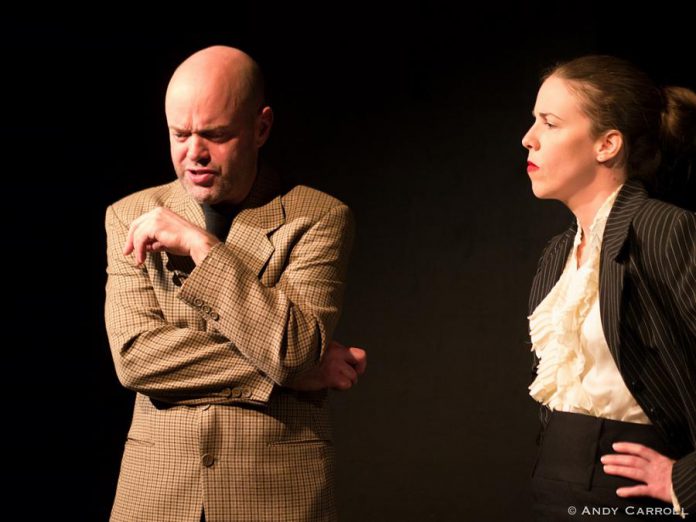 However, through alternative methods of therapy, Dysart learns of Alan's obsession with a horse named Nugget (played by a costumed Derek Bell) and uncovers dark secrets in the disturbed young man's mind that link together mythology, religion, sexuality, passion, and madness.
Prior to the beginning of the Equus preview I attended, director Ryan Kerr told me he felt this is the most ambitious and difficult show ever produced at TTOK. By the end of the first act, as I was lifting my jaw off the floor, I could safely say Ryan is right.
Equus pushes the boundaries of creativity and visual presentation unlike anything I've seen in the six years I've been covering shows at TTOK. In fact, I had already decided it would be one of the best shows I've ever seen in that theatre — and I hadn't even seen the second act yet.
Advertisement - content continues below
One of Peterborough's hardest-working and reliable actors, Dan Smith takes on a heavy performance in the role of Dr. Martin Dysart. Delivering a long and wordy performance filled with psychological theory, Dan is the audience's guide through the dark and complicated world of Equus.
Within his role, Dan dissects the links between sex and religion, love and madness, and sanity and apathy in new and disturbing way. While Dan may seem like a safe and recognizable guide to lead you through the drama, beware of the truths that you might find at the end. It may change your perceptions forever.
After a banner year last year with his emotionally potent performances in Cabaret and Hedwig and the Angry Inch, Conner Clarkin returns in another challenging role as Alan Strang. One of Peterborough's best emotional actors, Conner has a magical way of presenting provocative roles on the stage, bringing very human qualities to traditionally enigmatic characters. As a result, Conner's performance as Alan is his finest yet.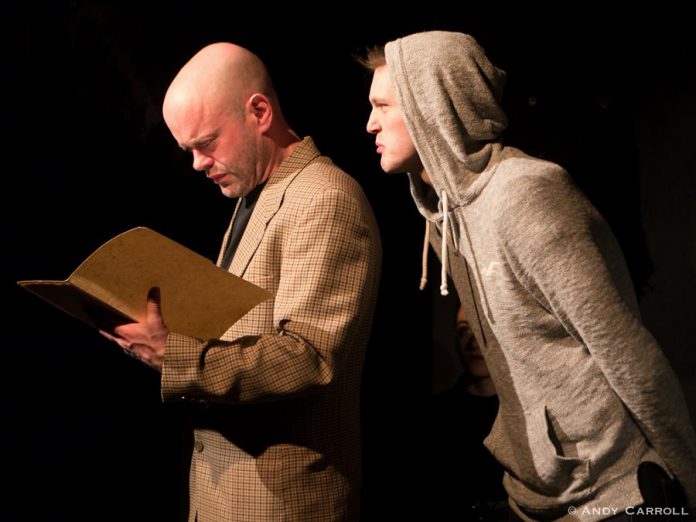 What I find interesting is that, when dealing with the human characters in the show, Conner sometimes seems restrained or guarded, but when left with the actors dressed up in their elaborate horse costumes, Conner creates shocking and heart-pounding moments that pushed my insides up nto my throat.
Furthermore, Conner bares far more than his soul in Equus, proving him to be one of the most dynamic and interesting young actors to watch in our local theatrical scene. Provocative, emotional, and exciting to watch, Conner's performance is another triumph.
Further shout-outs go to Heather Knetchel and Matt Gilbert in their roles as Alan's parents Frank and Dora Strang. Both create realistic and emotional portraits of two people with opposing philosophies and thoughts on parenting, and their individual horrors when dealing with their son.
Advertisement - content continues below
With their differing moral values and personal actions that often defy their words, you get a sense Frank and Dora are trying to do the right thing, but their own shortcomings have only further damaged their son's psyche. Heather and Matt both give excellent supporting performances.
I also want to give a big applause to Sophie Kourtsidis who, in her TTOK debut, plays Jill Mason, the girl that Alan knows from the stable.
Equus is a show with high emotional stakes and tons of psychology and mythology. As a result, the dialogue is sometimes laden with psychobabble and the story loses its human element.
However, both Sophie's performance and her presence somehow manage to take the heavy ideas and bring them back to a human level again.
Her character is the only one we can recognize as being familiar to our world. Sophie takes some bold risks in her role, while still maintaining the brittle thread of reality for the audience.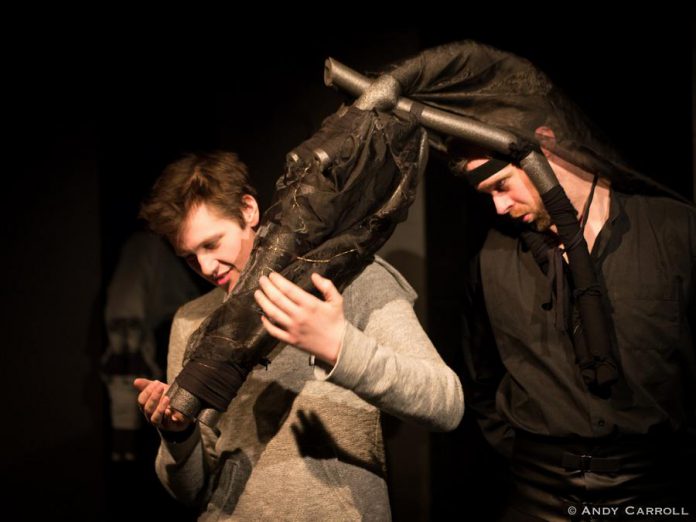 But the true stars of the show are the horses. Those magnificent and mysterious animals, created through the combined efforts of Annie Jaeger and Kate Story, are performed by Naomi Duvall, Nikki Weatherdon, Samuelle Weatherdon, Ange Soransen, Dreda Blow, and led by Derek Bell as Nugget.
Donning massive horsehead costumes and moving in specific movements choreographed by Dreda Blow, the actors become the haunting and horrific element that allows Equus to transcend into something truly unique.
The costumed actors truly manifest themselves as mystical horse creatures in performances that are beautiful and elaborate, and Derek Bell at Nugget leads the bunch as he dominates the stage in a powerful and erotic way, encompassing a creature that is part animal and part god.
It's a shocking performance that has to be experienced. The horses are the linchpin to the beauty and the horror of Equus.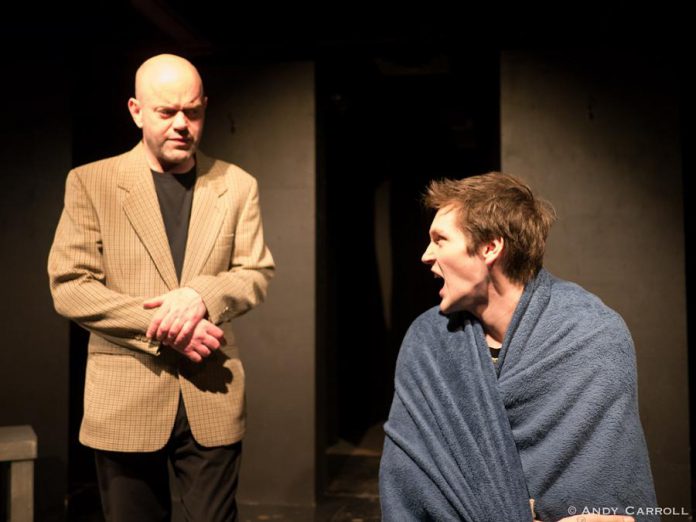 Since Ryan announced Equus was on the TTOK's schedule for 2020, it has been one of the most anticipated productions at the theatre in a long time. It will not disappoint. Emotionally potent, brilliantly executed, and containing thought-provoking material, Equus is performed by an incredible cast and, once again, Ryan Kerr has pushed the boundaries when taking risks and creating memorable theatre.
Easily TTOK's most visibly stunning and shockingly powerful production to date, Equus is both erotic and horrifying. With only five performances, you'll want to reserve your tickets by contacting TTOK immediately. This show will be one that people will be talking about for a long time and nobody will want to miss.
Equus opens at The Theatre on King (171 King St., Peterborough) on Wednesday, March 11th and runs until Saturday, March 14th, with performances at 8 p.m. Tickets are $15 or pay what you can and are available at the door, or by contacting TTOK at contact@ttok.ca. Note that Equus contain nudity and mature subject matter.