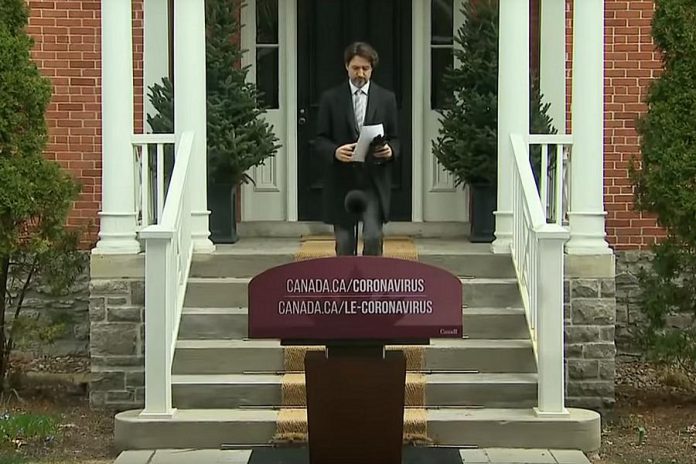 On Friday (May 8), Prime Minister Justin Trudeau announced the federal government's Canada Emergency Wage Subsidy program for businesses would be extended beyond the month of June — but he didn't commit to expanding the Canada Emergency Response Benefit beyond the existing four months' worth of benefits.
The announcement came on the heels of information showing that Canada lost almost two million jobs during April alone, with the total jobs lost since the pandemic began at more than three million. The unemployment rate now stands at 13 per cent, the second highest unemployment rate on record.
More than seven million people are receiving the Canada Emergency Response Benefit (CERB). CERB provides monthly payments of $2,000 to Canadians who have lost all or most of their employment or self-employment income due to the pandemic.
Advertisement - content continues below
In comparison, since the wage subsidy program launched last week, employers have applied for subsidies for almost two million workers — around a quarter of the workers receiving CERB. The Canada Emergency Wage Subsidy program covers 75 per cent of an employee's wages, up to $847 per week, for employers with payroll systems.
While the CERB program runs retroactively from March 15th to October 3rd, workers can only apply for a maximum of four months of benefits — $8,000 in total. The benefit will run out in July for workers who have applied for CERB for four consecutive months starting from the first benefit period in March.
The Prime Minister says the wage subsidy program, which currently runs retroactively from March 15th to June 6th, will now be extended beyond this 12-week period.
"As provinces and territories start to gradually reopen over the coming months, and the CERB becomes less and less needed, this subsidy will play an even greater role," Trudeau said. "That's why I can announce today that we will be extending the Canada Emergency Wage Subsidy beyond June, to help kickstart our economic reopening and boost jobs."
Trudeau promised more details next week, and encouraged businesses that haven't already applied for the wage subsidy program to do so.
When asked by a reporter whether CERB would also be extended, Trudeau pointed out that the CERB program is running over a longer timeframe than the wage subsidy, but didn't say whether the maximum of four months' worth of benefits would be increased.
"The Canada Emergency Response Benefit has always been planned to last longer — had a timeline that was already longer — than the wage subsidy," Trudeau said. "But we recognize that, as the economy starts to reopen, people will be getting back to work, leaving the emergency response benefit and perhaps going on to the wage subsidy as employers bring people back on and get them back to work as our economy picks up over the coming weeks and months.
Trudeau also said that federal heritage minister Steven Guilbeault would be announcing details of the distribution of the Emergency Support Fund for Cultural, Heritage and Sport Organizations.
Beginning on Friday (May 8), $500 million in funding will start flowing to partner organizations — including the Canada Council for the Arts, the Canada Media Fund, FACTOR, Musicaction, and Telefilm Canada — for distribution to cultural and sport organizations. The majority of the funding will be provided to arts and culture organizations, followed by the audiovisual sector and the sports sector.