If there's anything real estate agents know, it's how to make good use of a lawn sign.
Over the past month, a Cobourg real estate broker has leveraged that ability to help students in Northumberland County celebrate their graduations during the COVID-19 pandemic.
Since late April, Michael Cortesis of RE/MAX Lakeshore Realty Inc. Brokerage has been offering signs families can post on their front lawns that proclaim "2020 Graduate Lives Here".
Advertisement - content continues below
"I've been having THE BEST time meeting so many Northumberland County graduates and celebrating their accomplishments," Michael writes on his Facebook page. "Congratulations Class of 2020!"
Michael kicked off his initiative by running a social media contest where graduates could win one of three $50 VISA gift cards if families took a picture of their graduate with the sign.
As a good entrepreneur, Michael is also promoting his real estate business on the signs, but families are still very appreciative of his initiative.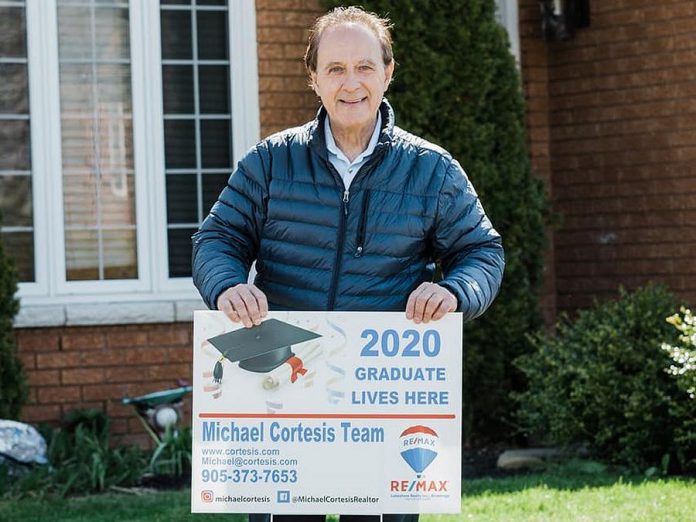 Take Port Hope artist Lee Higginson and her two sons Charley and Sam, who we've featured on kawarthaNOW before for their beach art.
Both Charley and Sam were going to have graduation ceremonies this year and, especially for Charley, it was going to be an important milestone.
"A big moment to recognize 10 years in the mainstream system as an autistic atypical," Lee writes on Facebook. "A recognition of the massive amount of work to get to this point."
Advertisement - content continues below
In lieu of graduation ceremonies, Lee snapped a photo of Sam and Charley with one of Michael's signs and posted it on Facebook on Tuesday (May 19).
"It's a small thing, but these signs that Michael Cortesis had made for local kids, made them feel they were acknowledged in some way," Lee writes. "And that is wonderful. Thank you, Michael, from Charley and Sam."
Many other Northumberland families have also posted photos on Facebook of their proud graduates with the signs. Here's a selection: