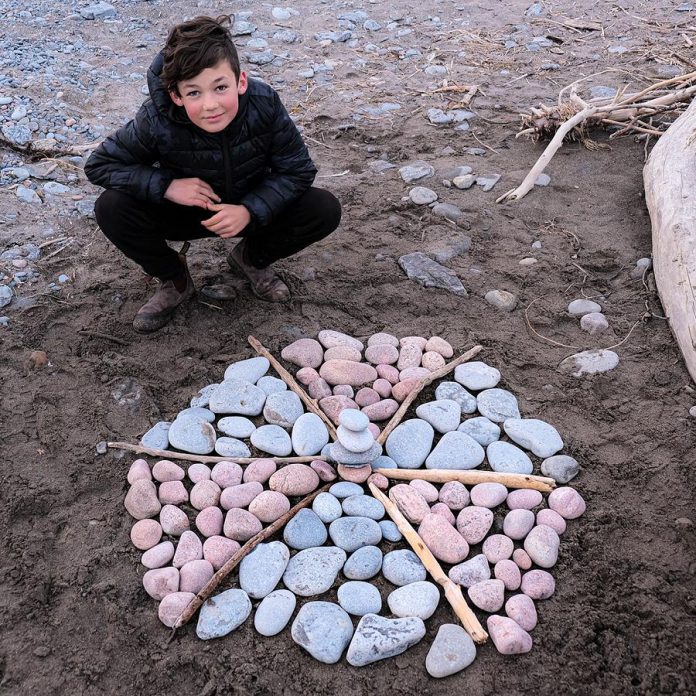 Peterborough native Lee Higginson and her children are making creative use of their time during the COVID-19 shutdown by creating public art at Port Hope's West Beach.
The artist, who has lived with her family in Port Hope since 2010, is the owner of Fluke Craft. Both her sons, Sam and Charley, are also artists.
So, with extra time on their hands due to schools being closed, they decided this was an opportunity to get outside and spread some unexpected joy for others who may be visiting the beach.
"We hope to make as much public art as we can during these hard times," Lee tells kawarthaNOW. "A little nature beauty for passers-by."
A lot of Lee's artistic work involves driftwood and rocks salvaged from the beach. In 2019, she worked on an art project called Stones of Regulation as a way to connect with her son Charley, who is diagnosed with autism.
Based on the Zones of Regulation program used in schools and therapy sessions, the series of stones painted with faces showing easy-to-identify emotions helps children communicate how they are feeling.
Now 14 years old, Charley is an artist in his own right and was scheduled to have his first art show, at the Capitol Theatre in Port Hope on Thursday, April 2nd (Autism Awareness Day). Due to the COVID-19 shutdown, the show — with 250 people scheduled to attend — will be rescheduled to a later date when public gatherings are again allowed.
Lee — who just celebrated her birthday on Friday (March 27) — was also in the news earlier this year for her role, along with those of Rose Wilton and Courtney Sutton, in creating The Rose Project's personal care community cupboard located behind Port Hope's Town Hall.
For more samples of Lee's work, visit Fluke Craft on Instagram and Facebook.