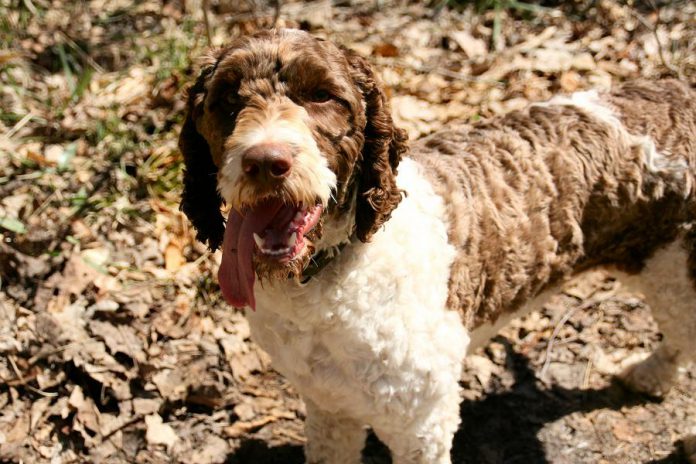 Spring and summer bring warm weather, warm sunlight, and the return of wildlife. These are wonderful seasons for being outdoors.
Unfortunately, the spring and summer are also the times of year when we have to look out for a rather unpleasant eight-legged arachnid.
Although you might immediately think of spiders when you hear the word arachnid, the animal that we are talking about is the tick.
Ticks are small, round, and parasitic by nature. Since ticks have eight legs (like spiders); they are arachnids, not insects, which only have six legs.
Advertisement - content continues below
In North America, ticks have been expanding their range using deer and birds to bring them into new locations. The warming climate means more days above four degrees Celsius, allowing ticks to breed and reproduce more effectively in more northern locations than was previously the case.
Ticks hide in vegetation, long grasses, and leaf litter. When a human or other animal walks by, they latch onto the skin to begin feeding. Ticks can remain attached for many days if unnoticed. A tick bite usually does not hurt and most people do not even feel the tick on their skin.
Blacklegged ticks (Ixodes scapularis, also known as deer ticks) are most concerning to us in Ontario. This is the only species here that hosts the bacterium (Borrelia burgdorferi) which causes Lyme disease. Early symptoms of Lyme disease include fever, chills, headache, fatigue, and muscle and joint aches.
Another key indication of Lyme disease is a red bulls-eye rash pattern around the location of the tick bite, which occurs on 50 per cent of infected individuals. This will appear within three to 30 days of the contraction of the bacteria.
Lyme disease is only transmitted from the tick to the host. Lyme disease is not contagious, which means that if a human or pet contracts the disease they cannot spread it to anyone else.
According to the Public Health Agency of Canada, ticks are expanding their range all throughout Ontario, and the Peterborough area is no exception to this. For more information from Health Canada, visit canada.ca/lymedisease.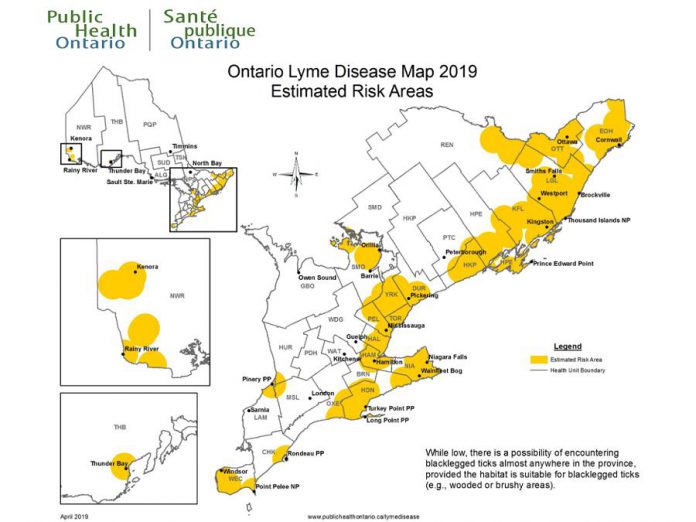 As ticks become more common locally, we can reduce our chances of contracting Lyme disease by taking the following precautions when we are enjoying the outdoors.
First, cover up. Wear long pants when you are walking through long grasses, fields, and forests. A tick cannot suck your blood if it cannot find bare skin. Also, you can stave off both ticks and mosquitoes by wearing bug spray with DEET when going outside.
The U.S. Centers for Disease Control and Prevention has an excellent set of tips and information to protect yourself and your pets from these ticks at cdc.gov/ticks/avoid/.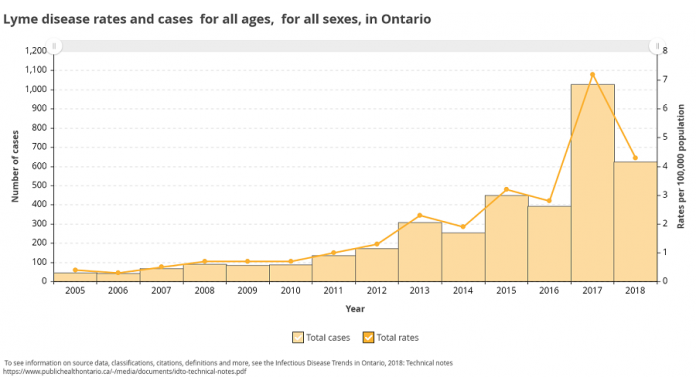 Secondly, check yourself. A tick has to be attached to its host for at least 24 hours in order to transfer the bacteria that causes Lyme disease. When you get back from hikes or walks, thoroughly check yourself by removing clothes and using mirrors to check hard-to-see spots. These checks can reduce the risk of contracting Lyme disease.
Third, check your pets. If you have a pet, make sure to thoroughly check their fur and skin when you get back from a nature walk.
Advertisement - content continues below
How to remove a tick
If you find a tick on yourself or your pet, removing it as soon as possible will reduce the chances of contracting Lyme disease.
To properly remove the tick, use tweezers or a "tick key" — a tool especially designed for removing ticks. You can usually buy a tick key from department or outdoors stores.
Tick keys are often best because they ensure you pull the tick out by the head instead of leaving the head lodged in your skin, which can result in the transmission of Lyme disease. Some tick keys can also be attached to your house keys so you know where to find them.
Using the tick key or tweezers, gently pull the tick straight out, not at an angle. Do not squeeze, twist, or pull it out in a way that damages the tick. Damaging the tick could release the bacteria into your skin.
After it is removed, wash your hands and skin with soap and water before using rubbing alcohol or an iodine swab to disinfect the site of the bite.
Put the tick in a sealed container or sealable plastic bag and call the public health, as they may want to test the tick for the bacterium that can cause Lyme disease.
If the tick does manage to stay on you or your pet for a period longer than 24 hours, keep in mind that only blacklegged ticks have the bacteria that spreads Lyme disease. Even if the tick does transmit Lyme disease, the disease can be treated very effectively if diagnosed at an early stage.
If you find a tick, make sure to get tested or have the tick tested to ensure you do not suffer from adverse impacts.
With the Public Health Agency of Canada cautioning us about increasing tick populations in the Peterborough area, it is important to spread this awareness and ensure friends and family are educated. Together we can ensure we are all aware and able to reduce the impact of Lyme disease.
Be mindful, perform body checks, and use proper removal techniques.