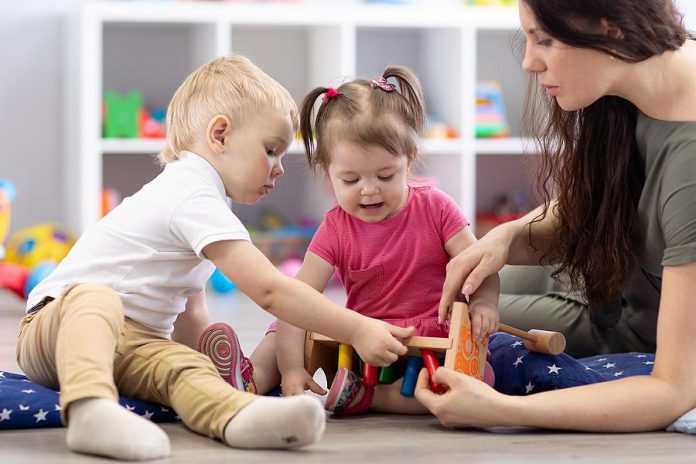 All child care centres across Ontario — regardless of where they are located — can reopen effective Friday (June 12).
Ontario Premier Doug Ford made the announcement at Queen's Park on Tuesday (June 9) along with education minister Stephen Lecce and health minister Christine Elliott.
"Starting Friday, June the 12th, all child care centres in the province will be allowed to reopen, with some restrictions," Ford said. "These restrictions will be just like the ones we've seen in the emergency child care centres open already. There'll be limits on the amount of children in the centres at one time, there'll be more screening and more cleaning, and child care centres will be able to reopen once they meet these guidelines."
Advertisement - story continues below
The restrictions include:
Children and staff must be in groups of 10 or less day over day
All child care settings will be required to have a plan in place if a child, parent, or staff member or provider is exposed to COVID-19
All staff and children must be screened prior to entry to the child care setting, and anyone feeling unwell must stay home
Child care settings must keep daily records of all attendees to support contact tracing
Child care settings must be thoroughly cleaned before opening and frequently thereafter, and all toys that can easily spread germs must be removed
Only essential visitors will be permitted entry into the child care setting
Child care settings must implement drop-off and pick-up protocols in a way that facilitates physical distancing.
"I want parents to know we will take every measures necessary to keep the kids and the staff safe and healthy," Ford said.
Effectively immediately, staff can reenter child care facilities and begin preparation for reopening.
When operators have met all the strict and stringent guidelines for reopening, they will be permitted to reopen. There are 5,500 child care centres and 124 licensed home child care agencies across Ontario.
Education minister Lecce said the province will protect parents who decide not to use their existing child care space immediately, by ensuring they do not lose their spot or be charged fees during that time.
"To underscore our zero tolerance to non-compliance, we will be increasing penalties by $1,000 a day, per child, for a net 50 per cent increase in the penalty regime," Lecce added. "We'll also be stepping up inspections to ensure compliance and safety."
Emergency child care will wind down effective June 26th. Families served through emergency child care will be supported by service system managers to return to their previous arrangement, or finding new space during the transition back to regular childcare.
Ford also announced summer day camps will be allowed to open, with some restrictions, as part of stage two.
The Ministry of Health, in partnership with public health, the Ministry of Labour, Training and Skills Development, and municipalities, developed strict health and safety guidelines that have already been distributed to local public health units.
The guidelines are available at pshsa.ca/resources/covid-19-precautions-when-working-in-a-day-camp.
Overnight camps are still not permitted to operate in the summer of 2020.