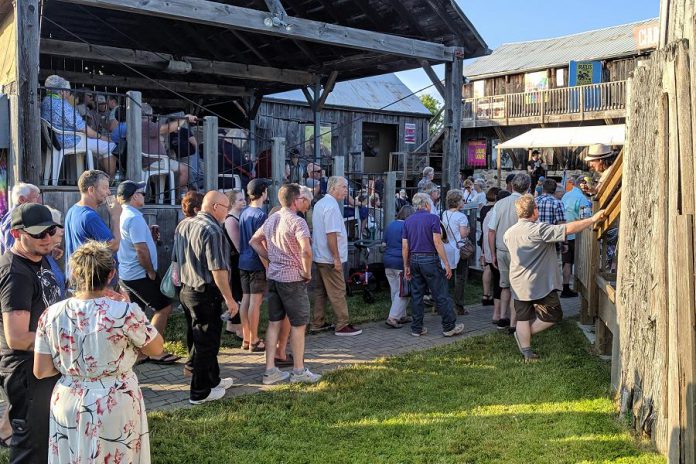 4th Line Theatre in Millbrook has cancelled its entire summer season for the first time in 29 years due to continued uncertainty around the COVID-19 pandemic.
According to a letter from managing artistic director Kim Blackwell, the outdoor theatre company's board of directors made the "difficult" decision at a special board meeting on Monday (June 8).
In April, the board had already decided to postpone the first show of the season, Alex Pock-Goldin's The Great Shadow scheduled for July, but would make a decision later about postponing the second show of the season, the world premiere of Maja Ardal's Wishful Seeing in August.
Advertisement - story continues below
The board has now decided to postpone both plays until the 2021 season. Although the Ontario government announced stage two of reopening the province's economy on Monday (June 8), restrictions on social gatherings are limited to 10 people and performance venues are not among the businesses allowed to reopen.
"I am sure for many of you, this letter will come as no surprise," Blackwell rights. "However, I am an eternal optimist and right up until a few days ago, I held out hope that we would be able to move forward with a partial season in 2020."
"Unfortunately, that is not going to be able to happen and the safety of our staff and audience is the paramount concern for us here at 4th Line Theatre. If everything goes well, we will see you all in 2021, when the world has righted itself, when we can once again gather together in celebration and our love of stories."
All tickets and gift certificates already purchased for 2020 will be honoured for the 2021 season. Even though the 2020 summer season has been cancelled, Blackwell says the theatre company will remain engaged with the public over the summer.
"I also want you to know that we are looking to still welcome small groups of people to the farm this summer and will be announcing several exciting initiatives in the coming days and weeks ahead," she writes. "We will continue to connect with you online with our Artist Talks and script readings. We also want to connect with you in a more intimate and still distanced way and will be announcing an exciting artistic program very soon."
The postponement of 4th Line Theatre's 29th season also means the charitable organization no longer has a source of revenue. To donate to the organization, visit 4thlinetheatre.on.ca.
Blackwell also issued a statement on the issue of racism, which we reprint in its entirety below:
I also want to tell you all that I have been watching events unfold in the United States over the past few weeks. I am heart sick for the plight of black Americans and Canadians and the anti-black racism which they face on a daily basis. I feel like the world is experiencing a seismic shift with not only COVID-19, but also with the mass protests across the globe, demanding an end to systemic anti-black racism. I have been silent on this issue over the past few weeks, choosing instead to listen to the black voices and to learn what we need to do.
Here at 4th Line Theatre, we are committed to looking at all of our artistic and administrative decision over the next few months through a lens of ending anti-black racism. We want to ensure that the theatre is doing everything necessary to address racism and that we continue to make inclusivity a priority. If you want to offer support to Black Lives Matters, you might consider donating to them at secure.actblue.com/donate/ms_blm_homepage_2019.
And if you are questioning why I chose to make this plea in this letter — it is because I believe all art is political in its very nature. People who make art — good art — have a responsibility to advance individuals and communities who have been historically marginalized and underrepresented by amplifying their stories; by building a culture that reflects their reality; and perhaps most powerfully, by giving them a platform to speak for themselves. That is what 4th Line Theatre has been committed to since the beginning and we will continue to work towards doing better as we move forward.