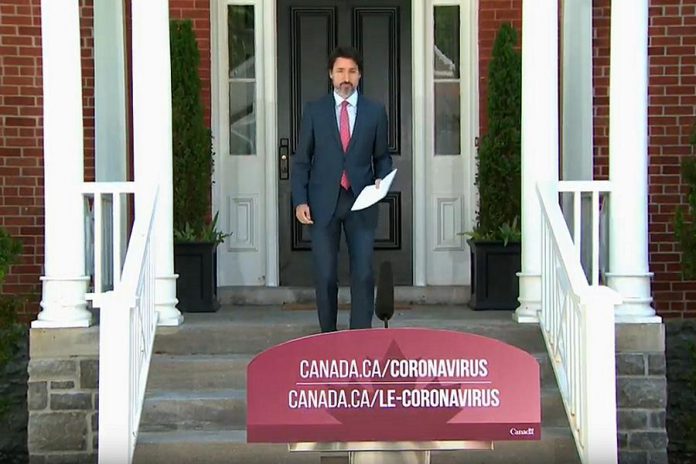 If you're still out of work due to COVID-19 and have been relying on the Canada Emergency Response Benefit (CERB), you no longer have to worry about how to pay your bills this summer.
The federal government will extending the Canada Emergency Response Benefit (CERB) for an additional eight weeks.
Prime Minister Justin Trudeau made the announcement on Tuesday (June 16) during a media conference from outside his home in Ottawa.
Advertisement - story continues below
"Over the past few months, Canadians have been able to count on the Canada Emergency Response Benefit to help them get through a tough time," Trudeau said. "And the reality is that, even as we start to reopen, a lot of people still need this support to pay their bills while they look for work."
"That's why today I am announcing that we will be extending eligibility for the CERB by eight weeks. So if you've been getting the CERB and you still can't work because you're unable to find a job, or it's just not possible, you will keep getting that $2,000 a month."
Trudeau said that, over the next few weeks, his government will be looking at international best practices and monitoring the economy and the progression of the COVID-19 pandemic to evaluate if any changes need to be made to CERB so that more people are supported.
CERB has provided a payment of $2,000 per month for a maximum of 16 weeks, retroactive to March, to Canadians who lost their employment or self-employment income due to the COVID-19 pandemic. Canadians who applied for CERB every month since the payment became available received their final payment in June.
Since the program was announced, more than 8.4 million Canadians have applied for CERB, with the federal government paying out more than $43.5 billion in benefits. Almost 1.2 million Canadians have left the program, either because they have resumed work or because their employers have taken advantage of the wage subsidy program.
Trudeau also announced the Canadian and American governments have agreed to keep the Canada-U.S. border closed to non-essential travel for an additional 30 days, until Tuesday, July 21st.