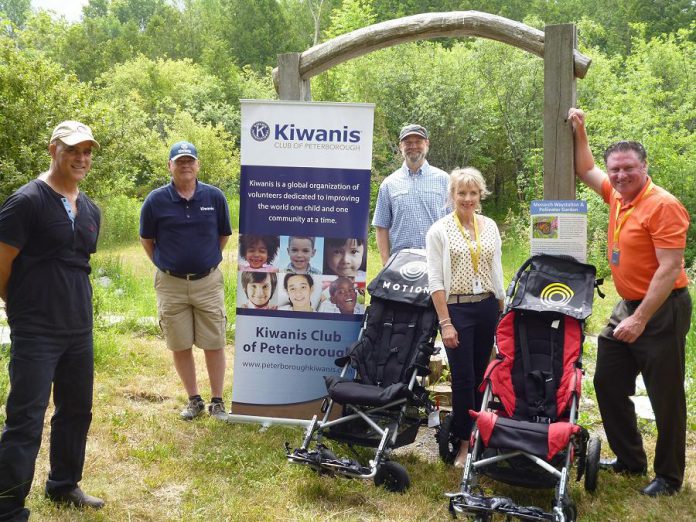 The Kiwanis Club of Peterborough and mobility and accessibility business Motion are making hiking trails at Camp Kawartha more accessible with their recent donation of two trail chairs to the not-for-profit charity.
One of the chairs will be available at the Camp Kawartha's Environment Centre on Pioneer Road in Peterborough, which backs onto the Trent trails system. Camp staff use the trails regularly as a teaching area.
The second chair will be used at the main site on Clear Lake, where the camp has five trails that wind their way through 185 acres of forest, fields and wetlands. The trails have QR codes that connect hikers to an online trail guide, explaining the unique natural history of this region.
"We are absolutely delighted to add these chairs to our accessibility equipment," says Camp Kawartha executive director Jacob Rodenburg. "These chairs are much more robust than the average wheelchair, and this means any camper or student can join with their peers and friends in an exciting hike through the woods."
One of the chairs was donated by the Kiwanis Club of Peterborough.
"The Kiwanis Club is so pleased to help out with this purchase," says club spokesperson Terry McLaren. "Helping children access a woodland trail, maybe for the first time, is something the whole membership responded to, and we had no trouble making the investment. We know Camp Kawartha will make good use of them."
Advertisement - story continues below
The other chair was donated by Motion, Canada's leading provider of comprehensive and customized mobility and accessibility solutions for a wide variety of clients from children to elderly adults. Motion, which helped source both chairs, donated the second chair to ensure that both of Camp Kawartha's sites have chairs available.
"We thought it was an important contribution to make," says Motion accessibility consultant Shelley McNamara.
"When we heard the camp's story from Terry, it wasn't difficult to make the decision to help out," adds Motion accessibility consultant Rob Carleton.
Camp Kawartha offers year-round programming to children, youth and adults, focusing on outdoor education, environmental stewardship, and building leadership skills.
While Camp Kawartha's outdoor education programming and summer camp this year have been affected by the COVID-19 pandemic, the organization is already planning for celebrations in 2021 — its 100th anniversary.