Award-winning Ojibwe playwright, novelist, and filmmaker Drew Hayden Taylor moves from stage to screen with his new documentary Cottagers & Indians, which brings more attention and perspective to ongoing land disputes and cultural clashes affecting indigenous peoples across the country.
Based on his successful and national-touring play of the same name and topic, Taylor's new doc is set to premiere on CBC Television on Saturday, July 4th at 8 p.m.
Making its debut in February 2018 at Toronto's Tarragon Theatre, Taylor's stage play Cottagers and Indians was inspired by the decades-old battle between Curve Lake First Nation's James Whetung and cottagers and residents on Pigeon Lake, located northeast of Toronto.
Advertisement - content continues below
For many years, Whetung has been growing and harvesting wild rice — called "manomin" in the language of the Ojibwe people, meaning "gift from the creator" — in Pigeon Lake, arguing that doing so is an indigenous right of food sovereignty. On the other side of the issue, residents and cottagers who want to maintain the lake for recreational use (which is hampered by the thick growth of wild rice) believe Whetung is breaking the law.
Taylor's play, which takes a balanced and light-hearted look at the conflict, included sold-out shows at the Market Hall in Peterborough. It was selected as a runner-up for the 2020 Stephen Leacock Memorial Medal for Humour.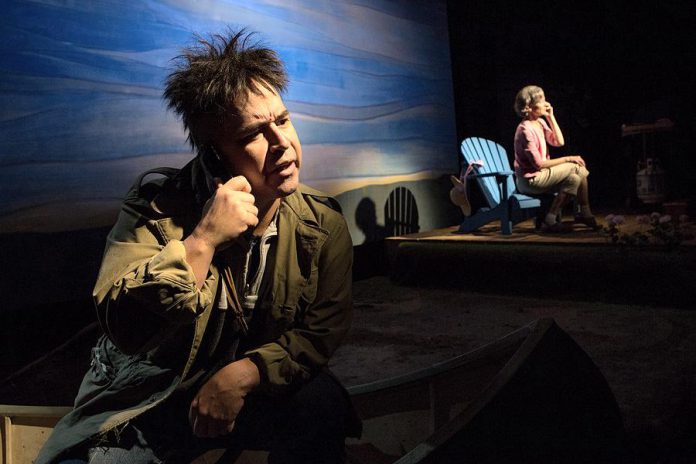 Taylor has a long history of writing about the topic of indigenous rights and sovereignty in Canada using dramatic humour but also through documentary film. And according to Taylor, documentaries are much more challenging.
"There are two sides to every story," Taylor explains. "In drama, each character thinks they're right. In documentary it is harder. You have to respect the people you are interviewing in a doc."
Taylor's new film delivers by respectfully showcasing the different perspectives of historic land disputes and considers the causes of conflict, from the debate over wild rice in Pigeon Lake to larger issues such as food sovereignty, property rights, restricted access to capital on reserves, racism, privilege, contract law, and indigenous poverty.
VIDEO: "Cottagers & Indians" Trailer

Through each conflict, Taylor — who both presents and directs the film — explores what it might look like to simply coexist, through individual and personal perspectives after spending months building the trusted relationships needed to get the stories to the screen.
"These are all the repercussions of what happened years ago," Taylor explains. "Communicating is good — and so is understanding both sides. There are still land issues, people are still going to court, and this is still creating animosity."
Taylor's cross-country journey takes him to Shoal Lake 40, an isolated reserve thatt has provided the city of Winnipeg with pristine drinking water for a century, while leaving the First Nation with a boil water advisory since the 1980s. He is wowed by Canada's most prosperous indigenous bands in Osoyoos B.C., and he meets an indigenous chief and small-town mayor with different perspectives on the ownership of Sauble Beach, one of Canada's most popular beaches.
It's a journey filled with laughter, tears, joy, and anger as Taylor returns to meet with the adversaries at Pigeon Lake, all of whom are still hoping to find a solution many years later.
The inspiration for the pivotal character in Taylor's play Cottagers and Indians, Whetung also features prominently in the documentary. Knowing Whetung through his own connection to Curve Lake, Taylor was prompted to write the play by Tarragon Theatre's artistic director Richard Rose.
Advertisement - content continues below
"When I started working on the play, I was a bit reluctant," Taylor admits. "How do you dramatize a bag of wild rice?"
But Taylor says once he put on his objective eyeglasses, he was able to put different clothes on the story, going deeper and bringing awareness.
Now, in a documentary form, the story remains rich and full of twists and turns.
"James barely lives above the poverty line because education is so important to him," Taylor explains. "He takes groups out (on Pigeon lake), he gives lots of the wild rice away, and he has built up many allied supporters."
Taylor says he looks forward to the new doc continuing to shine a light on the still-growing conflict and exposing real issues between that have a long history across the country.
Cottagers & Indians debuts on CBC Television's Docs POV on Saturday, July 4th at 8 p.m. and on the free CBC Gem streaming service.