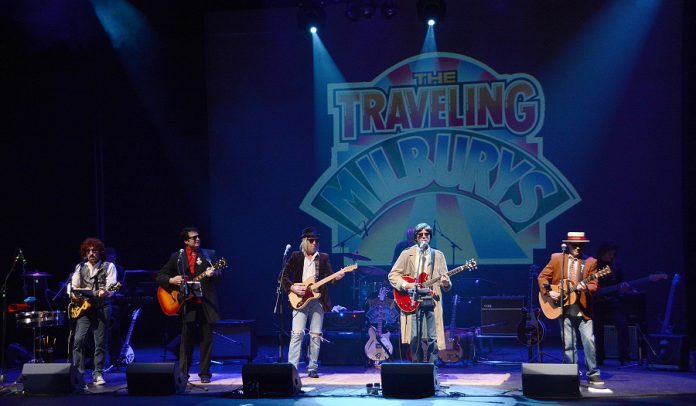 If you've been missing live music during the COVID-19 pandemic, there's a unique opportunity coming up on Sunday, July 19th.
Like many drive-ins around the world, the Lindsay Drive-In has decided to host a live concert. Tribute band The Traveling Milburys will be headlining the show with special guests The Steelhorse Gypsies opening.
The Traveling Milburys faithfully recreates the look and sound of supergroup The Traveling Wilburys, which was comprised of Jeff Lynne, Bob Dylan, and the late Roy Orbison, Tom Petty, and George Harrison.
Advertisement - story continues below
Each member of the Traveling Milburys omes from tribute bands dedicated to the individual artists, with John Cassano as Jeff Lynne, Roy Leblanc as Roy Orbison, Gerry Parsons as Tom Petty, Jerry Boyer as George Harrison, and Matt Greenberg as Bob Dylan. The band last performed in the Kawarthas at Market Hall Performing Arts Centre in Peterborough in November.
VIDEO: Introducing The Traveling Milburys

The Steelhorse Gypsies is a country rock band based in Orillia fronted by Bill McConnell with members Aaron Solomon, drummer Adam Zimmerman, Gordon Girvan, John Granberg, and Norm McMullen.
The group has been performing across the country in support of Wounded Warriors Canada, which provides mental health services for Canada's veterans, first responders, and their families.
The cost for the July 19th concert is $90 per vehicle, or $50 per person for VIP front row tickets. Tickets are available at 10 a.m. on Friday, July 3rd at ticketscene.ca/events/29912.
The all-ages concert will go on rain or shine. Gates open at 6:30 p.m. with the show beginning at 8:30 p.m. The snack bar will be open, and outside food as well as alcohol and drugs are prohibited.