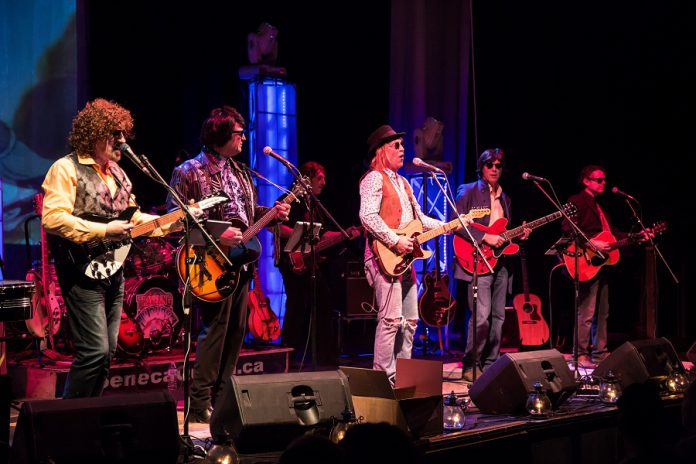 For a band that wasn't here for a long time, The Traveling Wilburys' musical feast for the ears remains as fulfilling as when it first sounded.
Popular music heavyweights George Harrison, Bob Dylan, Tom Petty, Jeff Lynne, and Roy Orbison came together by happenstance in 1988, recording two critically acclaimed albums and winning a 1990 Grammy Award before disbanding — a move influenced by Orbison's sudden death in late 1988 which preceded the second album's release.
While the formation of The Traveling Wilburys came about as the result of a series of circumstances, the formation of tribute band The Traveling Milburys was very deliberate, according to band founder John Cassano — who also performs as "Otis Milbury", the tribute band's take on Jeff Lynne's "Otis Wilbury" persona (each member of The Traveling Wilburys had adopted a tongue-in-cheek pseudonym as half-brothers from a fictional Wilbury family of travelling musicians).
"It's an all-star band paying tribute to an all-star band," explains Cassano.
"The first call I made was to Gerry Parsons. He's in a tribute band called Practically Petty. The second call I made was to Jerry Boyer. He's in a tribute band called The Liverpool Four. The third call I made was to Roy Leblanc. He is one of the world's premiere Elvis and Roy Orbison tribute artists. And the fourth call I made was to Matt Greenberg (coming on board now, replacing Randy Shook). He did a tribute to Bob Dylan called The Dylan Tree which was widely acclaimed across Canada."
"These are the top tribute artists dedicated to these particular artists that I could find in Canada."
VIDEO: Introducing The Traveling Milburys

On Friday, November 29th, The Traveling Milburys will perform the songs of The Traveling Wilburys — as well as selected songs written by the band's individual artists — at Market Hall Performing Arts Centre (140 Charlotte St. Peterborough).
Assigned seating tickets to the 8 p.m. performance are $35 including fees, available at the Market Hall box office, by phone at 705-749-1146, or online at markethall.org.
"When we got together, I was pretty insistent that we had all the right instruments, so we're full to the brim with Rickenbackers, Gretschs, and Gibsons," notes Cassano.
"We've produced a video for each song, so there's eye candy for each and every song. And then there's audience participation with lots of sing-alongs and trivia and prizes. We have a lot of fun with it. We don't take ourselves too seriously on stage — other than the fact that we produce a performance that's as true to the original as possible."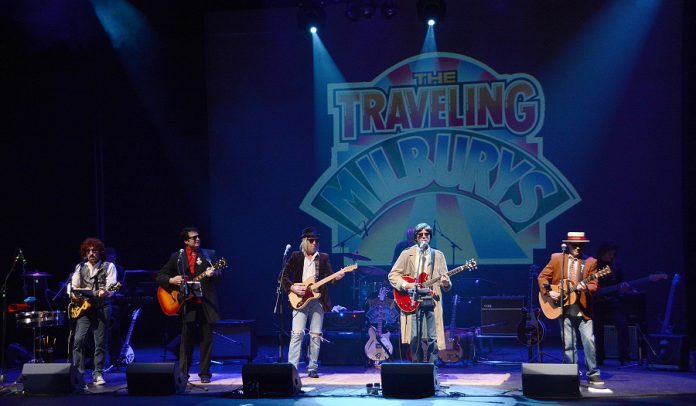 Back in the early 1980s, Cassano started a Beatles tribute band that also performed New Wave music hits that were popular at the time. Later, working full-time as a creative director with a number of Toronto advertising agencies, Cassano kept up his musical chops, gravitating particularly toward the music of the Electric Light Orchestra, fronted by Lynne.
When he first considered putting together The Traveling Milburys, Cassano penciled himself in for Lynne's role but not before "going back and rechecking out a lot of their songs and making sure I could hit those notes."
Like countless popular music fans of his generation, Cassano is as taken by The Traveling Wilburys' sound as he is by the story of how it came together.
As the story goes, in April 1988, Harrison was asked by his record company for a new song to serve as the B-side for the European release of "This Is Love", his third single from his Cloud Nine album. While enjoying a meal with Lynne and Orbison, he asked Lynne to help him record the track and invited Orbison to come along.
VIDEO: "Milbury Twist"

That recording took place at Dylan's garage studio in Malibu, which was available on short notice. Petty was invited to come along when Harrison went to his home to retrieve his guitar.
The resulting track, "Handle With Care", was deemed too good to be relegated to B-side status. Their mutual admiration for each other serving as an anchor, the five musicians got together to record and release Traveling Wilburys Vol. 1, with "Handle With Care" among its 10 tracks. Released in October 1988, the album brought multi-platinum sales in the United States, Canada, Australia, and England.
In March 1990, still devastated by the loss of their friend Orbison, the remaining four musicians recorded their second album, the mischievously named Traveling Wilburys Vol. 3 — with the 2007 CD reissue including two bonus tracks: covers of Cy Coben and Mel Foree's "Nobody's Child", first recorded by Hank Snow, and Del Shannon's "Runaway".
VIDEO: "You Got It"

"I had seen them individually in concert, except for Bob Dylan, but when you combine those voices, the sound that they made was a treat," marvels Cassano. "Each one was a fan of the other. Egos were checked at the door."
"George had everyone sing a version of whatever song they were doing, and then they sat around the studio and decided which one they liked best. It was a labour of love from when it started."
When Petty passed away in October 2017, Cassano was drumming with a Top 40 tribute band. Deciding he no longer wanted to do that, he decided to look into forming a Traveling Wilburys tribute act.
"The atmosphere when we first got together was electric," he recalls.
"We were all grinning because we all secretly wanted to do something like this. When it happened there was electricity in the air. We started learning the songs. Because we were all in tribute bands dedicated to one of the Traveling Wilburys artists, we all loved that component of it."
VIDEO: "I Won't Back Down"

Having played a number of dates across Ontario and in Nova Scotia, The Traveling Milburys incorporate into their set a sprinkling of hit songs by the five Traveling Wilburys members as individual artists.
"Because members of The Traveling Wilburys had such longevity, their music transcends the Baby Boomer crowd," says Cassano of the enduring and all-ages appeal of the songs they perform.
"Ours is a performance for all the senses. When I put this thing together, I didn't want a band that just played the songs. It needed to be an experience with audience participation. It also needed to be a visual experience. The result is a comfortable, relaxed atmosphere. It's a fun night out."
While Cassano is uncertain what's in store for The Traveling Milburys in the future, he's encouraged by the response so far.
"We all have day jobs and we're getting up there in years," he says. "Can we do this once our real careers are done? It's growing, as more people are discovering what the band is all about, so who knows where it will go?"
For more information on The Traveling Milburys, visit travelingmilburys.com.