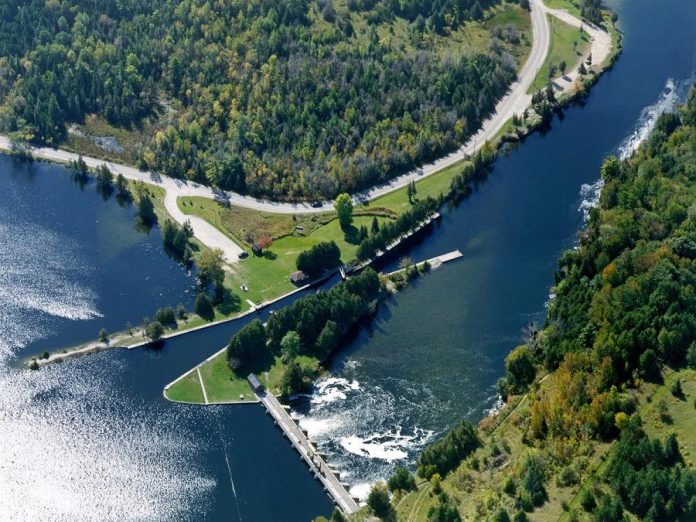 A north-end Peterborough resident is one of at least two people raising the alarm over the behaviour of visitors along a stretch of the Otonabee River beside County Road 32 (River Road) north towards Lakefield.
The 47-year-old man, who cycles that stretch of road almost daily, tells kawarthaNOW there are a number of "mini tent compounds set up and they are there all weekend."
"I've seen people defecating, squatting in the woods," says the man, who asked not to be identified. "Water bottles, wrappers … a lot of garbage is being left behind."
While he can't say with certainty if visitors to the area are local or from out of the region, he has noticed licence plate holders on a number of the parked vehicles advertising GTA-area dealerships.
The man reached out to Selwyn Township which, in turn, advised he contact the County of Peterborough and Douro-Dummer Township. He heard back from the county, which recommended he contact Selwyn Township — which he had already done.. Another email he received from Douro-Dummer said his concern would be forwarded to Peterborough and the Kawarthas Tourism.
"If this isn't brought to people's attention and dealt with accordingly, through the proper channels, people will start taking it into their own hands," the man says, recalling the summer of 2017 when anglers fishing from the James A. Gifford Causeway spanning Chemong Lake drew residents' ire because of the litter they left behind. "It could become a vigilante thing, which isn't good."
Advertisement - content continues below
kawarthaNOW reached out to Parks Canada for comment regarding what's happening on its property — including Otonabee (Lock 23), Douro (Lock 24), and Sawer Creek (Lock 25).
According to Parks Canada, all of its visitor services have been reviewed and adjusted based on advice from public health officials as well as in accordance with measures mandated by provincial and municipal authorities.
On the Trent-Severn Waterway, only boater camping is currently available. Land-based camping is not allowed, with signs now being posted to that effect. Parks Canada is also engaged in ongoing discussions with municipalities, businesses, and tourism organizations regarding any need for additional signage, public education, and enforcement.
"It is important that the waterway is protected, and kept clean for both wildlife and the people who visit," reads a prepared statement from Parks Canada, which was sent to kawarthaNOW after the original version of this story was published.
"When garbage and human waste is disposed of on our sites, it threatens the health of the area and the experience of visitors," the statement reads. "Parks Canada provides garbage and recycling for waste left behind by Trent-Severn Waterway visitors, and visitors are encouraged to make use of these facilities. Visitors will notice new signage along the Trent-Severn Waterway, reminding them of physical distancing recommendations, camping restrictions and other information related to COVID-19."
The statement goes on to ask visitors "to respect other visitors, Parks Canada team members, and the national historic site itself" by adhering to all regulations in place "to protect the site, and ensure a safe and enjoyable experience for all."
Full information on services available along the Trent-Severn Waterway as well as restrictions can be found at pc.gc.ca/en/lhn-nhs/on/trentsevern/visit/covid-19-info.
Also expressing his disgust via a July 4th Facebook post was John Scott.
"Groups of 10 to 20 people minimum at each spot," he writes. "Garbage on the road. What really pissed me off was at the one trail we always go to there were at least five people defecating in the woods as seen from the road."
Scott added he fears the area between County Road 32 and the Otonabee River will become "a dumping ground" if it hasn't already.
"Throw your garbage in in your neighbour's yard, not mine."
Just a big shout out to all the people along RiverRoad CR32. Close to Lakefield.
I have never been so pissed off or…

Posted by John Scott on Saturday, July 4, 2020
Reports of this situation come on the heels of a July 7th kawarthaNOW article detailing similar problems at and near Burleigh Falls.
In that article, Jennifer Craig, general manager and operations manager of the Burleigh Falls Inn & Suites, details ongoing instances of illegal parking, littering, and public defecation as a result of huge crowds visiting since the lifting of certain COVID-19 restrictions.
Advertisement - content continues below
Dr. Rosana Salvaterra, Peterborough's Medical Officer of Health, confirms a public health inspector visited the Burleigh Falls site on Monday (July 7) and took photographs.
"We did see evidence of garbage and we also some evidence that the site had been used for open defecation," says Dr. Salvaterra.
"We have been in touch with the Ministry of Natural Resources which owns the site. We are working with them and hope to be able to come to some sort of a resolution in order to prevent this behaviour from continuing."
This story has been updated with a response from Parks Canada.