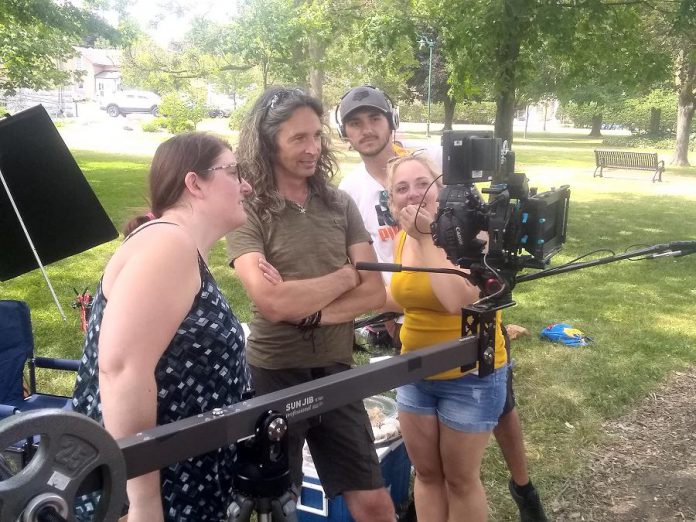 It's a beautiful Sunday morning at Victoria Park in downtown Lindsay, Ontario. Kids are riding bikes, two seniors chat over a cup of coffee at a picnic table, an old man sits on a bench with his very small dog, and over by the beautiful water fountain two street magicians are having a fierce standoff.
It seems like a strange sight, but the only real magic being made is movie magic.
With only a small crew of seven people and observing physical distancing procedures mandated by the Ontario government, director Jamie Oxenham and his crew are visibly making film productions once again in the Kawarthas with their latest short, Abra Kadabra.
Advertisement - content continues below
Currently in post-production, Abra Kadabra isn't the first film to be made in the Kawarthas since the COVID-19 pandemic, but it is the first one that has been shot on location with a close-contact crew since Ontario has begun its reopening.
Still working in conjunction with health guidelines, Jamie and his crew — script supervisor Michelle Foster, sound technician Jake Phair, and production assistant Kat Shaw — and his actors Steve Kasan and Rick Amsbury took over a section of Victoria Park to bring this short black comedy to life.
"I think the hurdles for this project were the ones I had mentally," Jamie says in an interview a few days after the shoot. "Was I going to encounter any problems? Well, it was actually a perfect day, and people passing by were curious and chatty."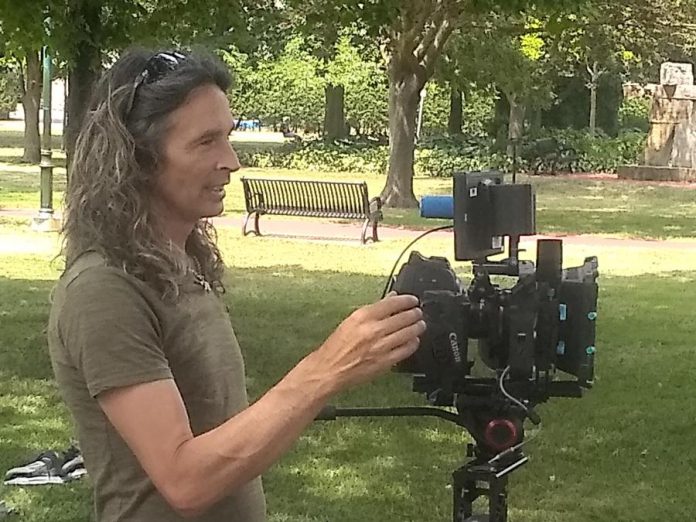 With gatherings of no more than 10 people still in order, the entire company of Abra Kadabra had to be limited but, with Jamie both directing and operating the camera equipment, bringing the shoot down to a minimalist team was little problem.
"I doubt I'd have had much more of a crew even if there wasn't a pandemic," Jamie admits. "The crew was just the right size. In this case, I'm shooting the scenes and pulling my own focus. There is no video village with clients or producers watching live video feeds."
"Operating cameras on bigger sets you have a focus puller, which is another person you'd need. Most times now DIT (digital imaging technician) professionals are important on set, but we didn't need them."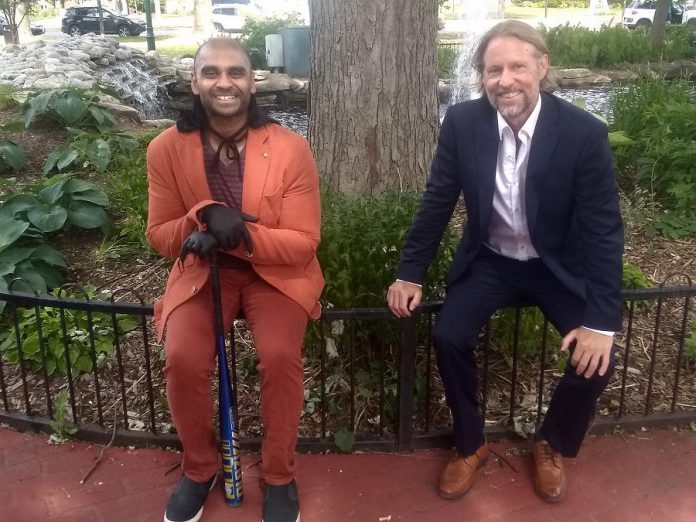 A dark comedy featuring Peterborough actor Rick Amsbury and Toronto-based performer Steve Kasan, Abra Kadabra is the story of two rival street magicians squaring off over a prime spot to do their brand of street magic. But a light-hearted duel quickly turns very dark, with a magical twist ending.
The script, written in 2009 by Will Ball, was discovered by Jamie on the website Simply Scripts, where filmmakers can browse material for new projects.
"If there is a script you like on Simply Scripts, you just have to contact the writer to sign off on it," Jamie explains. "I was looking for something that would be under 10 minutes, because I didn't want it to spill over into a two-day shoot."
Advertisement - content continues below
"It's a very funny script with a surprise ending," Jamie says about Will Ball's script. "Battling street magicians, what could be funnier than that? But then there is that surprising ending and it gets really dark really quickly. I right away thought about Rick and Steve for the parts, so I emailed the writer and he said it sounded great and to do it."
Two of his favourite actors to work with, Steve and Rick have been featured multiple times in a number of Jamie's film projects, most prominently together in Final Stand and PeaNut, which are both available on YouTube.
VIDEO: "Final Stand" by Jamie Oxenham

"Their professionalism is incredible," Jamie says of the two actors. "They are so professional and accommodating, which is important for these small projects."
"I tell them sort of how I want them to play it, but I can put my trust in them to read the script and then deliver the character the way they think it should be played, instead of me telling them how to play it. Nine out of 10 times they play it exactly how I'd want them to."
"Steve is such a great comedic actor," Jamie adds. "His comedic time is perfect — I don't know why he isn't on a sitcom in Hollywood. I love Rick in serious stuff, and I wouldn't cast him as my number one comedic actor. But the two of them together at the end of the day is just so good."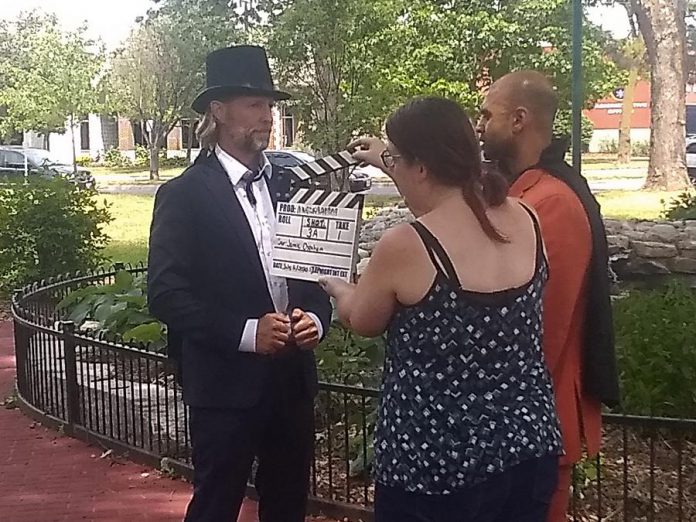 Working diligently with limited breaks for lunch and to talk to curious onlookers walking by, Jamie and his team managed to shoot the entire film in less than seven hours. Although it was a hot afternoon with the sun beating down, everyone stayed focused and positive.
After months of social isolation and small personal projects, Abra Kadabra was a reunion of friends and colleagues to come and create together in a more personal way once again.
With more film shoots being scheduled through July and August, the Kawarthas film industry has now officially reopened.
"I think everyone was amazing," Jamie says. "We all get along. We all just want to film and we want to have fun doing it."