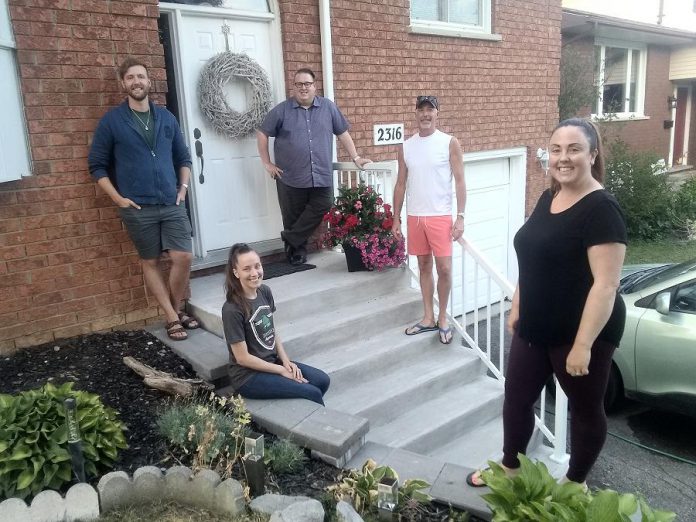 "Music has healing power. It has the ability to take people out of themselves for a few hours." – Elton John
During the darkest days of the COVID pandemic, each Wednesday I received a gift of hope from local actress/director Natalie Dorsett when, via Facebook Messenger, she'd send me a simple but heartfelt musical recording featuring some of my favourite voices from the Peterborough musical theatre community.
As I was navigating through a life that was suddenly filled with isolation and uncertainty, the weekly recordings produced strong emotions as I longed to see these performers again and wondered when, if ever, live theatre would return.
Advertisement - content continues below
Arranged and produced by Brian MacDonald, this series of recordings featuring Natalie Dorsett, Gillian Doiron, and Erik Feldcamp — along with guests Warren Sweeting, Keely Wilkson, and Christie Freeman — were created during the COVID pandemic for St. James United Church's online ministry.
But, by featuring songs by The Beatles, ABBA, Joni Mitchell, Leonard Cohen, Bette Midler, Robbie Williams, and other contemporary artists, the recordings have found their way beyond the church services and to social media.
Filled with warmth and love, these recordings have offered Peterborough residents a sense of hope, while also being an emotional outlet for performers who found their theatrical activities stalled by theatre closures.
VIDEO: "Both Sides Now" by Joni Mitchell performed by members of the St. James Church choir
Both choirmaster as well as the head of St. James Church's health and safety board, Brian MacDonald was preparing to play Rooster Hannigan in the Peterborough Theatre Guild's production of Annie before the pandemic hit.
"It started off pre-shutdown," Brian recalls about the production of the recordings. "The minister at St. James and I were talking about how we need to get ahead before the government put restrictions down. It was a bit of a struggle for the congregation to understand that things were stopping. So we decided we were going to do things differently and I was going to find a way to do this."
"First thing I did was to buy a microphone on Amazon. By then things were shutting down. We were told that we were limited to five people. We have a six-foot piano in the church, so we knew what six feet looked like. So it became about how could we record safely and how people could feel safe in the environment we were in. It floated between Natalie, Gillian, and I for a bit, but Erik came in and we were able to have other guests."
"We would take a song, and we'd learn it that night," Brian says. "It became very collaborative. We chose songs that fell under the themes of love, welcoming, and inclusion. We wanted to also find things that we also enjoyed singing."
AUDIO: "I Have A Dream" by ABBA performed by members of the St. James Church choir
He had an entire choir to choose from, but Brian whittled the group down to five performers who, incidentally, all happen to be well-known and beloved musical theater performers.
"The people Brian selected were not as high risk as many of the other members of the choir," Erik Feldcamp says. "They were happy to say 'This is a crazy world right now and let's step back.' He knew we'd be less immunocompromised and how well we work together."
Although the group did record weekly hymns and spirituals, each session would also include a contemporary song from the pop or theatrical cannon, which have since travelled beyond the church services and into the Peterborough community.
"Brian has always been more modern, so he's always been able to find more modern music that might not be in the church library per se," points out Warren Sweeting. "With each song there is the message says that we are all in this together. I think the message is conveyed through the music and it's emotionally uplifting. It brings everyone together."
AUDIO: "Even If" by MercyMe performed by members of the St. James Church choir
With recording sessions each Wednesday, the weekly opportunity for the performers to sing became more than a job — it was an emotional outlet as well.
"It was the one thing a week that I could look forward to," Natalie Dorsett tells me. "There was nothing else. I worked from home, I was home all the time with my daughter and my husband, and all I did was have that one time a week I could sing. I was just so bored. All I had was groceries and singing."
Advertisement - content continues below
"When we decided to do this, I chose these people to be my people (in my social circle)," Natalie says. " When we weren't sure what was going on and we couldn't see people, I knew they were good and safe. They knew I was good and safe and they were my people. They were the only people that I saw."
"What happens to the music is it's a bridge," Brian says. "Everything sounds different when it's recorded, but it's a moment where we'd think that it worked, or there would be a lot of laughs because there would be a lot of mistakes. There would be things we would do that would put us in stitches, or would be a release of emotion."
"Then we'd go home and listen to it with joy, or with tears of joy, and know that we came together and did something that we hope people would enjoy."
AUDIO: "No Day" from Rent performed by members of the St. James Church choir
With Ontario currently in Stage 3, and the province cautiously open in greater ways, the darkest days of the pandemic are seemingly behind us, but the group is continuing to meet and record together.
While St. James Church gets a facelift, the group has moved to Brian's home where new recordings will continue to be released on St. James' website at for the remainder of the summer. However, once the church reopens in the fall, there are hopes that new measures will allow an eventual return to live performances.
"We came to the decision that just because we can open St. James Church doesn't mean we necessarily should," Brian says. "We are preparing to open on September 13th, so we are still recording the music. We've prepared some music that we recorded ahead of time to get us through the summer. But the plan is that once the renovations are done, we'll be able to transfer from doing the recordings, to doing it live as a full choir."
In the meantime, the voices of our local musical theatre community will continue to come into our homes via St. James' choir. For weekly recordings visit the St. James Church website at www.stjamesunitedchurch.ca/online-worship.