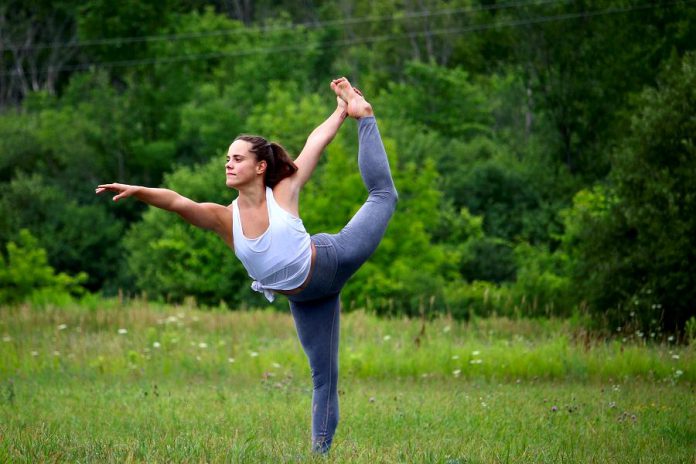 Beginning in August, 4th Line Theatre will be hosting outdoor yoga sessions at the Winslow Farm in Millbrook.
4th Line's artistic director Kim Blackwell told kawarthaNOW in early July the theatre company was planning on hosting yoga at the farm.
With the postponement of its 2020 summer season due to the COVID-19 pandemic, the yoga sessions are just the latest in a series of innovative initiatives 4th Line has undertaken to engage people who would normally be in the theatre's audience.
Advertisement - story continues below
As well as the new yoga offering, these initiatives include the Monologue Series (where people can experience live readings of selected monologues from past 4th Line plays over the phone), a farmers' market on Friday mornings, as well as a series of online talks between Kim Blackwell and artists as well as with local business and political leaders.
The outdoor yoga sessions with instructor Madison Sheward will run at 8 a.m. on Wednesday, August 5th, Wednesday, August 12th, and Tuesday, August 18th at Winslow Farm (779 Zion Line, Millbrook). Each session will last 60 minutes and participants will be physically distanced.
"We will be hosting mindful yoga classes in a peaceful, shaded field," Blackwell says.
For beginners and above, each session will explore a simple flow of yoga poses, breath work, and meditation and is designed to help participants connect through breath, body, and mind. Attendees are asked to bring their own mats, water bottles, and any other yoga equipment.
Those interested can register by calling 4th Line's box office at 705-932-4445 or emailing sarah@4thlinetheatre.on.ca to book their session. Limited spaces are available for each session.
There is no charge for the sessions, thanks to the sponsorship of 4th Line's longtime supporter Nexicom.