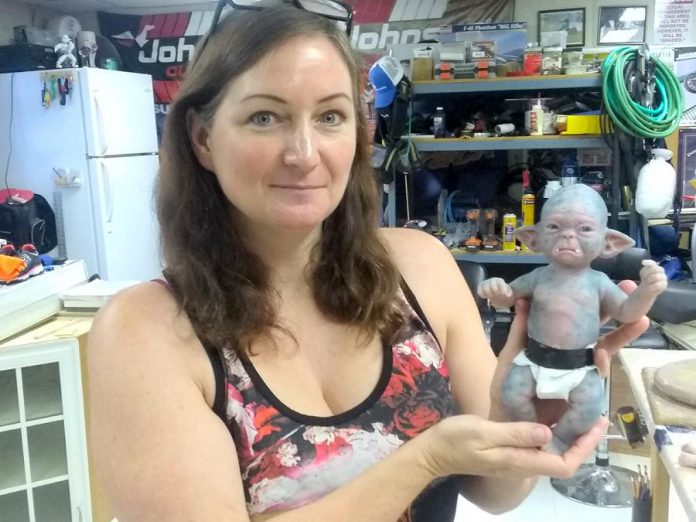 On a stormy Sunday afternoon, I find myself in a secluded out-of-the-way workshop lined with shelves of prosthetic moulds, severed heads and limbs, demon corpses, and alien creatures.
I'm visiting Reel Twisted FX, located in Omemee, where owner and operator Rhonda Causton has turned her special effects studio into the most unusual adoption agency. For a price, horror and fantasy fans can bring home their very own babies of a different kind — baby gorillas, orcs, and vampires!
Made out of the same materials Rhonda uses in her career as a special effects and makeup artist for film, these realistic and bizarre — yet unsettlingly cute — creatures have been gaining Rhonda a new-found attention and helping her keep both busy and financially stable at a time where the big-budget film industry is still not quite up and running.
Advertisement - content continues below
As the COVID-19 pandemic created havoc and uncertainty throughout the world's artistic industries, professionals in all disciplines have been forced to improvise to continue to make a living Well known for her makeup and prop work in both local and national film circles, Rhonda's baby monsters have kept her business alive and thriving during the entire pandemic.
Ironically, the project began long before the outbreak started, when she gained attention online last Christmas for her version of Baby Yoda, the breakout star of Disney's Star Wars series The Mandalorian.
"Before COVID hit I made a couple of Baby Yodas," Rhonda says, pulling out a few of her leftover Yodas off a back shelf for me to look at. Primarily made out of silicone, the realism of the familiar creature that became an internet sensation in 2019 surprises me.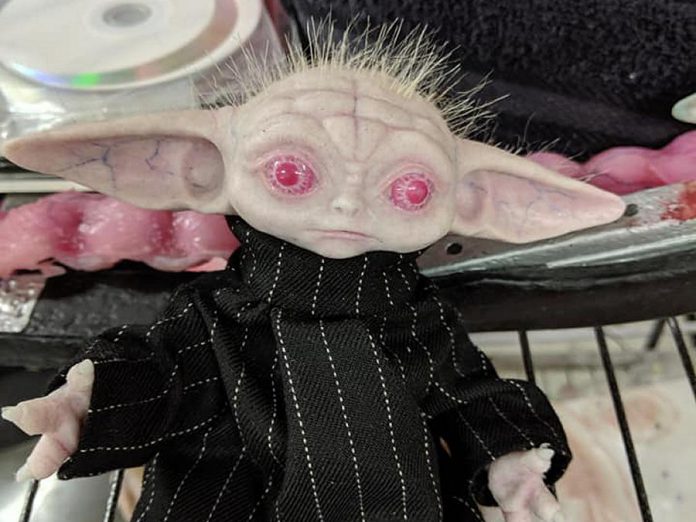 "They got some attention, but I didn't think too much of it," Rhonda recalls. "Then my husband and I went to Vietnam on vacation and when we came back, everything was shut down. I didn't know what I was going to do. All the film projects I had been booked for had been cancelled. I knew how to make little creatures, so I thought maybe I'd make a few and see how they sell. Well, people started buying my creations left, right, and centre."
Through Reel Twisted FX's Etsy page, Rhonda began to fill orders internationally for her creations. However, she quickly abandoned the Baby Yodas for other creatures.
"I don't want to make things that you can buy anywhere," Rhonda says. "That's why I stopped making the Baby Yodas. Why would I make more Baby Yodas when you can buy one on Amazon for $60? But it has to be something that inspires me. Somebody asked me to make a Chucky doll, but I had no interest in making a Chucky doll."
Advertisement - content continues below
The most breathtaking of her creations are the newborn gorillas. They are so realistic that, while I was looking at photos of the completed creations, it was hard at first to determine if they were real or the dolls. Rhonda painstakingly inserts individual hairs into the doll, which weighs the same as a real baby ape. They aren't for the casual collector — Rhonda has been selling her baby gorillas online for $1,800 US.
"I've always loved gorillas," Rhonda admits. "Gorillas in the Mist is one of my favourite movies, and I got inspired by watching it again. I decided to make one, and they seem to be popular. I've sold four of them in the last few weeks."
However, Rhonda's most popular creatures are the baby orcs. Popular in franchises like World of Warcraft and Lord of the Rings, these small goblin-like creatures sell for $550 US each and make up the majority of Rhonda's orders.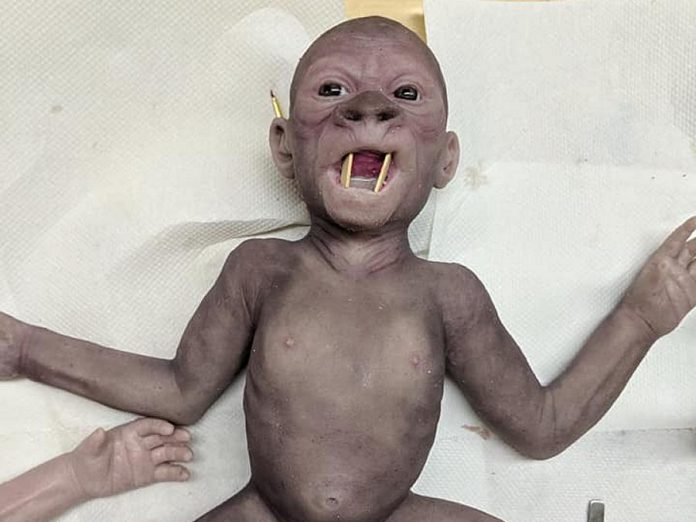 "I started making baby orcs because people kept asking me if I had ever made one," Rhonda says, as she looks over a line of orcs in various degrees of completion. "I started looking at pictures of orcs from World of Warcraft, and I didn't like any of them. They just looked like angry older babies with a lot of human features, so I decided to create my own."
Selling her creations primarily to buyers in the US and England, Rhonda has created a cottage industry that has not only allowed her to stay creative during the pandemic, but is more financially lucrative than her regular film work. However, not everyone appreciates her creations — especially her vampires.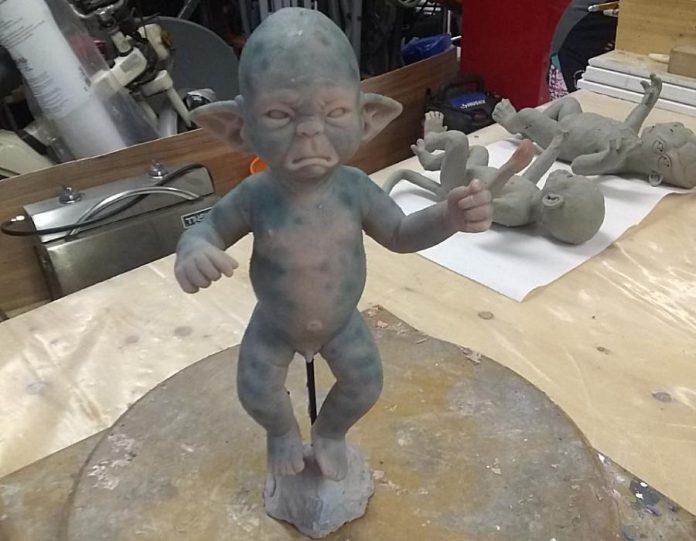 "I also made Strigoi baby vampires which have a stinger tongue that comes out," Rhonda explains. "I was surprised about some of the comments on these when I advertised they were for sale on online baby doll collector forums. Some of the comments were terrible."
"One person told me that I had to remove it immediately from the forum because it was an abomination," she laughs. "Clearly, they didn't like horror movies."
Rhonda has always passionate about film and sculpture. After studying her unique craft at Toronto's School of Makeup Art, she was hired right out of school to work for special effectsartist Paul Jones.
Advertisement - content continues below
"I went to school in Toronto and learned how to make prosthetics and how to apply them," Rhonda says. "I graduated in 2010 and I went to work at Paul Jones' studio right away. He's best known for doing the Resident Evil movies. He was working on Silence Hill: Revelations and he was really behind. So I was brought in for an interview and I showed him some of the work I had done in school and some of my previous sculptures. He hired me."
"I was working in his shop for weeks but I was so green when it came to working on films that he had me going from station to station helping with seam work and running foam latex. But he must have liked me because he had me in for another film called Up in Cottage Country. He didn't have time to do it, but he set me up working in his shop."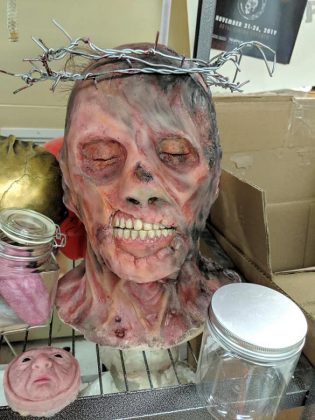 Working in both independent films as well as big-budget Hollywood productions, Rhonda gained attention last year for her work on the 2019 indie horror film Making Monsters. Pointing out a detached demon head on one of her studio shelves, Rhonda has big hopes for the future of the film.
"Hopefully Making Monsters will be on Netflix in the fall," Rhonda says. "It's still making the rounds on the film festival circuit. It's won a ton of awards, and I've been nominated three times for best makeup and special effects."
Rhonda showed me an album filled with photos from recent films she has worked on that have stalled in post-production due to the COVID-19 pandemic. The photos of aliens, corpses, demons, and zombies cannot be released to the public as the films have not yet been released, but it's a portfolio of the impressive work that Rhonda has become well known for.
While smaller independent films have begun to resurface, large-scale film production still seems to be far off.
"Although the industry is slowly opening back up, they have no protocols in place when it comes to the new social distancing regulations or in regards to what I'll have to wear," Rhonda says. "The only thing that did come out through the union is that I need to take a course on COVID certification."
However, until the film industry recovers, Rhonda is busy and happy creating her baby monsters. Although garish, her monsters are a strange symbol of the enduring spirit of creativity by artists during times of crisis.
"These are something to keep me busy until movie works starts back up, and it's going really well," Rhonda says. "Now I'm suddenly making more money than I was before COVID."
For a closer look at Rhonda's creations, and more of her work, visit her Etsy site at www.etsy.com/ca/shop/ReelTwistedFX. Note: Rhonda won't be taking any new orders until the beginning of August so she can finish working on her current orders, but you can read some of the rave reviews buyers have left on her Etsy site.
VIDEO: "Making Monsters" official trailer