Ontario students are going to be back in classrooms in September.
Premier Doug Ford made the announcement at a media conference at Father Leo J. Austin Catholic Secondary School in Whitby on Thursday (July 30), along with deputy premier and health minister Christine Elliott, education minister Stephen Lecce, associate chief medical officer of health Dr. Barbara Yaffe, along other politicians.
Publicly funded schools in Ontario were closed on March 14th due to the COVID-19 pandemic, three days before Ontario declared a state of emergency and closed all non-essential workplaces.
"We're going to get our kids back to school in a way that looks and feels as much as it used to," Ford said. "Five days a week, five hours of instruction a day, with lunch and breaks in-between. Parents, we want you to know, that on September 8th, you can drop your child off at school, knowing that every possible measure is being taken to keep our children safe."
Advertisement - story continues below
Ford said that the government's plan has been informed by guidance from public health experts and emerging health data.
Public health measures that will be put into place include:
Mandatory masks for staff and cloth masks for students from grade 4 to 12, with exceptions for those with medical conditions. For the youngest students, masks will be optional.
Cohorting of students in both elementary and secondary schools to limit contact with other students and staff.
Expanding testing in schools.
Frequent cleaning of school buses.
Additional health and safety training for all educators, including vocational and supply teachers.
Personal personal equipment (PPE) for all educators and staff.
Ford also announced $309 million in funding would be made available immediately to hire 500 new public health nurses to be embedded in schools and 900 custodians to enhance cleaning, and to purchase required PPE and cleaning supplies to keep students and staff safe.
Ford said every school will have to follow provincial guidance in the event of a breakout.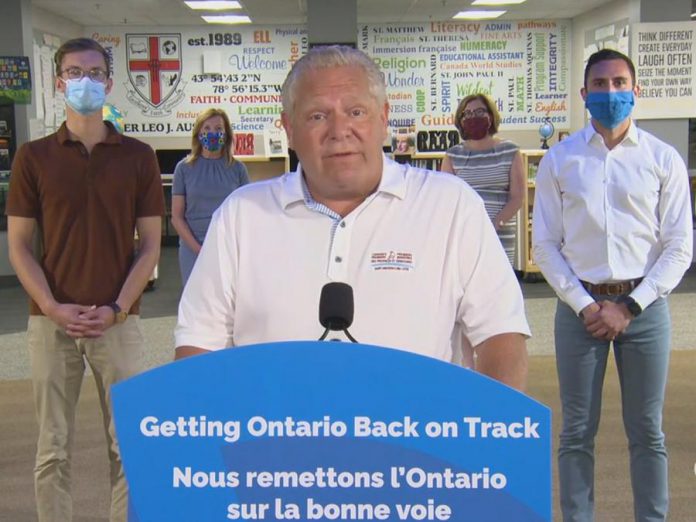 Education minister Stephen Lecce said all publicly funded elementary schools will reopen province-wide in September five days a week.
Lecce also said that most secondary schools will reopen under a adapted model that limits the size and the interaction of "cohorts" — groups of 15 students who will alternate between attending class in-person and online. Secondary schools with "lower risk profiles" will be able to reopen with a full return to in-person classroom instruction five days a week, Lecce said.
"We will continue to respect the choice and authority of parents," Lecce added. "The choice of whether to enrol their children for in-school instruction, the choice of determining when and if they feel comfortable with their child's re-entry to school during the year, and the expectation and delivery of live online teacher-led synchronous learning for their child when they're not in school."
Teachers will also be able to decide whether or not they wish to go back to class.
Lecce said that medical and pediatric experts have advised the government the pandemic has had "profound mental health impacts" on the province's children.
"Now, more than ever, reopening schools is crucial to the social and emotional development of Ontario's students," Lecce said. "It's also crucial to allowing parents to return to work and to support Ontario's economic recovery."
Advertisement - story continues below
The government will be implementing enhancing screening and contact tracing, Lecce said, including a targeted surveillance testing program for secondary students that will be supported by the embedded public health nurses.
For special education, the government is asking school boards to ensure that students with exceptionalities are in class five days a week, and will be investing an additional $10 million to support hiring more educational assistants and equipment.
The government is also adding another $10 million in mental health supports for students, on top of $10 million already announced in June.
Lecce also said any students who displays any symptoms of COVID-19, even if they are mild, will not be allowed to be in class.
A one-metre physical distancing rule will be in place for both elementary and secondary schools, in conjunction with the mandatory mask policy.
Students in the earliest grades are not required to wear a face mask because evidence shows that children in that age range may not be able to wear a mask properly, Lecce said, rendering them ineffective.
Associate chief medical officer of health Dr. Barbara Yaffe said that mandatory masking for students in Grade 4 and up is being required in the school setting because two metres of physical distancing can't be maintained. She said that the embedded public health nurses will need to train staff and children on how to properly wear and remove a mask.
Dr. Yaffe said it's up to parents whether they want younger children to wear a mask.
As for mandatory testing for all teachers, Dr. Yaffe said that it is not be an effective use of resources. She pointed out that testing is only one component of a COVID-19 management strategy.
"If you test somebody today, you only know if they are infected today," she explains. "In fact, if you're testing in a population that doesn't have much COVID, you'll get false positives almost half the time. That is, the person actually doesn't have COVID, they have something else, they may have nothing. It will just complicate the picture."
"On the other hand, if we have evidence of a case, even a suspect case, in a school, all the contacts of that case — be it a child or a teacher — would be tested, regardless of whether they're symptomatic or not. That's something we've learned with COVID, it's very important to do that. That is when we might be identifying people are asymptomatic and infected, that need to stay home and wait until they're cleared by public health."
"Doing testing on all the teachers would be a huge amount of resources taken away from the need for quick access to testing when somebody may be symptomatic. We also need to do screening for symptoms, and everyone needs to be educated about the symptoms to look for, and not go to work if you're sick and not go to school if you're sick."
Advertisement - story continues below
The Ontario government also announced a plan to allow licensed child care centres across Ontario to open at full capacity starting on Tuesday, September 1st.
EarlyON Child and Family Centres will also be permitted to reopen with in-person programming along with before- and after-school programs for school-aged children which will be permitted to operate with standard ratios and maximum group size requirements. All of these programs will be subject to health and safety protocols to keep children safe.
Requiring all child care staff to wear masks at all times, effective September 1st. Enhanced health and safety procedures will remain in place, and in some instances will be strengthened, including:
Requiring all child care staff to wear masks at all times, effective September 1.
Ensuring frequent cleaning of child care centres.
Screening of children and staff before entering a child care facility.
Maintaining attendance records for rigorous contact tracing and coordination with local public health authorities.
Ensuring frequent hand washing and proper hand hygiene for children and staff.
Establishing clear and rigid case management protocols in the event a staff member or child becomes ill, or tests positive for COVID-19.
This story has been updated with additional details from the media conference.