What has happened in the barn has typically stayed in the barn, but then 2020 has proven to be anything but typical for all of us — including musicians who continue to find the doors to almost all live music venues closed to their talents.
Enter Andy and Linda Tough of RMS Events, a multimedia enterprise specializing in audio/video production and presentation for a range of clients. On their scenic rural property north of Norwood, a huge nondescript barn is anything but inside, with advanced recording equipment fronting a stage, large by pub standards, with table seating.
The pandemic has prevented the Toughs from inviting guests to live performances in the barn, as in past summers, but music is still very much in the fresh country air. This is much to the benefit to not only participating performers but, as it will soon turn out, to those craving their fix of local live music.
Advertisement - content continues below
The Toughs have recently launched "Live! At The Barn", a series of live-off-the-floor recording sessions featuring area musicians, with the goal of presenting each session on YouTube starting August 21st.
On Thursday night (July 30), Wylie Harold and Out On Bail — Richard Simpkins, John Climenhage and Wayne O'Connor — performed their blues repertoire as the cameras rolled and the sound recording console lit up. Prior sessions have seen The Gunslingers, Pat Temple, and The Fabulous Tonemasters take a turn, while future recording dates are scheduled for House Brand and The Weber Brothers.
"Once COVID hit, all live music events were cancelled, and all our jams here at the barn were cancelled," Andy says, explaining the motivation behind the Live! At The Barn series. "Not only can't musicians play in a club, they can't play with each other."
"We've got a big enough facility here. We can physically space people. It's easy to clean because Mother Nature is our air exchange system. I had already planned to record our jams, so the system was already half set up."
"It was like 'Why don't we see if musicians would like to come and play and record it?' They get a video that I'll give them for their own promotion purposes, and we can sell some sort of sponsorship to cover our costs so there's no cost to the musicians whatsoever. That was key … obviously they're not working."
First to step up as sponsors of Live! At The Barn are Century 21 United Realty real estate agents Ben vanVeen and Catherine Hanrahan — Team vanRahan as they're known collectively — who have worked with RMS Events on past events, including the Team vanRahan Summer Family Film Series.
Advertisement - content continues below
According to Catherine, not only is their sponsorship "a good fit" with their business' focus on rural properties but, as vanVeen notes, both he and his partner are ardent local music supporters.
"It (COVID-19) has been a drag, not just for musicians but for guys like Andy, the A-V people and everyone working in the live performance industry," she says, adding, "It's nice to see something different and interesting that's still really safe."
While Catherine and Ben have been invited to barn jams before, this was the first time they were able to make the trek.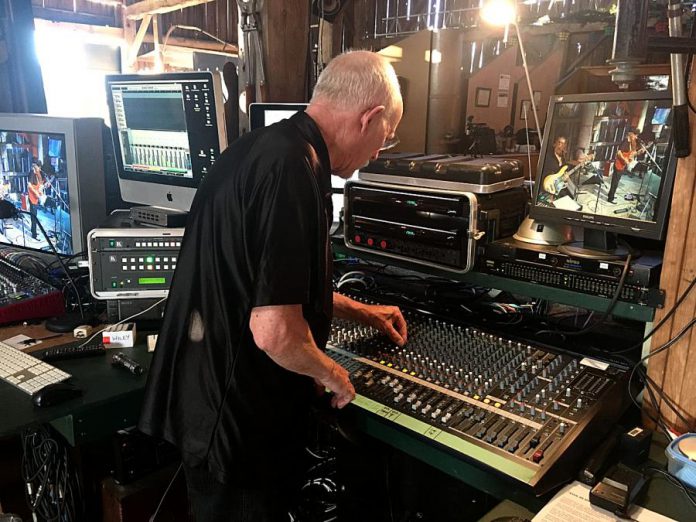 "It's very cool," Ben says. "It's unique, The overall aesthetic is comforting. There's all these different pieces that make up that aesthetic."
"We have a barn (too)", he adds, referring to his and Hanrahan's farm near Havelock. "I love the old fixtures and what they're collected here. He almost needs a little plaque beside each one reading 'Found at …'. There's a lot of history there."
Musician Wylie Harold echoes that sentiment, describing the barn atmosphere as "warm … it's in the room at all times"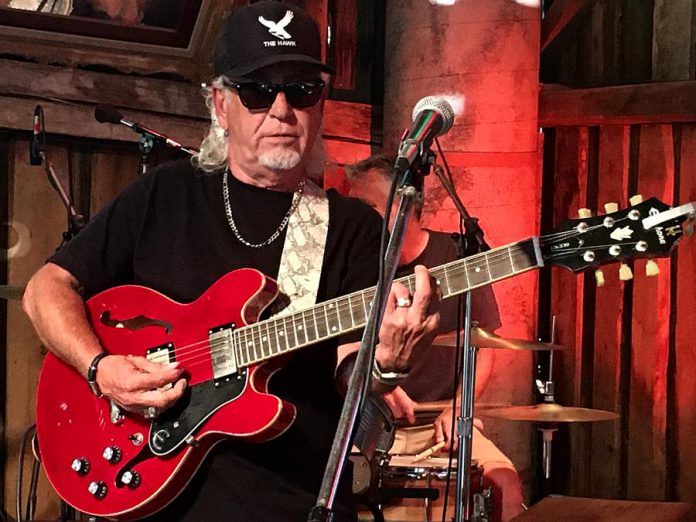 Onstage and off, there was no wiping the huge smile off Wylie's face — a grin anchored in the chance to be back on stage with his bandmates after months of not being able to do so.
"We miss the money obviously, but we miss playing music (together) … three or four guys locking into that magic pocket. We haven't played together in the longest time. The last real gig I did was in December. I've done a couple of private functions. I did the chip truck (The Cabin at Trent) a few times. That was kind of cool. They sent me home with a bag of burgers. It was a nice little gig, but my calendar is empty like everyone else's."
Wylie doesn't see live music returning to bars in any meaningful way soon.
"Alcohol makes you want to chat. It's very social. I'm not sure what the future holds for live music. It's not going to be walking into a bar, letting your hair down and letting it rip. I don't know if there are better days ahead. I miss them all (his live music friends)."
Advertisement - content continues below
Beside the opportunity to get back together with Out On Bail, Wylie used the recording session to fine-tune songs that will be featured on his upcoming new CD. Not included on the track list is "Live Music Strong", a song he wrote in homage of the power of live music performance.
"There's nothing like live music. Good, bad or indifferent, wherever you are, live music just adds a little shine to anything."
According to Andy, accompanying each concert session posted to YouTube will be an invite to donate to the featured act. Email addresses will be listed for e-transfers. A donation is not required to view the performance but, as Andy notes, it's a chance to help out-of-work musicians.
Andy notes the each session's video doesn't just include the musical performance.
"We're also interviewing each band to give people a profile of the people in the band as opposed to the musicians who are on the stage — where they came from, their influences, and that sort of stuff."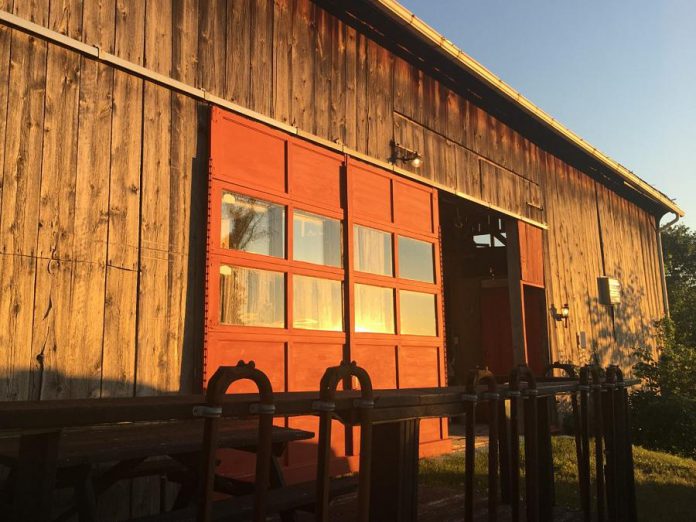 As for his RMS Events business, Andy notes the impact of the pandemic has been severe but his work on Live! At The Barn is keeping him happily busy.
"I'm in the worst business that I can be, because I do events with more than 50 people," he says. "Everything just grounded to a halt, postponed, or cancelled outright. But, as Linda says, I can (now) walk to work and not have to load the car."
Like Wylie, Andy is also concerned about the long-term impacts of the pandemic on the livelihood of local musicians.
"They don't know where things are going. No singing and no dancing in clubs negates all the things they live for. How do bars depopulate for physical distancing and (still) make ends meet? They can't make enough money to pay the musicians."
Like everyone else, the Toughs are looking forward to life post-COVID, especially as that relates to live events they have planned for their barn space — events that were set to be organized and held this summer.
In the meantime, their focus is on Live! At The Barn.
Sponsor Team vanRahan urges people to check out each YouTube episode and do what they can to help out the featured performers.
"There are so many asks of people these days, but if you're in a position to help and you enjoy the music, do what you can," Catherine says.
"Local musicians tell local stories and we need those," Ben adds. "They're giving a lot to us, so if you can, give something back to them."
For updates on the Live! At The Barn series, keep an eye on Andy's YouTube channel.