This article is for loungers, loafers, and couch potatoes.
Inaction on climate change is undoubtedly one of the biggest challenges we must overcome this decade. But in honour of International Lazy Day on Monday, August 10th, we at GreenUP have gathered together things even the laziest of the lazy can do to help the environment.
It's the perfect time for that inaction to go green. Here are three ways to do it:
Advertisement - story continues below
1. Take advantage of existing resources
Why bother figuring out how laziness can be green when someone can do that for you? The United Nations created an online tool called The Lazy Person's Guide To Saving The World.
Clearly, they recognize that we can't save the planet without channelling the power of laziness. This guide is conveniently broken down into four levels of sustainable actions you can take from your couch, home, outside your home, and at work.
The tool includes simple things you can do from your phone like switching your paper bills to e-bills, sharing climate justice posts on social media, and keeping up with environmental news.
Keeping up with the news can be exhausting, but you can circumvent this chore by signing up for Google Alerts that send relevant articles right to your inbox.
2. Shop sustainably and locally
There are many products we use in everyday life that we can substitute for sustainable alternatives. The best part about this is that once you make the change, you can usually forget about these items, letting you continue your lazy ways but with a sustainable twist.
GreenUP store and resource centre coordinator Kristen LaRocque suggests beeswax food wraps as a lazy alternative to plastic wrap. They last over a year, eliminating the need to worry about restocking plastic wrap.
Advertisement - story continues below
"Bamboo toothbrushes are another easy swap," LaRocque adds. "Simply refuse to buy the dense plastic conventional kind, which take hundreds of years to disintegrate and often end up polluting bodies of water. Bamboo toothbrushes do the job well and when the bristles are splayed, you can repurpose as a grout cleaning brush or snap off the head and compost the handle."
Whether out of laziness, convenience, or necessity, many of us have relied on e-commerce sites like Amazon during the pandemic. Unfortunately, items on Amazon often come from a supply chain that doesn't have the planet's best interest in mind, not to mention the long distances most products travel before ending up on your doorstep.
Shopping sustainably means opting to purchase from local independent retailers rather than big box stores or chains. Here in Peterborough, theboro.ca has done the work for you. This website is your one-stop source for local stores in downtown Peterborough offering online purchasing options.
Shopping sustainably also means looking for retailers that abide by an environmentally conscious mandate and take extra care in their sourcing process. We're proud to offer exactly that at the new online GreenUP Store, and are happy to see many other local shops doing what they can to go green.
To learn more about how shopping benefits the environment, as well as the community, visit greenup.on.ca/giving-green-shopping-local/.
I just want to pause at this point in the article to let our more lethargic readers have a break. Are you comfortable? Maybe get someone to grab you a snack? Alright, let's keep going.
Advertisement - story continues below
3. Do some lazy landscaping
With the weather keeping things parched and the pandemic keeping us home, many industrious folks have turned to property maintenance and home improvement projects just for something to do. Luckily for you there are a few environmentally conscious ways you can care for your property that you won't break a sweat over.
You've probably heard this from us before but we can't say it enough. Your grass isn't dead if it's brown; it's dormant.
"Lawn grasses naturally go dormant during drought," says Jenn McCallum, coordinator with GreenUP's water programs. "Grass will go green again when it rains. Letting grass go dormant saves effort and water."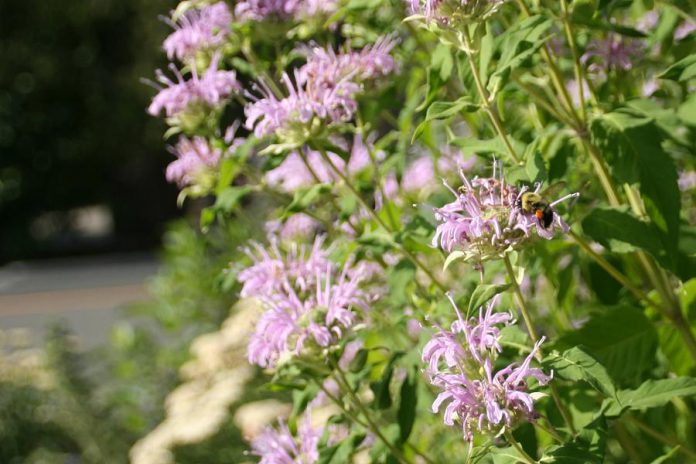 If your Netflix series just ended and you're thinking about watering your lawn, forget about it. Find a new series and save water.
Why stop with grass? Strive to be lazier with your perennials too. If your perennial garden is constantly demanding water and attention but still looking pathetic and tired, there's an easier way.
"Native drought-tolerant perennials, shrubs, and trees can be far more self-sufficient than lawns and many non-native perennials," observes McCallum. "Lawns are over-rated with all that mowing, aerating, and fertilizing. There are many beautiful and easier alternatives with deep root systems that can find water themselves, survive droughts, and provide food for pollinators."
You can purchase a wide array of these plant species from GreenUP's Ecology Park Nursery. Feeling too lazy to choose plants and design your garden? We made it even easier by packaging up a Water Wise Garden Kit that includes a design plan, which you can purchase online at greenup.on.ca/water-wise-garden-kit/ and pick up.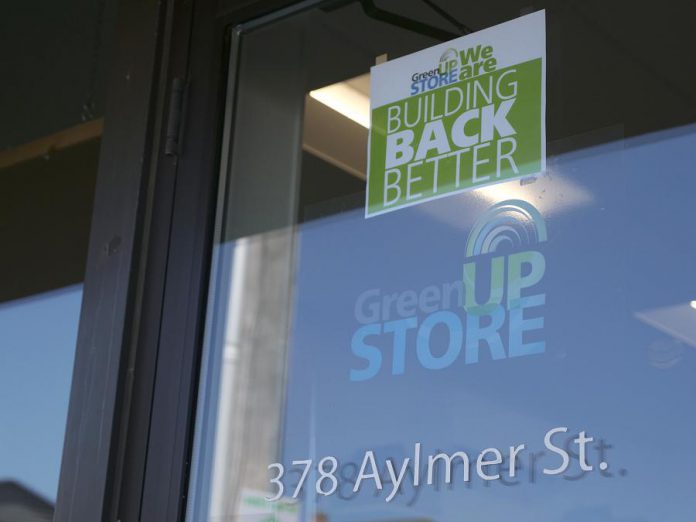 A personal favourite lazy landscape-planning tip of mine comes from Matthew Walmsley, coordinator of education programs at Ecology Park. I know, I said "planning", and that sounds like a lot of work. But it doesn't have to be.
"In my opinion, considering which tree is right for your yard is one of the laziest planning activities," Walmsley says. "Get your favourite chair (or hammock) and your favourite cold drink. Relax in your yard for hours at a time."
"If anyone asks why you're endlessly relaxing in your yard, you can test different responses. Perhaps explain that you're studying how much sunlight your yard gets to determine which tree would be happiest in this place. Alternatively, you can just say you're fighting climate change."
You can read more from Matthew about lazy ways to pick a tree for your yard at greenup.on.ca/planning-for-planting-discover-trees-for-your-yard/.
Now you're ready to celebrate International Lazy Day this August 10th the right way, by channelling your inaction towards more sustainable living. Be sure to share your lazy ways with us on social media @PtboGreenUP.