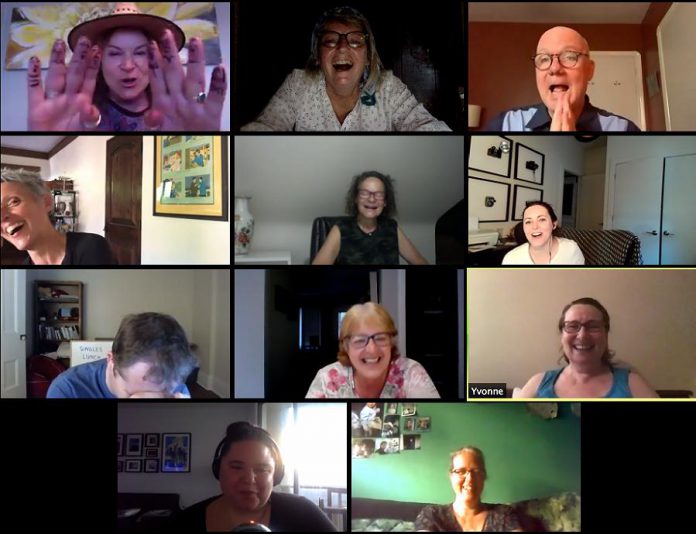 Linda Kash, Pat Maitland, and Ian Burns, founders of Klusterfork entertainment, recently joined me on a telephone interview to talk about their fall line-up of LOL workshops — live and interactive classes that promise to give students "unique access" to the entertainment industry's best talent.
These funny forkers are giving Peterborough (and the world) an amazing opportunity to learn and hone performance skills from industry professionals via a series of online courses, with two weekly 90-minute classes over a four-week span starting on Monday, October 5th.
Founded in 2019, Klusterfork made waves by bringing comedians of Second City fame to Peterborough audiences with hit shows including "Klusterfork it's Christmas" and "Klusterfork it's Winter! Still."
Advertisement - story continues below
However, like many companies the world over, their live performance programming came to an abrupt halt during the spring of 2020, our year of the virus.
"We connected with some of my dearest friends from The Second City," recalls Linda Kash of Klusterfork's beginnings. "We did a couple of shows and we had eight more shows scheduled at Market Hall right up until New Year's Eve 2021 — and then COVID hit."
"So the world ends," Kash continues, "and we still have these fantastic Toronto performers who, funnily enough, are all teachers as well. So we decided to bring the best of the best to online audiences instead."
"The teaching," adds Ian Burns, "was always in the Klusterfork business plan, since the beginning. Due to the pandemic, we had to pivot and go directly to teaching a little earlier than planned — but it's really exciting."
This summer, Klusterfork tested the online waters by offering an intensive improv workshop series.
"It saved a lot of our summers, I think," says Pat Maitland of the online sessions. "We all went online to save our minds."
"It was an interesting pilot project, to see how it could work with the Zoom platform," says Burns of the summer sessions,. "We were able to work out kinks."
"With Zoom, you can't talk over people, adds Maitland. "At first we thought the platform might stunt scenes but it didn't — you listen harder. The basic rule of improv, to listen and respond to what you just heard, is actually so much easier on Zoom."
Klusterfork's six-week summer improv series was well received by participants and instructors alike.
"A lot of the alumni from that initial pilot program have signed up for the next 10 week intensive session we're offering, because they just want to keep going," explains Burns.
Building on the success of the pilot project, Klusterfork has curated an impressive line-up of autumn programming. The instructors are renowned performers, directors, and comedians — professionals in high-demand who would be otherwise unavailable for intimate online workshops, if it weren't for the pandemic.
"I don't think we could do most of these courses outside of COVID," says Maitland. "It's the reason why we have this unique access to the best in the industry."
"We have some of the greatest performers in this country because they're obviously not working as much," Burns adds. "Klusterfork has a unique opportunity to act as a conduit to allow them to share their wealth of knowledge and experience with people who are coming up in the business, and people who just always wanted to try."
It would be an understatement to say the line up the instructors for the LOL workshops is impressive.
Advertisement - story continues below
The instructors are industry giants representing a range of talent from Stratford and Mirvish stages to Broadway, as well as famous Canadian icons, including Paul Constable (the guy from those Canadian Tire commercials) and Kash herself — who's best known as the former Philly cream cheese angel but also from her roles in Seinfeld, Fargo, Waiting for Guffman, Best in Show, and any more.
Whether you're an artist seeking professional development or you're just looking for a new an interesting way to break up the monotony and loneliness that is this godforsaken pandemic, Klusterfork's LOL workshops give you the chance to interact with these Canadian celebrities on a personal level but from the safety of your own home.
"There's such intimacy," Kash say. "You're going to get to know them super well and you'd never have the chance to see them in person — yet online it's so intimate and safe."
"The safety factor is fascinating," adds Maitland. "What I saw in the summer was that every instructor has different styles and ways to ensure a safe and comfortable environment for the students."
"During the pilot in the summer, the amount of support and the growth that happened in that six-week period with this group of individuals we brought together was amazing," Burns recalls.
Says Kash of the camaraderie, "when you first arrive in the experience it feels like a solo endeavour, but as soon as you start playing with someone else, you get this connection."
[
In addition to the workshops covering musical theatre, stand-up comedy, and all levels of improv (from beginner to advanced), Klusterfork is also offering a one-of-a-kind "Party Primer" service.
This one-off private event provides your Zoom meeting — be it a book club, a girls' night, or a company holiday party — an exclusive improv comedian providing ice-breaking games to warm up the infamously awkward first half hour of your video conferencing events.
"The Party Primer is particularly exciting," says Burns. "Right now there are a lot of companies and businesses wondering how they're going to have get-togethers to celebrate holidays. We've been getting a lot of inquiries because people want to have that fellowship together and that connection. The Party Primer is a great ice-breaker and a great chance for everyone to get together and to share the moment."
"We need to remember that sense of fun," Kash notes. "I'm watching kids in playgrounds and they've got their masks on and they're still playing and having fun. As we get older, we think that we don't have the right to have fun or that it's less important but, my god, people are starving for fun!"
"We all become better adults, the more we play," says Maitland.
"And that's the best feeling of all," interjects Kash, "when the group finds their own funny bone."
Advertisement - story continues below
You can find your funny bone with Klusterfork's LOL workshops this autumn. Not only is this a once-in-a-lifetime opportunity to learn from entertainment industry giants (at an incredibly discounted rate, might I add!), it may also be the gesture of love and self-care that gets you through the next few weeks, whatever they may hold.
The four-week classes run on Mondays and Wednesdays starting October 5th and on Tuesdays and Thursdays starting October 6th, so register now by visiting Klusterfork's website at www.klusterfork.com/lol-workshops/. Note: if workshops are sold out or if you missed your chance to register, you can also sign up on the website to be placed on a waiting list for future workshops.
kawarthaNOW.com is proud to be a media sponsor of Klusterfork.