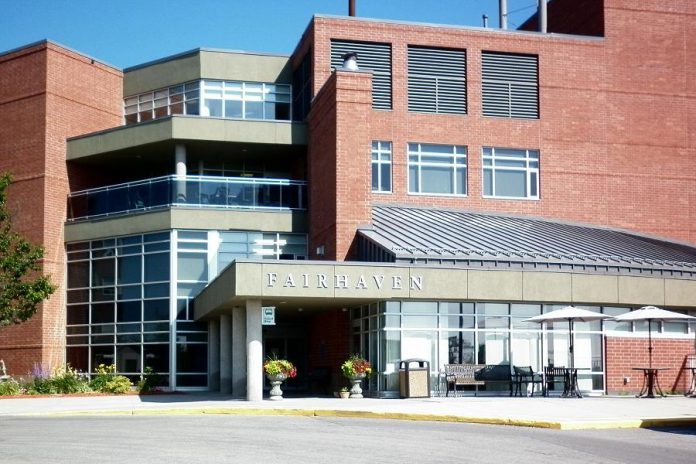 One resident at Fairhaven long-term care home in Peterborough who had tested positive for COVID-19 has died, and four more residents have tested positive for the disease.
kawarthaNOW obtained a copy of an email sent by Fairhaven's executive director Lionel Towns to families on Wednesday (November 11).
"We are deeply saddened to confirm that one of our residents, who had tested positive for COVID-19, has passed away," Towns writes. "We have been in touch with family members, whose loved one passed, to offer our heartfelt condolences. This is a terrible virus and our thoughts are with everyone impacted."
Advertisement - story continues below
Towns also states that the facility, located at 881 Dutton Road, received four additional positive tests on Tuesday (November 10) for residents on the home's Westview 2 unit.
"Families of the affected residents have been contacted and all (Westview 2) residents have now been isolated in their personal areas out of an abundance of caution," Towns writes. "Staff are tightly cohorted and no one else will be entering this care area."
The four additional infections come after the home advised on Monday (November 9) that an asymptomatic resident on the Westview 2 unit had been re-tested over the weekend, with Peterborough Public Health confirming a positive test result on Monday afternoon.
Westview 2 is the same unit visited by a caregiver who tested positive on October 31st, prompting Peterborough Public Health to declare an outbreak at the home.
After the positive resident test was confirmed on Monday, Fairhaven postponed all visits by essential caregivers, while allowing only a maximum of two palliative visitors.
All general visits had already been prohibited when the outbreak was declared, but essential caregiver visits were still allowed according to provincial guidelines.
Advertisement - story continues below
At the time the first resident tested positive, all other residents and staff on Westview 2 had been tested and all results received were negative. That changed on Tuesday (November 10), when the tests for four residents on the unit came back positive.
Towns did not provide any further details about the resident who died, other than that the person had tested positive for COVID-19.
Peterborough Public Health reported four new COVID-19 cases in its update on Tuesday afternoon, and has confirmed to kawarthaNOW that these are the four Fairhaven residents who have tested positive.