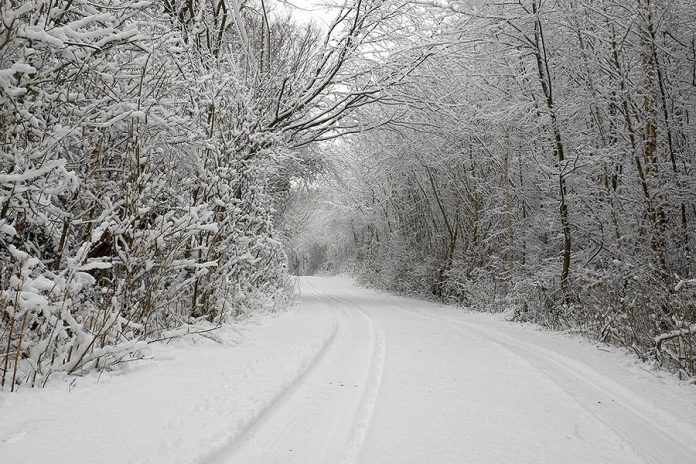 Environment Canada has issued a special weather statement for all of the greater Kawarthas region, calling for significant snowfall beginning Sunday afternoon (November 22) and continuing into Monday morning.
Expected snowfall accumulations differ depending on the location. As of Sunday morning at 5 a.m., Environment Canada is forecasting:
15 to 20 cm for Hastings Highlands including Bancroft. Environment Canada has issued a snowfall warning for this area.
10 to 15 cm for Peterborough County, including the City of Peterborough, Lakefield, and Apsley. A brief period of freezing rain will also be possible Sunday night. Snowfall warnings may be required on Sunday if greater snowfall amounts appear likely.
7 to 14 cm for southern Kawartha Lakes including Lindsay. For areas near Lake Ontario, slightly milder temperatures are expected to result in lower accumulations due to the snow mixing with rain at times. Here, up to 7 cm of new accumulation is possible, with the higher amounts likely north of the Highway 401 corridor. Environment Canada has issued a weather advisory for this area.
5 to 10 cm for northern Kawartha Lakes including Fenelon Falls.
5 to 10 cm for Haliburton County including Haliburton and Minden.
5 to 10 cm for Northumberland County including Port Hope and Cobourg. Near Lake Ontario, the snow may become mixed with rain later on Sunday and, as temperatures rise, the snow will transition to rain. A brief period of freezing rain may occur before temperatures rise above zero. By early Monday morning, the rain will transition to snow once again as temperatures fall. Snowfall accumulations in the 5 to 10 cm range are likely, with the heaviest amounts expected inland from Lake Ontario.
Advertisement - story continues below
The heavy snow is due to a strengthening low pressure system that will track northeastward across the lower Great Lakes on Sunday night.
Travel is expected to be impacted. Motorists should be prepared for winter weather driving conditions.
Be prepared to adjust your driving with changing road conditions. Rapidly accumulating snow could make travel difficult over some locations. Visibility may be suddenly reduced at times in heavy snow.
This story has been updated with the latest forecast from Environment Canada.