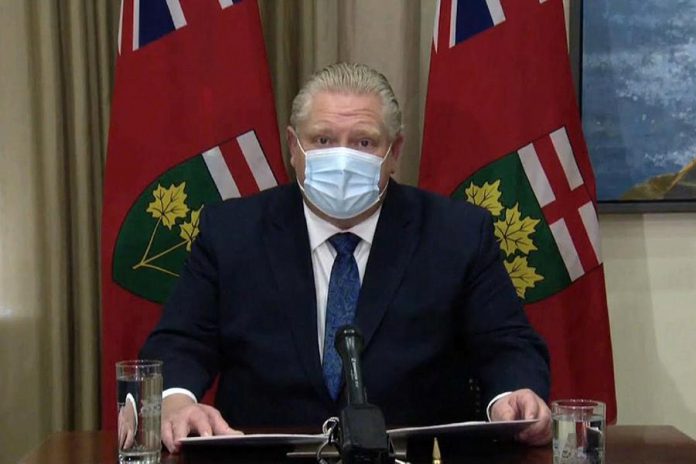 For the time being, the three health units in the greater Kawarthas region are remaining in their existing colour-coded levels under Ontario's COVID-19 response framework.
Two weeks after lifting the provincial lockdown, the Ontario government has reevaluated public health measures for each of the province's 34 health units and is moving nine regions to new levels.
However, the three health units in the greater Kawarthas region are staying where they are. Haliburton, Kawartha, Pine Ridge District Health Unit remains in 'Orange-Restrict', Peterborough Public Health in 'Yellow-Protect', and Hastings Prince Edward in 'Green-Prevent'.
Advertisement - story continues below
Under the changes announced on Friday (February 26), Ontario is activating its "emergency brake" response in Thunder Bay District Health Unit and Simcoe-Muskoka District Health Unit, moving the two regions to 'Grey-Lockdown' to immediately interrupt transmission and contain community spread.
The announcement came hours after Premier Doug Ford commented on Health Canada's approval of AstraZeneca's two COVID-19 vaccines, prior to a teleconference with Ontario municipal leaders and mayors on the province's vaccine distribution plan.
"While we continue to see the number of cases and other public health indicators lowering in many regions across the province, the recent modelling shows us that we must be nimble and put in place additional measures to protect Ontarians and stop the spread of COVID-19," said health minister Christine Elliott.
The decision to apply the "emergency brake" in Thunder Bay and Simcoe-Muskoka, made in consultation with the local medical officers of health, is due to a rapid worsening in key public health indicators, including a spike in new cases over the past few days in Thunder Bay as well as a high presence of variants in Simcoe-Muskoka that continue to increase. As of February 23, there has been a total of 170 confirmed cases of a variant of concern in Simcoe-Muskoka.
"With COVID-19 variants continuing to spread in our communities, it is critically important that everyone continues strictly adhering to all public health and workplace safety measures to help contain the virus and maintain the progress we have made to date," Elliott said.
Advertisement - story continues below
Based on the latest data, the following public health regions will move from their current level in the framework to the following levels effective Monday, March 1st at 12:01 a.m.:
Grey-Lockdown
Simcoe-Muskoka District Health Unit
Thunder Bay District Health Unit
Red-Control
Niagara Region Public Health
Orange-Restrict
Chatham-Kent Public Health
Middlesex-London Health Unit
Southwestern Public Health
Yellow-Protect
Haldimand-Norfolk Health Unit
Huron Perth Public Health
Green-Prevent
In Peel Public Health, Toronto Public Health, and North Bay Parry Sound District, the shutdown measures and the stay-at-home order will continue to apply until at least Monday, March 8th, with final decisions to be based on key public health indicators and consultation with the local medical officers of health.