While online video conferencing platforms such as Zoom and Microsoft Teams have revolutionized labour during the pandemic, these platforms are simply not conducive for ensemble music rehearsal and performance.
"It's impossible," says Sean Daniels, the creator and founder of Virtually Peterborough, a new virtual venue that allows musicians to rehearse and perform ensemble music live — in real time and without lag.
"Zoom does the trick for most of us, but for music — or anything involving rhythm, for instance — it just won't work if there's a two-second delay between users."
Advertisement - content continues below
Sean Daniels has a unique skill set to solve the problem of network latency or lag, which is precisely what the musician, videographer, and IT professional has done creating the area's first and only virtual venue.
Latency refers to the delay between an packet (a segment of data) being sent and received online. Higher latency values will result in noticeable delays.
"When you make a sound, it has to turn into a digital signal," explains Daniels. "Then it has to travel across the internet to the server, then it has to get mixed in with the other musicians' sounds, then it has to travel back to you, and then it has to get turned from data back into sound that you can hear in your headphones."
"That period of time can be way too big for us to play in time together, or to even feel like we are playing together," he continues. "Twenty-five to 34 milliseconds is manageable. Once you start to get over 50 milliseconds, you hear that lag too much. It just kind of pulls you back slowly because you're trying to play with everybody else, but they sound like they're playing slower than you all the time and so everything just keeps slowing down."
For Virtually Peterborough, Daniels enlisted the help of his long-time friend and fellow musician, Shane Davey. Together, using Daniel's own virtual server located in Toronto, the pair began testing various free open-source software and audio interfaces.
"We just wanted to see if we could actually do this," recalls Daniels of the process.
"During one test, Shane counted me in on something, and I didn't really even think about it. He just started playing on bass and I started playing on my keyboard. About 10 of 14 seconds went by and he stopped. He looked up at the camera and said, 'Dude, dude, dude, I just counted you in!'"
"We both realized it works — we could do this," says Daniels of the eureka moment.
Daniels had successfully reduced the lag for musicians playing online. He was certain that his idea for a virtual venue could work. However, he also wanted to make Virtually Peterborough accessible for as many musicians as possible.
"The challenge, then, was for the people who have instruments and everything they need at home, except they don't have a computer and an audio interface, or they don't understand how to use the computer they've got," says Daniels.
"Even if I could get them an audio interface, then the challenge would be how to use it and how to use this software," he adds. "That's when I went down the Raspberry Pi rabbit hole."
Advertisement - content continues below
Daniels began building his own version of the tiny, affordable Raspberry Pi computers, which he's named a "Raspberry Jam." Using the Linux operating system, Daniels' Raspberry Jams have built-in audio interfaces and the open-source software, Jamulus, for low-latency remote ensemble music.
Daniels' "Raspberry Jam" computers are incredibly user friendly.
"The beauty of this thing is that, if you're connecting to my server, if you're connecting to the Virtually Peterborough studio, then you take it home, you plug it into your internet and your audio, and you power it up," he explains. "Forty-five seconds later, you hear us in your headphones, and we hear you on the system. So, there's nothing for people to do."
"The goal was zero touch," he adds. "Can I hand this to someone at their front door — not go in the house, not give them any more help — and have them go inside, plug it in and connect to us, and just be able to use what they're sending us to make a show? I'm 95 per cent sure the answer is yes."
VIDEO: "Virtually Peterborough" – Playing music online with others live

Now, all Sean Daniels' virtual venue needs is an audience.
The plan is to eventually use Virtually Peterborough to resume the monthly Deluxe Blues Jams, which were previously hosted at Dr. J's BBQ & Brews in downtown Peterborough to raise funds for the Peterborough Musicians Benevolent Association (PMBA).
"They've been doing so much for everybody, for so long — all through this pandemic," Daniels says of the PMBA. "And I know that the coffers must be starting to get low, because they're making regular payments to people in need. The Blues Jams helped fundraise a lot of that money."
If you're a musician and you'd like to get involved, visit jamulus.io to download the Jamulus software (it's available for Windows, macOS, and Linux).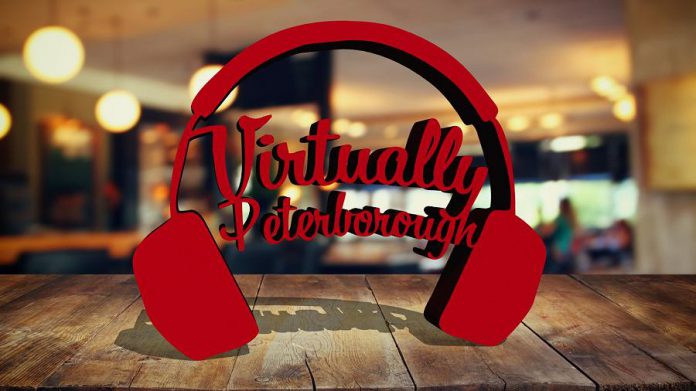 But first, there's one thing even a tech-genius like Sean Daniels can't get around: playing in the virtual venue requires wired internet connection (not Wi-Fi) with high-speed internet. To test your internet connection, go to syncspace.live/network/ and follow the simple directions on the page.
If you're a music-lover who wants to support this amazing initiative, you can donate to the PMBA and receive a charitable tax receipt through the Rotary Club Foundation of Peterborough. Your donation will help get more Raspberry Jam computers into the hands of more of your favourite musicians!
To support the PMBA, visit the Rotary Clubs of Peterborough Foundation Inc. on their Canada Helps page at canadahelps.org/en/charities/rotary-club-of-peterborough-foundation-inc/. Next, click on the drop and select "Kawartha Rotary supports Peterborough Musicians Benevolent Association/Covid hurts".