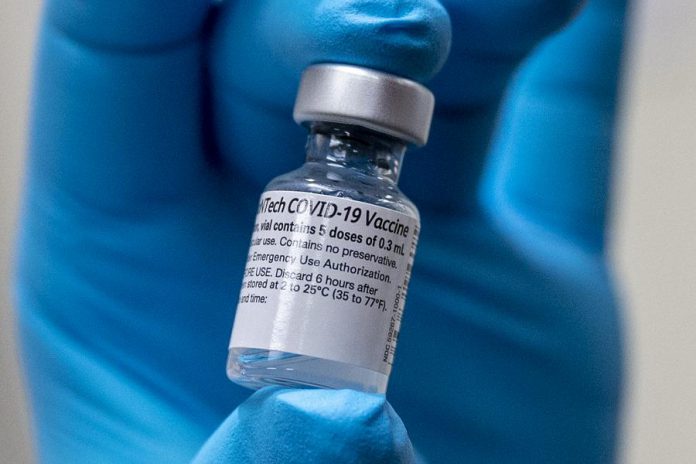 Three COVID-19 mass vaccination clinics are set to open after the Easter long weekend in the Haliburton, Kawartha Pine Ridge District (HKPR) Health Unit region.
In a virtual media briefing on Wednesday (March 31), acting medical officer of health Dr. Ian Gemmill said clinics will be opening on Tuesday at the Fenelon Falls Community Centre in Fenelon Falls, the Campbellford Seymour Fire Hall in Trent Hills, and S.G. Nesbitt Arena in Minden.
A second mass vaccination site in Haliburton County is also expected to open at the A.J. LaRue Community Centre in Haliburton the following week.
Advertisement - story continues below
"If you're looking for immunization in these centres, please keep checking the provincial website," said Dr. Gemmill. "We've taken the vaccine that we've had promised to us and put in appointments right until April 24th. As soon as those are loaded online, people can get on there and make their appointments."
In the HKPR region, those born in 1946 or earlier are currently eligible for vaccine appointments at the soon-to-open clinics. Appointments must be made through the online provincial booking system at covid-19.ontario.ca/book-vaccine/ or by calling 1-833-943-3900.
"If you don't see the (vaccination) site (in the provincial system), that means the appointments aren't in yet or they're all booked up," Dr. Gemmill noted. "Just keep checking. If we have vaccines available, there will be appointments. Once an appointment is made, that vaccine is spoken for."
Over the next 10 days, the health unit will have completed its target of opening six mass immunization clinics across the HKPR region. The four new mass immunization clinics will be an addition to clinics already operating at the Cobourg Community Centre in Northumberland County and the Lindsay Exhibition in the City of Kawartha Lakes.
According to provincial officials at a technical media briefing on Wednesday, as of March 29 more than 28,000 COVID-19 doses have been administered in the HKPR region and more than 2,600 people have been fully vaccinated, including all residents of area long-term care homes.
Of the region's residents aged 80 years and older, 82 per cent have already received a single dose of a COVID-19 vaccine or have booked an appointment to receive one, along with 50 per cent of residents aged 75 to 79.
Dr. Gemmill noted that while vaccine eligibility in the region still starts at 75 years of age, he anticipates eligibility will soon open up for those 70 and older as is the case in some other regions in the province.
At the Wednesday media briefing, provincial officials stated the HKPR region will receive 35,100 Pfizer doses by May 12th and 9,600 Moderna doses by April 19th, although 27,100 of all those doses have not yet been confirmed.
Advertisement - story continues below
The province also plans to distribute 10,800 doses of the AstraZeneca vaccine to the HKPR region in early April. These doses will be administered by local pharmacies (at least three in the region) as well as by family doctors and other primary care providers to their patients. The province has not yet announced the pharmacies and primary care providers that will receive these doses.
"We're asking people not to call the pharmacies and family doctors about this because they will not have any information yet," Dr. Gemmill pointed out. "Please watch the media for more information."
Dr. Gemmill also shared his concerns about the current rise in the province's COVID-19 cases, urging HKPR residents to continue adhering to public health measures.
"We're not going up (in cases) here in the same worrisome degree as they are in other parts of Ontario, but things can turn on a dime," Dr. Gemmill remarked. "It just takes a couple of ill-advised events that can lead to a number of people being infected in the area, and of course, they infect others."
"It is time to keep adhering to personal measures even if a person has been immunized," he added. "We're learning that one dose of vaccine is providing pretty good protection, but until we see what happens on a population basis (how the virus is restricted in its movement from person to person in the population), I continue to recommend personal measures until we have other guidance."
This will be Dr. Gemmill's final week as acting medical officer of health for the HKPR district health unit. Dr. Natalie Bocking will assume the position on Monday, April 5th. Dr. Bocking has spent the past four years working as a public health physician with Thunder Bay District Health Unit and Sioux Lookout First Nations Health Authority. She and her family moved to the City of Kawartha Lakes in the fall of 2019.
As of Wednesday, there were 34 active cases of COVID-19 in the health unit's region, including 18 in Northumberland and 16 in Kawartha Lakes, with 56 presumed cases of variants of concern, including 38 in Northumberland and 18 in Kawartha Lakes.