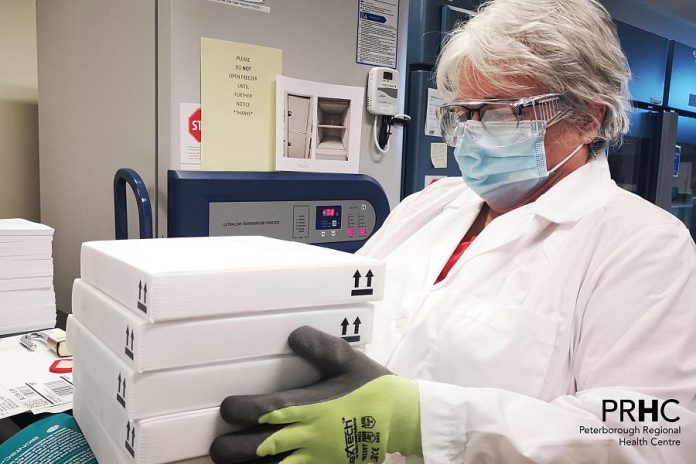 While more than 21 per cent of Peterborough region residents have now received at least their first dose of vaccine — well above the provincial average of 14 per cent — a deficit of close to 11,000 vaccine doses is projected for April.
"We know how much vaccine we're going to get (in April), we know how many appointments are booked for April, and we know how many people in total that we still have to vaccinate," explained medical officer of health Dr. Rosana Salvaterra during her weekly virtual media briefing at Peterborough Public Health on Thursday (April 8th). "That's how we're getting that figure."
Dr. Salvaterra's confirmation of a vaccine shortfall echoed a similar concern jointly expressed by Peterborough Mayor Diane Therrien and Peterborough County Warden J. Murray Jones. In a statement issued Thursday morning, they called on the province to increase the supply of vaccines coming to the region.
Advertisement - story continues below
"This stay-at-home order is a critical time for us to ensure we have the vaccine supply we need to meet the month end target of having everyone over 60 vaccinated," they wrote, citing the high number of "older persons" in this region compared to the Ontario average and variants of concern now associated with 80 per cent of local new positive cases. "Right now we don't have enough allocated for our area to meet this target."
While lauding the success of the local vaccination effort that has seen 34,612 residents receive at least their first dose (an increase of 4,179 over the past week), Dr. Salvaterra acknowledged "the demand for vaccine is outstripping our supply."
"When we do the math we could easily use another 11,000 doses of vaccine this month," she said. "If we had that we could potentially finish everyone who is 60 years old and over by the end of the month."
"We'll actually dry up several times before the end of the month. We're trying to get needles into arms and empty the freezers. There are several times this month that we'll actually go down to zero and wait for the next delivery to arrive. We're getting everything we can out."
"We do have an older demographic and we have started second doses in both First Nation communities. That again has been a drain on our vaccine allocation. It's all good but it means that we have more people who are currently eligible waiting for vaccine."
Advertisement - story continues below
Meanwhile, three local pharmacies — Costco Pharmacy, 485 The Parkway; High Street Guardian Pharmacy, 815 High Street, Unit 9; and Walmart Pharmacy, 1002 Chemong Road — continue to book vaccination appointments for those aged 55 and up who wish to receive the AstraZeneca vaccine. Dr. Salvaterra said a fourth pharmacy will be added to the mix soon.
With Ontario now in a third state of emergency with a four-week stay-at-home order in place, local COVID-19 infection numbers show little sign of levelling off. As of Thursday morning, there were 89 local active cases reported with 246 close contacts of positive cases being monitored.
To date in April, 74 new cases have been reported, putting April on pace to eclipse the highest local monthly total of 225 new cases reported in March. As for the more transmissible and potentially deadly COVID variants of concern, the Peterborough region total now stands at 252 cases.
And this week saw COVID claim the life of an Empress Gardens resident — the 11th local COVID death reported in the region since the pandemic began. An outbreak at Empress Gardens remains declared, along with outbreaks still ongoing at Trent University's Champlain Annex, Thomas A. Stewart Secondary School, and at two unidentified workplaces.
Also commenting during Thursday's media briefing were Peterborough-Kawartha MP Maryam Monsef, Peterborough-Kawartha MPP Dave Smith, Peterborough Mayor Diane Therrien, Peterborough County Warden J. Murray Jones, and Peterborough board of health chair and Selwyn mayor Andy Mitchell.
While agreeing Peterborough needs to push harder for its fair share of vaccine, MPP Smith noted that 89.2 per cent of local residents aged 80 and over have received at least their first shot — tops in the province.