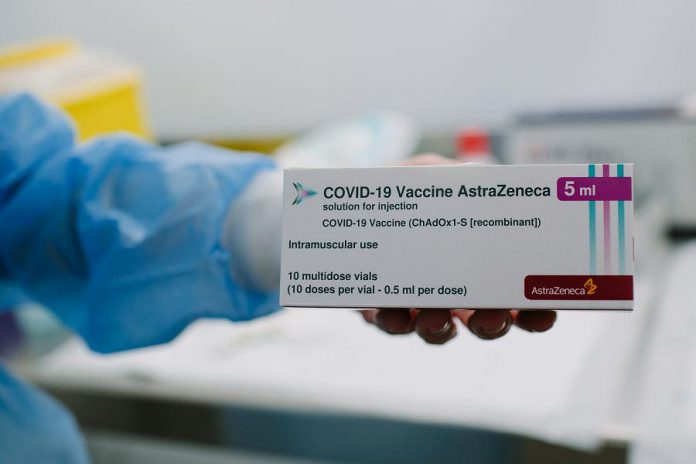 With the Peterborough region having now surpassed 1,000 confirmed cases of COVID-19 since the pandemic began and with local infection numbers still rising, medical officer of health Dr. Rosanna Salvaterra is urging those aged 55 and up book a appointment at one of the local pharmacies offering the AstraZeneca vaccine.
"Given the limited supply of both the Moderna and Pfizer vaccines for the near future at least, I am recommending that residents aged 55 years old and up take advantage of the AstraZeneca vaccine now available in some of our pharmacies," said Dr. Salvaterra during the Peterborough Public Health media briefing held Tuesday (April 13).
Four city pharmacies — Costco Pharmacy (485 The Parkway), High Street Guardian Pharmacy (815 High Street, Unit 9), Walmart Pharmacy (1002 Chemong Road), and Rexall (1154 Chemong Road) — are booking vaccination appointments for those aged 55 and up. Other Kawarthas-area pharmacies offering the vaccine are located in Lindsay, Bobcaygeon, Cobourg, Port Hope, Campbellford, and Brighton.
Advertisement - story continues below
The full list of Ontario pharmacies providing vaccinations is available at covid-19.ontario.ca/vaccine-locations where visitors can type in their postal code to find the pharmacy closest to home.
Dr. Salvaterra stressed those who do secure a pharmacy appointment, but had previously booked an appointment with a community clinic, need to cancel the clinic appointment so someone can take their spot and no vaccine is wasted.
While 22.1 per cent of area residents have now received at least their first dose of vaccine, Dr. Salvaterra cautioned the positive news is tempered by the fact that "a significant portion" of those vaccinated are health care employees, as well as long-term care and retirement home staff — close to 9,000 people by her estimate.
"While 22.1 per cent can be seen as an impressive number, it does mask some concerning trends about Peterborough's real need for vaccine and the lack of a sufficient supply," said Dr. Salvaterra.
"Community residents who are 60 years of age and older are at increased risk for severe disease, hospitalization, and death from COVID-19. We have a total of 47,222 adults who are 60 years of age and older in Peterborough city and county. That's a conservative estimate of the size of our population that needs urgent access to immunization."
"When the province opened bookings to persons aged 60 and over last week, 32 per cent of the 22,000 residents between the ages of 60 and 69 has already been immunized," Dr. Salvaterra added. "But even with that head start, Peterborough has only enough vaccine at the moment to provide close to 11,000 appointments from now to the end of April. That falls short of the number needed to immunize everyone 60 years and over — it falls short by about 12,000 doses."
Advertisement - story continues below
In concert with Peterborough Mayor Diane Therrien and Peterborough County Warden J. Murray Jones, Dr. Salvaterra has been lobbying for a "fair share" of available vaccine doses for the Peterborough region. Adding to her concern is the fact the region "has been hit hard by variants of concern … the risk of transmission has never been higher in our area."
Infection-related numbers only serve to strengthen Dr. Salvatarra's argument that more vaccine is needed soon and that those who are eligible for a pharmacy appointment book one as soon as possible. As of 4:30 p.m. on Monday (April 12), there were 103 local active cases in the Peterborough region — an increase of 61 cases over the five days previous -— with 55 of those cases having screened positive for a variant of concern.
The number of high-risk close contacts of positive cases being monitored has risen to 373 — 127 more than reported last week. Of particular concern is that several new positive cases have been associated with more than 20 high-risk close contacts.
To date in April, 135 new cases have been reported, putting the month on pace to eclipse the highest local monthly total of 225 new cases reported in March.
"The third wave is presenting higher weekly (positive case) counts than the previous waves," said Dr. Salvaterra, noting last week's 84 cases were most in any one week period since the pandemic began.
Also at an all-time high is the number of active outbreaks, which now stands at seven. Of particular concern is the ongoing outbreak at Empress Gardens Gardens Retirement Residence at 131 Charlotte Street in Peterborough where two residents have died as a resulting of contracting the virus, bringing the region's total COVID death count to 12.
On the enforcement front, an update was provided on the recently ordered closure of the Who's Next Barber Shop at 72 Hunter Street East in East City.
According to Julie Ingram, environmental health manager for Peterborough Public Health, in addition to the enforcement of a Section 22 order that immediately closed the barber shop, two charges were laid: one for failure to comply with the provisions of the Reopening Ontario Act and the other for "obstruction" in relation to the owner's intention to continue to have customers.
The first charge comes with a fine of $750; the second with a fine of $1,000.
Also commenting during Thursday's media briefing were Peterborough-Kawartha MP Maryam Monsef, Peterborough Mayor Diane Therrien, Peterborough County Warden J. Murray Jones, and Peterborough board of health chair and Selwyn mayor Andy Mitchell.