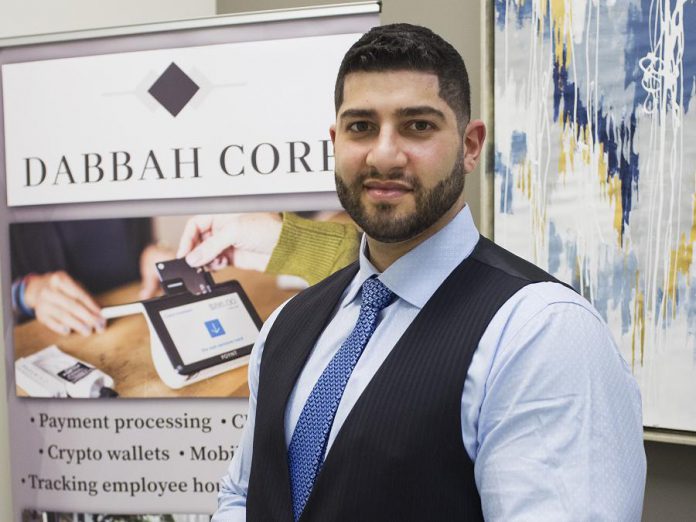 Peterborough's Waleed Dabbah considers himself a crusader for businesses, and he has ambitious plans for the future of his company.
Since 2017, the owner and CEO of Dabbah Corp, a merchant services provider, has been providing secure and reliable payment solutions to independent businesses, start-ups, and corporations, at the best and lowest rates possible.
Dabbah says his company sources out the best solution for business owners looking for ways to make transactions easier for customers. That could mean a debit machine system for a store, a wireless machine for a rural area, an online payment processing system for a website, or a digital wallet for digital coins.
Dabbah has access to a large number of global providers including Visa, MasterCard, American Express, Interac, Discover, and BitCo. As a broker, he negotiates rates and gets several quotes at the same time to get the best deal for his clients.
"By doing a financial analysis, I can explain to merchants their current rates and offer them better rates, something they can understand and determine whether or not it's fair," Dabbah says.
Anyone who uses a payment processor in their business knows that percentage fees, terminal rental charges, and other fees can really rack up a bill.
"Some businesses, for example, were paying $1,100 in monthly fees," Dabbah explains. "After finding them the best rate, I got those down to $400 a month. That's 60 per cent in savings — which is significant, especially if you're a small business."
VIDEO: Peterborough Chamber interview with Waleed Dabbah (February 2021)
While many merchant service providers gouge businesses with huge markups and hidden fees, Dabbah guarantees fair and transparent processing and generally avoids contracts. It's one way, he says, where he can help level the playing field for entrepreneurs to grow their operations successfully and focus on their customers.
"The best way to do business is by being honest and dependable," Dabbah says. "If someone walks into your company and says they're going to give you the best rate right away, know that they're lying."
Dabbah's highly customer-centric approach includes looking at each client's file and tailoring each plan to fit their evolving needs. He firmly believes that keeping open lines of communication between himself, clients and the payments industry at large has given Dabbah Corp a key edge.
"We're not a 1-800 number — when you call Dabbah Corp, you speak to someone on our team through a direct line," says Dabbah, who always encourages his clients to contact him on his cell phone if they experience any concerns.
He adds that business owners can feel apprehensive about switching providers or about going with a smaller provider.
"I reassure my clients that Dabbah Corp can offer a top-notch service for half the price," Dabbah says.
It's this dedication to his customers that appealed to Adam Genge and Tara Lee, owners of Electric City Works in Peterborough.
"At the time when we first met Waleed, we were experiencing some challenges with our provider," Genge recalls. "It didn't feel like they were making an effort to understand our business and we felt we were being overcharged for a service that wasn't providing us exactly what we needed. If something went wrong, we would get so tired of waiting on the phone for a customer service person to just say, 'have you tried unplugging it and plugging it back in'?"
Genge says that Waleed took the time to learn what they wanted to accomplish with their business and gave them options on how to achieve it. Genge and Lee allowed Dabbah to evaluate their finances and were elated that he was able to save their business a significant amount of money over time.
"He set us up with some cutting-edge debit terminals and saved us 35 to 45 per cent per month in fees," Genge adds.
"Waleed's patience and reassuring manner was a welcome change from speaking to someone over the phone who has no knowledge of our business. He takes our calls immediately and personally comes in to help within 10 minutes of us contacting him. If an issue crops up, he's here to help and he follows up with us to ensure everything is running smoothly."
Dabbah's refreshing approach was also a big draw for Trent Valley Honda when the company was looking for a local point-of-service (POS) provider.
The dealership was tired of dealing with their provider's U.S.-based customer support centre which couldn't troubleshoot issues they were running into, and would continually "upgrade" them with older versions of processing machines.
"Waleed was the local point of contact that we wanted: someone that could help us quickly if there was a problem that we couldn't fix," says Emine Crowe, Trent Valley Honda's accounting manager.
"He has saved us 24 per cent in our annual fees and the machines are current models. He's very knowledgeable of the POS world and all options available in our COVID times to receive payments from customers remotely. In these times, it's refreshing to have someone that you can build a working relationship with. I would highly recommend him."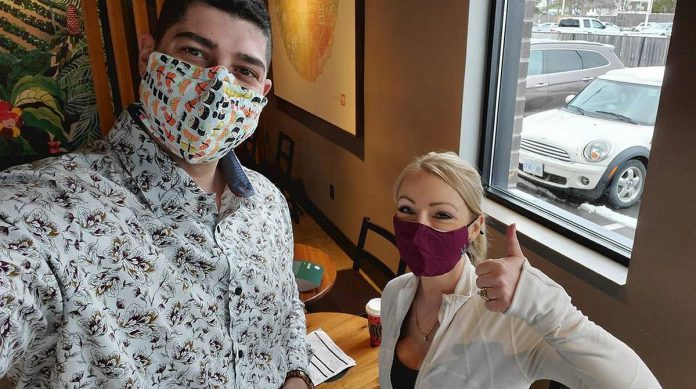 Dabbah says he likes to think he's providing the kind of service that people don't really expect anymore. That was certainly evident during the pandemic when he felt obligated to do something to offer his clients financial relief.
To help businesses that were forced to close their doors due to the coronavirus, Dabbah Corp suspended the cost of all their payment processing services for 90 days.
"I reached out to each client personally with that offer," Dabbah says. "That is because I care about our clients and want to help them save money — especially the small businesses who are at a higher risk of failing due to financial hardships. Ninety-five per cent of clients took advantage of it and each saved between $400 and $600."
Dabbah's extensive knowledge about the payment processing systems and industry is a strong asset to his clients. Before launching his company, Dabbah worked at Hampton Financial and spent years developing his client base in the City of Peterborough and the surrounding area.
Dabbah Corp has now expanded from its Peterborough location to include offices in the United States, United Kingdom, Dubai, and Lebanon. Last year, Dabbah supported the company's rapid growth by adding over 30 new local jobs and plans to fill 50 aditional roles within Peterborough and across Canada over the next year.
VIDEO: Peterborough Chamber of Commerce 4-under-40 Profile: Waleed Dabbah
It's no surprise that Dabbah's tenacity was honoured with a 4-under-40 Profile from the Peterborough Chamber of Commerce in October. The profile recognizes business and community leadership in people under the age of 40.
"It feels amazing that all the work I've done is being recognized, and that my part in the community is being honoured," he says.
At 32, Dabbah has plans to become a payment processing giant.
"I'm hoping to conquer 30 per cent of businesses in Canada — that's my goal," he says. "I want to build an empire, a legacy for my sons."
While Dabbah is keen to champion Peterborough businesses, he's also committed to ensuring Peterborough is a vibrant city through his volunteer work. Originally from Dubai in the United Arab Emirates, Dabbah is deeply devoted to the area where he has chosen to grow his business and raise his young family, alongside his wife Amber, who hails from Peterborough.
Dabbah's previous community work includes donating tens of thousands of dollars to the Peterborough Humane Society and sponsoring the Nels You Are Not Alone project, a mental health poster campaign that shares inspiring messages of hope.
Serving as a board member of PTBOstrong, Dabbah has spent countless hours advocating for solutions to address the opioid and homelessness crisis facing Peterborough.
"It's absolutely heartbreaking to see what's happening in our community," Dabbah says. "Many people experiencing homelessness are not there by choice and are caught up in the opioid epidemic. We have to come together and find a way to fix this problem and help those who are greatly affected by it."
For more information about the opportunities Dabbah Corp has to offer, visit dabbahcorp.com or contact Waleed Dabbah by phone at 705-761-2672 or by email at info@dabbahcorp.com. You can also follow Dabbah Corp on Facebook, Instagram, and Twitter.
This story was created in partnership with Dabbah Corp.