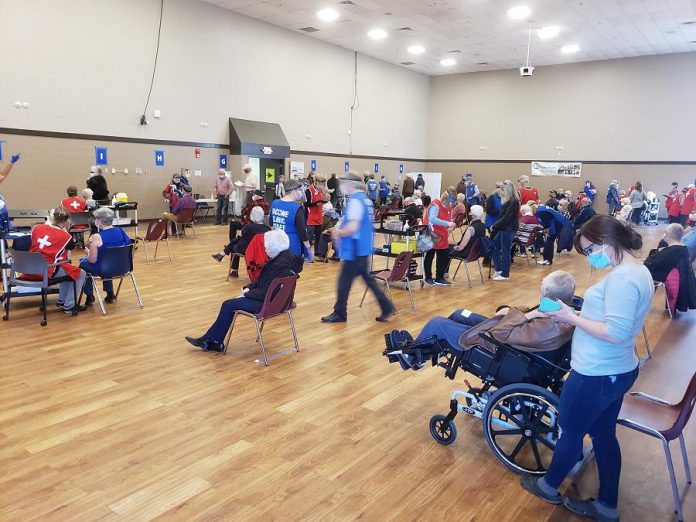 After weeks of delivering disappointing news regarding a shortfall in anticipated COVID-19 vaccine shipments to the Peterborough region, medical officer of health Dr. Rosana Salvaterra has optimistically circled May 17 on her calendar.
"Since Pfizer is doubling its overall supply to Ontario, we will start to see some of those larger shipments coming to Peterborough the week of May 17," said Dr. Salvaterra during a virtual media briefing on Friday (April 30). "Take heart — as of that day we are doubling our Pfizer (availability) and we will be ramping up to a capacity of at least 1,000 people per day being immunized here."
"I am very proud of residents here for their patience," she added. "They are having to wait a few weeks longer (to get immunized). They can get an appointment but it won't be for today and it won't be for tomorrow. It's going to be two or three weeks down the road. As of May 17th, we can open up the floodgates — we can ramp up to full capacity."
Advertisement - story continues below
Those aged 55 and up can now begin booking vaccine appointments now, Dr. Salvaterra said, noting eligibility will expand to those 50 and older the week of May 3, 40 and older the week of May 10, 30 and older the week of May 17, and 18 and older come the week of May 24.
Encouraging news on the vaccination front didn't stop there, with Dr. Salvaterra reporting that 56,409 people have received at least one dose — 52,143 of those Peterborough and area residents and the remainder residents from neighbouring health unit jurisdictions who secured an appointment in the Peterborough region. That total number represents an increase of 10,400 just over the past week.
Meanwhile, the number of people fully immunized with two doses doubled over the past week to 4,211, most of them seniors and First Nations members. According to Dr. Salvaterra, 75 per cent of area residents aged 60 and up have now received at least one dose, with vaccination coverage for the region having risen 8 per cent over the past week to more than 42 per cent.
Dr. Salvaterra noted the Peterborough region is continuing to get pre-arranged vaccine supply, which has enabled doses to continue to be administered locally over the past week.
"We are expecting our regular Moderna shipment today (Friday) or tomorrow," she explained. "We get replenished with Moderna twice a month and, with Pfizer, it's weekly. AstraZeneca is the one that's missing in action. We don't have any sight lines for that."
"Our appointments have been based on those projections (of vaccine arrival) but we are not able to run clinics every day. We just don't have enough vaccine. Everything changes May 17 when our Pfizer supply doubles."
Advertisement - story continues below
Four city pharmacies — Costco Pharmacy at 485 The Parkway, High Street Guardian Pharmacy at 815 High Street, Walmart Pharmacy at 1002 Chemong Road, and Rexall at 1154 Chemong Road — ahave been booking vaccination appointments. However, due to the lack of AstraZeneca supply, they are not currently vaccinating people.
Meanwhile, with the local vaccination appointment call centre shutting down, as of May 3 area residents are directed to phone the provincial call centre at 1-833-943-3900 to book their COVID-19 vaccination appointments. The line will be open from 8 a.m. to 8 p.m., seven days per week. Eligible residents can also continue to book their appointments online by visiting ontario.ca/bookvaccine.
"Transitioning vaccine booking to the provincial vaccine booking call centre will streamline the process for Peterborough area residents as we already use the provincial online booking system," said Dr. Salvaterra, adding local residents are encouraged to check Peterborough's COVID-19 vaccine eligibility guidance document before booking an appointment.
This document provides the eligibility status of all groups listed in the Ontario COVID-19 vaccine distribution plan for Peterborough region clinics. If a group is eligible, the guidance document will direct residents to booking information.
For those groups that are not yet eligible to book a vaccine appointment, they are encouraged to sign up for the 'Notify Me' service at peterboroughpublichealth.ca/notifyme. This service notifies residents by email when it's their turn to book a vaccine appointment.
As of Thursday (April 29) at 4:30 p.m., active cases stood at 82 in Peterborough city and county, Curve Lake and Hiawatha — up six from what was reported on Tuesday. Since Monday, 41 new cases have been detected.
The number of close contacts of positive cases being closely monitored by public health staff continues to show improvement and is now pegged at 219, down 28 from Tuesday.
Advertisement - story continues below
One new COVID-related death occurred this week, bringing to 14 the total number of local deaths from COVID-19 since March of last year. According to Dr. Salvaterra, that death is being associated with a workplace outbreak.
"It was a household member of someone who did contract COVID at their workplace," she said. "It's very sad and unfortunate that this person contracted COVID because someone brought it home."
There are currently six active outbreaks in the region, five of those workplace-related.
As for the weekly anti-lockdown protests that have been taking place in Peterborough's Confederation Park, another one is expected to take place tomorrow (Saturday).
With much chatter on social media about a counter-protest being held, Peterborough Police Services Chief Scott Gilbert strongly advised that members of both protest groups stay home.
"I appreciate that people are upset with what's going on with the protest that keeps showing up in Confederation Park but don't compound the problem by engaging in the protest," said Chief Gilbert, adding "The best thing you can do is not give them any air time, not give them any attention, and just go about your business and stay safe."
"We had one gentleman last Saturday in the park who was shouting his views that were contrary to those gathered in the park," he added. "We had some members of the large demonstration tell us that we should get him out of there before he gets hurt. Free speech, I guess, only goes one way."
Also commenting during Friday's briefing were Peterborough-Kawartha MP Maryam Monsef, Peterborough Mayor Diane Therrien, Peterborough County Warden J. Murray Jones, and Peterborough board of health chair and Selwyn mayor Andy Mitchell.