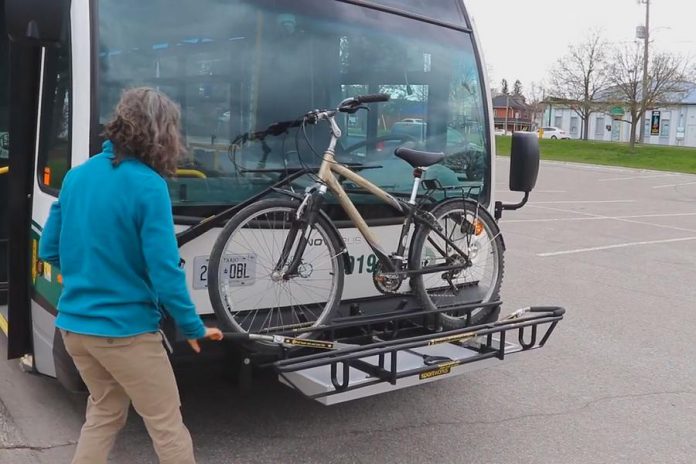 Peterborough Transit has just launched a bicycle rack pilot program on a limited number of buses on Route 4 (Weller), Route 5 (The Parkway), and Route 8 (Monaghan).
The racks, each with space for two bikes, are installed on the front of the bus, similar to bike racks on GO Transit and TTC buses.
There's no additional charge to use the bike racks, but you have to load and unload the bike yourself and remove all detachable items from the bike. The racks fit regular-sized bicycles only with a minimum wheel size of 16 inches (not fat bikes or scooter-style bikes).
Advertisement - story continues below
"Bike racks on buses enable people to get between one place and another more easily using different types of transportation," says councillor Kemi Akapo, the city's transportation chair, in a media release. "This is the way of the future, making sustainable, lower carbon transportation options more convenient and attractive."
Although bike racks on buses were first recommended to the City of Peterborough by the Share the Road Cycling Coalition in 2019, the city has had operational challenges accommodating bike racks on its buses — including how to accommodate the racks at the downtown Transit Terminal and in bus repair bays.
The pilot program will help Peterborough Transit to work through these challenges.
VIDEO: Transit Bike Racks Announcement

Cycling supporter Wild Rock Outfitters in downtown Peterborough is sponsoring the bike racks.
"Anything that helps get people out of cars and onto bikes is good for the people, the planet, and the parking," says Wild Rock co-owner Scott Murison.
Through the pilot program, the city will gauge demand for the service and determine what's required to expand the program.
Advertisement - story continues below
"Bike racks on buses are helpful to cyclists who may need to take transit for part of their trip or who prefer to take the bus one way and cycle the other," says councillor Don Vassiliadis, the city's transportation co-chair.
The bike racks are available on a first come, first served basis. Instructions for how to use the bike racks are printed on the racks.
"Access to transit services with a bicycle are appreciated in many circumstances, but especially when there is a drastic change in weather, to avoid difficult portions of bike routes or to avoid riding after dark in unlit areas," says Vassiliadis.