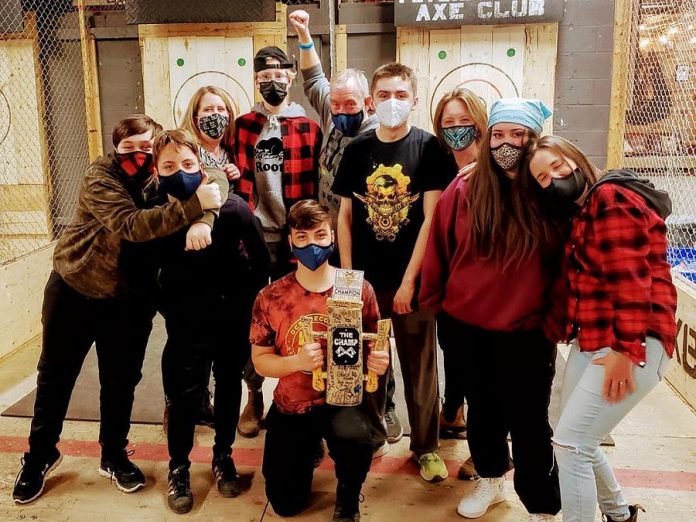 Now that Ontario is in step three of its reopening plan, things are looking up for small businesses. But it's easy to overlook the challenges many businesses have faced while navigating the pandemic over the past 16 months.
For Peterborough Axe Club owner Carlo Raponi, feelings of excitement and disappointment aren't mutually exclusive. While Raponi is overjoyed to reopen the Peterborough Axe Club, it came at the cost of closing his Lindsay location this past spring.
Prior to the pandemic, axe throwing had become an increasingly popular sport, with its unique mix of skill and socializing through leagues and private events. Raponi launched the Peterborough Axe Club in 2016 with his business partner Kalen Davidson and, in 2018, expanded to open a second location in Lindsay.
Advertisement - story continues below
When both locations were forced to shut their doors during pandemic lockdowns, revenue dried up. While Raponi did receive COVID-19 support grants from the government, he says the grants had to support expenses for both locations — and it just wasn't enough to sustain both, resulting in the difficult decision to close the Lindsay Axe Club in April.
"When I started to look at paying for two locations, not receiving income on either of them, and all those grants are being split in half, I realized I was going to end up sinking both ships if I didn't cut the rope on one," Raponi explains.
"That's a really tough decision because, in the beginning, you want to deny that's what needs to happen. At one point, you have to say, 'We need to save one, and it will come at the cost of the other.'"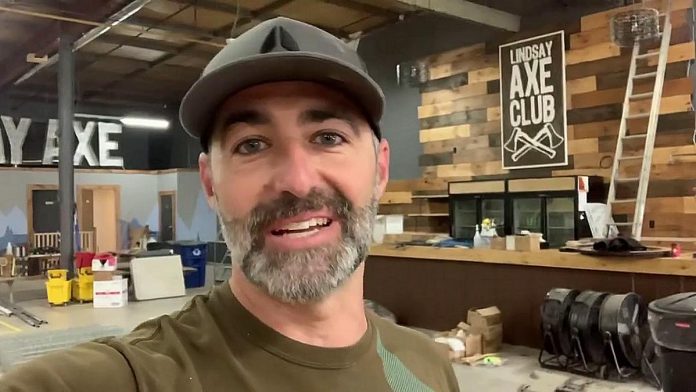 The closure was a devastating loss for Raponi, his staff, and his Lindsay customers. After making the decision, Raponi says sharing the news of the Lindsay closure was like getting punched in the gut twice.
"When you make a decision like that, you go through the grieving process," says Raponi. "There's denial, anger, sadness, and then you go numb. Then, you tell your customers, and you cycle through it all again."
Raponi says the club's league members came forward after the announcement to close, looking to do whatever they could to keep the Lindsay location open. There was even talk of a small group collecting money to purchase the club themselves.
Advertisement - story continues below
"Our league members are the lifeblood of the axe club," he says. "They're people who have come to the club and enjoyed the sport of axe throwing, but even more so, they've found a community of people who are accepting. The axe throwing is fun, but the community we foster is the centre point."
Now that the Peterborough location has reopened, Raponi is excited to welcome league members back to the Peterborough Axe Club. He notes that while he and staff are excited about the future, he wants to be transparent about how difficult the past year has been for the business.
"Everybody wants to put on a smiling face and say 'Yeah, we're doing good,' because nobody wants to be that downer," says Raponi. "But that's not the reality. The reality is that we lost one of our two businesses. The reality is that I sat across the table from our Lindsay manager and told him that he no longer has an income for him and his daughter. The reality is that I let go of six staff from Peterborough."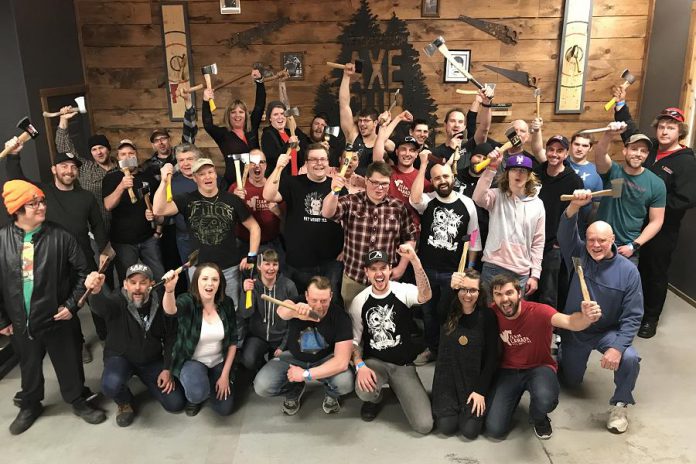 Nevertheless, the Peterborough Axe Club has not and will not lose its fun energy despite the hardships, according to Raponi. He says his staff, customers, and league members are all stellar and have been excellent at keeping morale up throughout the pandemic.
"Our staff have been amazing, and I can't applaud them enough for having a good attitude and disposition," Raponi points out. "So much of what we are is our staff. The way staff engage without our guests has always been our pride and joy."
According to Raponi, his customers were incredibly positive and supportive earlier in the pandemic when the club was still open with restrictions. He expects he will see that kind of attitude again now that the club has reopened.
Advertisement - story continues below
Unlike retail shops and restaurants that closed during the pandemic, where customers could still order online for curbside pickup or takeout, Raponi notes there wasn't much his customers could do to keep supporting his business, other than offering encouragement. However, he says those displays of support have been more valuable than people may think.
"The number of emails I've received from league members — encouraging us, telling us how much they love that community and can't wait to get back — is fantastic," says Raponi. "I've even been getting messages from league members since stage three has been announced. People are really excited."
While the closure of the Lindsay location was devastating, there is a silver lining for Peterborough customers. Raponi has transferred some of the equipment from the closed location, including furniture and monitors for scoring, to the Peterborough space.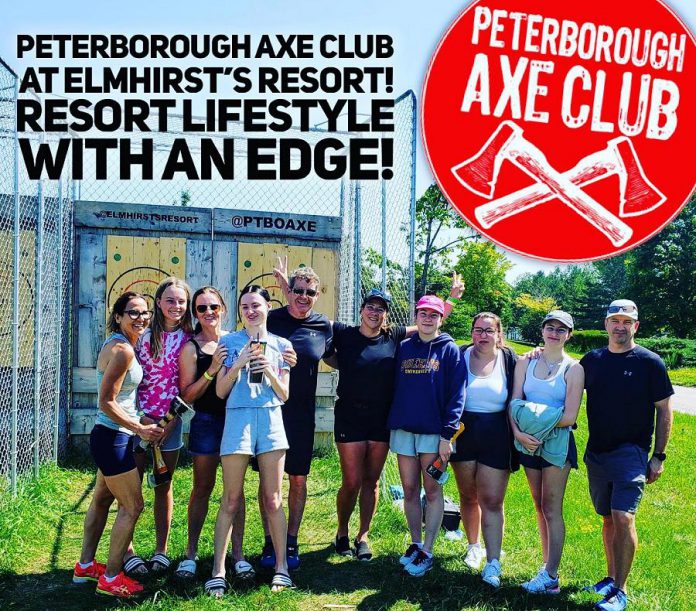 "As terrible as that closure was, we've been working on making the Peterborough space even more beautiful than it was," Raponi says. "Over the course of these lockdowns, we didn't just sit on our hands. We said this is a great time to improve the space and how the space looks."
The revitalization will give Peterborough Axe Club customers a sense of something new and fresh when they return to the club. As well, the Peterborough Axe Club now has a darts lane and will continue with the darts league that was launched before the pandemic.
Guests can also expect appropriate COVID-19 safety protocols, such as physical distancing and face coverings. As the interior of the Peterborough Axe Club is quite large, Raponi says maintaining physical distancing between groups is not a problem.
Advertisement - story continues below
While still acknowledging that the challenges aren't over, Raponi feels excited and optimistic about the coming months — especially fall and winter, which are typically the club's busiest seasons.
"There's such duality between wanting to be energetic about the future and sharing the harsh reality of what it's like to be in the trenches," Raponi says. "For the business owner, when we invest our money into starting a dream and then all the endless hours that go into it, it's not just a business — it's my sweat and blood and tears."
That being said, community support has been vital in getting Raponi through the pandemic, and he has felt no shortage of it.
"Support is so big," Raponi says. "Knowing the thing that you do in your community, your community loves, values, appreciates, and looks forward to — that gives you every reason to get out of bed."
Peterborough Axe Club is located at 280 Perry Street, Unit 1, in Peterborough. For more information, including walk-ins, group bookings, and league play, visit www.ptboaxe.com.