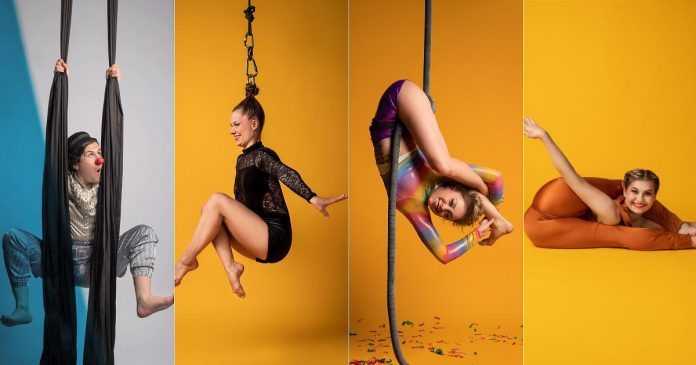 Public Energy is bringing the circus to Peterborough this Sunday (August 8) as the kick-off event of Pivot 2.0, the performing arts organization's final series of outdoor family-friendly events before performances move back inside theatres this fall and winter.
Circus Sundae: Sweet & Salty is presented by Toronto-based Flying Solo, which fuses circus, dance, and theatre to present performances on originally designed and fabricated apparatuses.
The 25-minute show takes place on Flying Solo's the 'City Circus Truck', a one-of-a-kind bit top circus on wheels, with two outdoor performances on Sunday, August 8th: at noon in the parking lot of the Peterborough Memorial Centre at 151 Lansdowne Street (enter from Lock Street), and again at 3 p.m. at the PCVS parking lot at 201 McDonnel Street (limited seating, bring your own lawn chair if possible).
Advertisement - story continues below
Both performances are free or pay what you wish. Book your spot on the Public Energy website at publicenergy.ca/performance/circus-sundae-sweet-and-salty/.
Described as a "hilarious and dazzling circus extravaganza", the show is performed entirely on the City Circus Truck's flatbed trailer. Spumoni the Clown (Emily Hughes) attempts to create the ultimate mouth-watering ice cream sundae, with aerialists Nicole Malbeuf and Laura Lawless and contortionist Flexy-T making their way through Spumoni's zany kitchen.
Sweet and salty ice cream treats will also be available by donation at each performance.
The seven-part Pivot 2.0 series, a follow-up to the Pivot series of outdoor performances of live dance and theatre presented by Public Energy last October, continues next month on Saturday, September 11th with Heirloom (a program of exciting percussive dance, with artists to be announced), followed by Bone Stories (an original contemporary dance by Ireni Stamou, performed by Ireni Stamou and Dreda Blow) on Thursday, September 16th.
Advertisement - story continues below
On Wednesday, September 22nd, there will be a performance of Hybrid Women (an experimental dance-theatre-ritual action co-created and performed by Norma Araiza and Olga Barrios with music composed and performed by Edgardo Moreno), followed by Armour (original dance-theatre by Peterborough expatriate Christy Stoeten, performed by Madie Brown, Sharazade Vahid, Simon Mazziotti, with an original design by Sonia Gemmiti) on Friday and Saturday, September 24th and 25th.
Also coming in September, with the date to be determined, is Ninagamoon~Niweechewagan, a cycle of stories and songs created and performed by Nicole Joy-Fraser.
For confirmed dates, times, and locations, keep an eye on the Public Energy website at publicenergy.ca.