A fundraising campaign to help bring Rashid, an 18-year-old Syrian refugee, to Canada has exceeded its original goal by 50 per cent in less than a week — raising almost $13,000 to help cover the costs of sponsoring Rashid during his first year in Canada.
The campaign was launched last Tuesday (August 3) by Rashid's Canadian friend David McNab, a retired police officer living in Peterborough, and exceeded its goal within the week.
"I didn't dare dream that there would be so much support and that we would be successful in such a short period of time," McNab says. "It is truly heartwarming to see how the Peterborough community has embraced Rashid. It is equally wonderful to receive support from the rest of Canada, USA, the United Kingdom, and other areas of the world."
Advertisement - content continues below
McNab first encountered Rashid after the teenager posted about his dream to come to Canada in a private Facebook group dedicated to birding in Canada. Some members of the group proceeded to attack Rashid for his post, bullying and insulting him, including with racist slurs.
McNab soon befriended Rashid, who is surviving on his own in Turkey after having fled Syria as a child. Via Zoom, McNab began helping Rashid learn English, and was soon impressed by the teenager's work ethic, character, and "wonderful personality."
"Rashid has been working harder on his English than I ever expected and his progress is remarkable," McNab explains. "When I recently praised him on his effort, he responded, 'I have a dream.' It is his goal to become a Canadian citizen and to study to become an engineer."
"He is overwhelmed by the support and the warmth of the people who have gotten behind him and his dream. He is also thrilled to have such a warm welcome from the people of Canada before he even gets on the plane."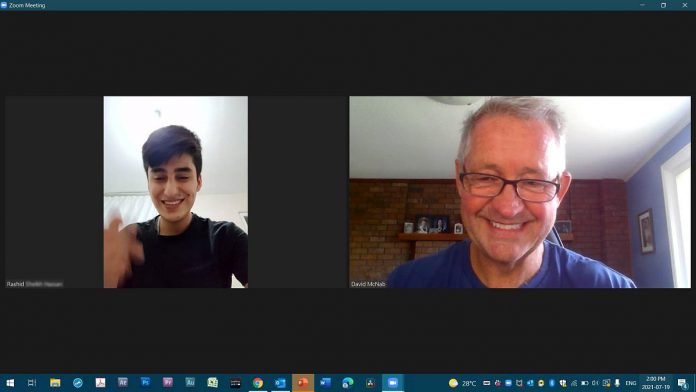 Part of the process of sponsoring a refugee to come to Canada is being able to cover a year of costs for rent, food, clothing, transportation, and more. Of the estimated cost of $18,000 to support Rashid, McNab and his wife (veterinarian Kristy Hiltz) contributed $5,000, with social advocate Michael VanDerHerberg contributing another $5,000.
McNab then started a crowdfunding campaign to raise the remaining $8,000, and as of the date of this story has raised $12,768. McNab says the extra donations will be used to cover unexpected expenses and to help Rashid with his education when he comes to Canada.
"I'm grateful to the business community for also becoming involved and showing tremendous support," McNab says. "The Avant-Garden Shop, Paul Tinney Auto, The Wild Bird Trading Company, Lizzie Brand with Pampered Chef, and Heaven on Seven Catering have been very generous."
Advertisement - content continues below
Now that the fundraising goal has been met, McNab can complete Rashid's sponsorship application. He has approached a Peterborough church to see if they can act as the sponsorship agreement holder with the federal government.
"This is a critical step in a sponsorship and their potential support is something I'm extremely grateful for," McNab says.
In addition to the donations, NcNab says he has also been receiving messages of encouragement and offers of help with developing Rashid's English skills.
"I'm especially grateful to the media for helping this fundraiser become noticed," McNab adds.
"When kawarthaNOW began spreading the word, Rashid's dream to Canada received a lot of attention on social media and this gave us a huge boost in donations and other support. CHEX/Global News picked up the story and it spread even further. I cannot imagine this being possible without the help we have received."
While McNab's fundraising goal has been met, if you are interested in donating additional funds to help Rashid, visit gofundme.com/f/help-bring-rashid-to-canada.