Less than a year after it was announced that an Opioid Response Hub would be established in Peterborough to better respond to the opioid crisis in the community, a newly launched fundraising campaign is underway to ensure that ambition is soon realized.
On Wednesday morning (September 15), the Four County Addiction Services Team (Fourcast) revealed details of the 'Light The Way To $160K' campaign that will bring in funds to renovate the hub located at 220 Simcoe Street (at Aylmer Street), the site of the former Greyhound bus terminal.
To date, a 'soft' campaign has seen almost $27,000 of that $160,000 goal already raised.
Advertisement - story continues below
According to Fourcast executive director Donna Rogers, donations to the campaign can be made through the Community Foundation of Greater Peterborough (CFGP) website at www.cfgp.ca/LightTheWay or by mailed cheque to the CFGP, 261 George Street North, Peterborough K9J 3G9. Cheques should be made out to Community Foundation of Greater Peterborough and include CTS Fund on the memo line.
Referencing "an incredible loss for so many families, friends, and colleagues," Rogers spoke to the urgency of the renovations being done soon to enable the hub to open and begin providing a range of services and supports.
In making her case, she notes data compiled by Peterborough Public Health shows that 42 people died as a result of drug poisoning and overdose in 2020. To date this year, with more than three months remaining, there have been 36 deaths.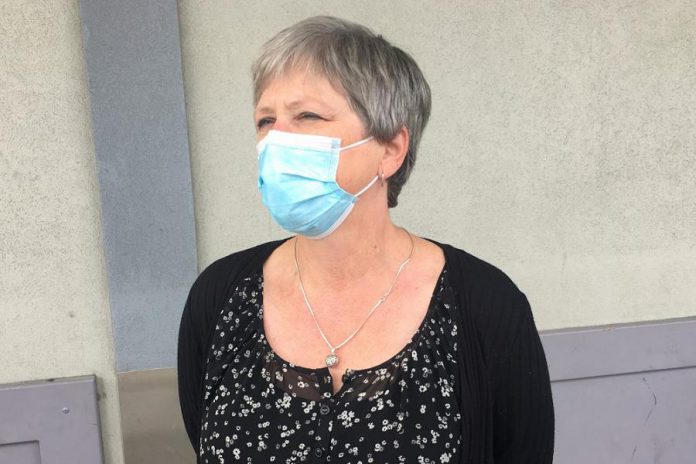 "220 Simcoe Street is the proposed future site for Peterborough's Consumption Treatment Services [CTS] funding application," affirmed Rogers.
"While we await approval to operate a CTS, we will transform this space to increase our ability to collaborate and co-ordinate services to respond to those in need in our community. The building will undergo renovations to create usable space for wrap-around addictions treatment and other services to support opioid users."
In addition to Fourcast, other frontline health-focused agencies involved in the hub's day-to-day operation are PARN – Your Community AIDS Resource Network, Peterborough 360 Degree Nurse Practitioner-Led Clinic (NPLC), the Mobile Support Overdose Resource Team (MSORT), Peterborough Drug Strategy (PDS), and Peterborough County-City Paramedics.
Advertisement - story continues below
Speaking to the hub's location, which has drawn concern from some downtown property owners, Rogers reiterated it is "the perfect site."
"But obviously a former bus terminal is not optimally configured to be a hub for substance users to access treatment services and health supports," she added. "Our campaign will provide us with the resources to make this space usable for wrap-around community services and addiction treatment on site."
"We will renovate the space in such a way that it will be optimally configured for opening a CTS as soon as our provincial application for funding is approved. Until that time, the entire space will be used for services and supports for those seeking help for addictions."
Also on hand for the fundraising campaign announcement were NPLC executive director Suzanne Galloway and MSORT program manager Kerri Kightley.
Galloway said her group's involvement stems from a clear understanding that "addiction is a health issue."
"We know that people who use drugs often face judgment and other barriers to seeking health care," she said. "The Opioid Response Hub we're creating here will provide walk-in access for on-site care including wound care, getting sterile drug using equipment, returning equipment they have used, mental health supports and addictions treatment.
Advertisement - story continues below
"Key here is staff will build trusted relationships with service users and connect them to resources in the community," Galloway added. "We will also host services on site."
Meanwhile, Kightley said MSORT has acted as a link between those who have overdosed and the available support services.
"What our team is able to do is walk alongside someone as they begin to figure out those first few steps of making change — those first few steps of connecting to more health and social services supports," Kightley said, noting her agency's services aren't restricted to Peterborough city but extend into the county.
"The importance of having a team like this partnered with other health and social services supports as part of an Opioid Response Hub is that we're able to fill in the gaps between what's existing in Peterborough and programs that need to be further developed," Kightley added.
Following the formal announcement of the fundraising campaign, Rogers took members of the media on a tour of the vacant space, pointing out where certain services will be located in the building once the renovations are complete.
According to the floor plan, space has been set aside for assessment and treatment, consultation, withdrawal management, and the distribution of harm reduction supplies.
Advertisement - story continues below
The campaign, noted Rogers, has a secondary goal of raising awareness around the issue of the opioid crisis as well as the responses that are available.
"This is a good day … we have felt very confident since receiving our federal exemption status in May, which was a huge hurdle," said Rogers. "It took us three years to get a federal exemption that would allow us to be able to operate a CTS. That was the first step."
"The next step is the funding for the CTS. While the CTS tends to be a lot of what people will focus on, what we're really excited about is — regardless of when the CTS funding is approved — we have space where we can do a lot of work that will be part and parcel of what will be adjacent to the CTS once that is open. This is really good news."
"For people who are often stigmatized when they reach out for health care and other help, having a space where we are more optimally configured to respond to their needs means they don't need to go to five different places. They don't need to go through six sets of barriers in order to accomplish a single task. We believe the experience of stigma will be greatly reduced."
Rogers is confident the fundraising goal will be met, noting the response to 'soft' campaign is encouraging.
"We saw people come forward with donations and we barely asked for those," she said. "We know that people have been impacted and affected, and we know that people want some solutions. We believe having a space that we can provide better responses is a really important part of that."
A survey conducted by the Peterborough Drug Strategy in November 2019 bears that out, showing 74 per cent of more than 1,600 people surveyed agree a CTS site will benefit the community. Survey participants ranked the reduction of injuries and deaths from drug overdose and poisonings, the prevention of blood-borne infections, and fewer publicly discarded needles and drug litter as key benefits of providing a CTS.
A separate survey of injection drug users showed 91 per cent would access a CTS site in downtown Peterborough if it were available.