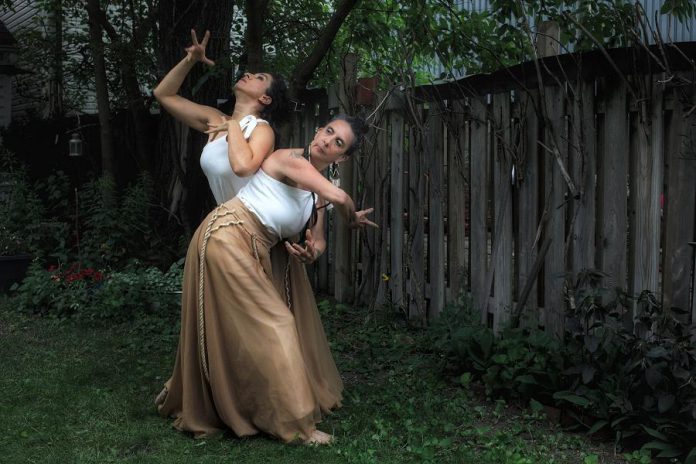 Public Energy Performing Arts in Peterborough is continuing its Pivot 2.0 series of outdoor performances this fall with two works of contemporary dance in September: Hybrid Women and Armour.
On Wednesday, September 22nd at The Warren Garden at Trent University, Vanguardia Dance Projects will perform Hybrid Women, an experimental dance-ritual by artists of Mexican and South American descent.
Performed previously in Peterborough at the 2021 Nogojiwanong Fringe Festival, the 25-minute Hybrid Women uses dance and music "as a ritual to make a connection between the pulsating body and the rhythms of nature," according to a media release from Public Energy.
Advertisement - story continues below
Co-created and performed by the dancer/choreographer team of Norma Araiza and Olga Barrios, Hybrid Women will also feature music composer and performer Edgardo Moreno.
Araiza is a Mexican performer, choreographer. and instructor from an Indigenous background from the Yoeme Nation in Sonora. Originally from Bogotá, Colombia, Barrios is a multi-award winning artist who has collaborated with theatre, musical and dance companies as well as in multidisciplinary projects in Canada, USA and Colombia. Moreno is a Hamilton-based composer who has worked extensively with contemporary dance choreographers creating sound design and musical scores.
There will be two performances of Hybrid Women, at 12 p.m. and 5 p.m. The Warren Garden is located outside Nozhem First Peoples Performance Space at Trent University, with parking available at Gzowski College at 2510 Pioneer Road.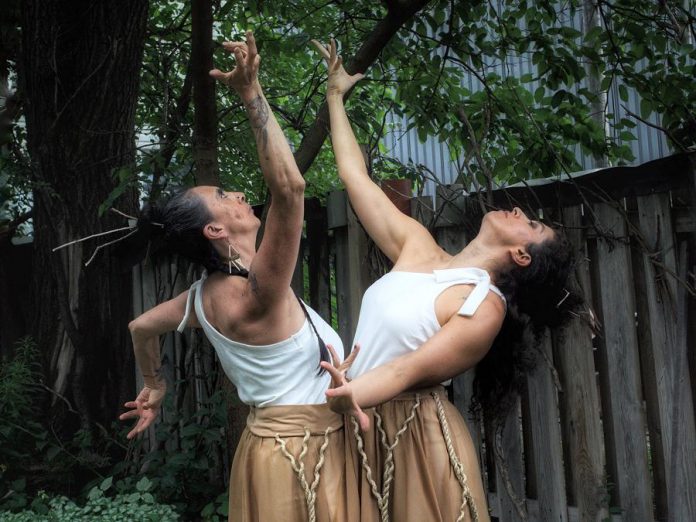 At 7 p.m. on Friday, September 24th and Saturday, September 25th at the Heritage Pavillion Stage on Armour Hill (300 Hunter Street East), Peterborough native Christy Stoeten will present the world premiere of Armour, a work of dance-theatre about growing up in the city.
"When I was in high school, there really wasn't much to do on a Saturday night in Peterborough," Stoeten recalls. "The options included the Mustang Drive-In, midnight trips to the new 24 hour Sobey's, or a drive up Armour Hill. There was always something exciting about driving up the winding road to get to the top of Armour Hill, like we didn't know what to expect when we arrived at the top."
Now based in Toronto, Stoeten has had a busy career as a dancer and choreographer with numerous dance artists and companies in Toronto.
Advertisement - story continues below
"This piece captures the essence of what it's like to be young in Peterborough," Stoeten says of the 20-minute performance. "Or at least what it sometimes felt like for us. With stories from my teenage experience and those of my collaborators, we've created a work that feels like a series of snapshots from another time."
Designed by Sonia Gemmiti, Armour will be performed by Madie Brown, Sharazade Vahid, and Simon Mazziotti.
"The piece doesn't take place during a specific era, but transports the audience to a time and place that feels nostalgic, bizarre, and at times sentimental. Think The Twilight Zone meets Fast Times at Ridgemont High."
In keeping with Public Energy's efforts to maintain open access to the performing arts, tickets for both Hybrid Women and Armour are pay what you can.
Tickets are available online at publicenergy.ca. Due to pandemic gathering restrictions, tickets are limited.
For more information about Public Energy's Pivot 2.0 series of site-specific performances intended for physically distanced outdoor audiences, visit publicenergy.ca/performance/pivot-2-0/.
kawarthaNOW is proud to be a long-time media sponsor of Public Energy Performing Arts.