James Hodgson, owner of Nish Tees in Nogojiwanong-Peterborough, has found a way to merge his passions in a meaningful way with his custom screen printing and graphic design company.
With over 20 years' experience in design and imprinting services, James started his own company in 2016. Through Nish Tees, he raises money and awareness for Indigenous communities annually by selling orange shirts.
Naturally creative, James started his own business to share his strengths with others.
Advertisement - content continues below
"I like doing my own designs and printing my own stuff — it's my motivation to do what I do," James says. "I also like using those skills to help other people. I think it's important to share yourself with your community."
Through Nish Tees, James sells his own designed apparel and takes custom orders for promotional products. As a graphic designer, he can also help clients with designing their logos.
"It can be a daunting experience for people to try to take on that creative aspect of logo design while they're thinking about numbers and business," notes James. "I like to try to help those people out as best I can."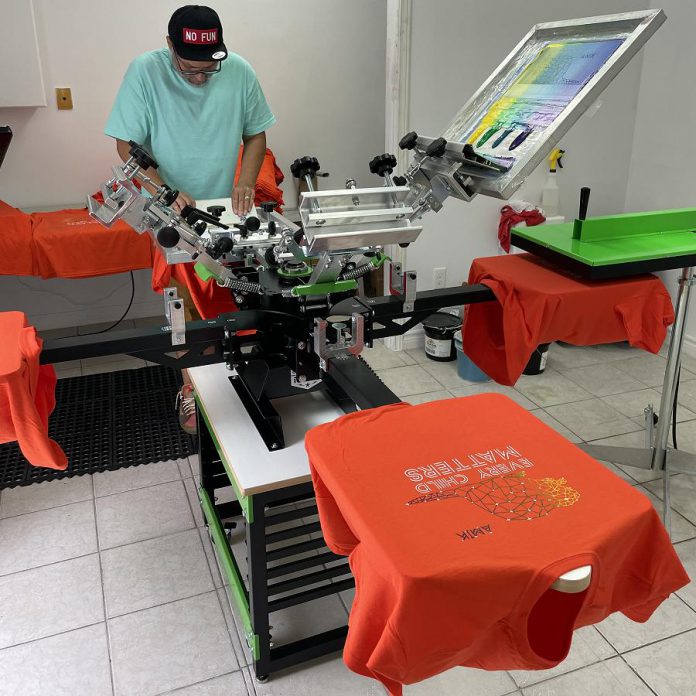 Up until recently, James ran and operated Nish Tees from his home. At the beginning of August, Nish Tees moved to a new space on Aylmer and Sherbrooke streets in downtown Peterborough. While the inside of the shop remains closed to customers due to COVID-19, Nish Tees offers delivery and curbside pickup for orders.
James says he was fortunate his business was not overly affected by the pandemic, since he was already working remotely from home when COVID hit. James says all of his current employees are family and, therefore, within his social bubble.
That isn't to say the business was totally unaffected by the pandemic. Since businesses that would typically make custom orders at Nish Tees for uniforms and other promotional items were locked down, their focus was not on ordering new apparel.
Advertisement - content continues below
When custom orders decreased during the pandemic, James diversifying how he generates income by putting up an online store where people can buy his designs.
"When you're talking about the pandemic, having an actual physical space for people to come in and buy your product doesn't financially make sense," James explains. "You're going to hurt financially if that's your only way to access customers. The online thing went up during the pandemic."
The Nish Tees website also now has a 'pick and ship' system that allows James to ship products worldwide. Nish Tees has shipped product orders to Scotland, India, Australia, New Zealand, the United States, and more.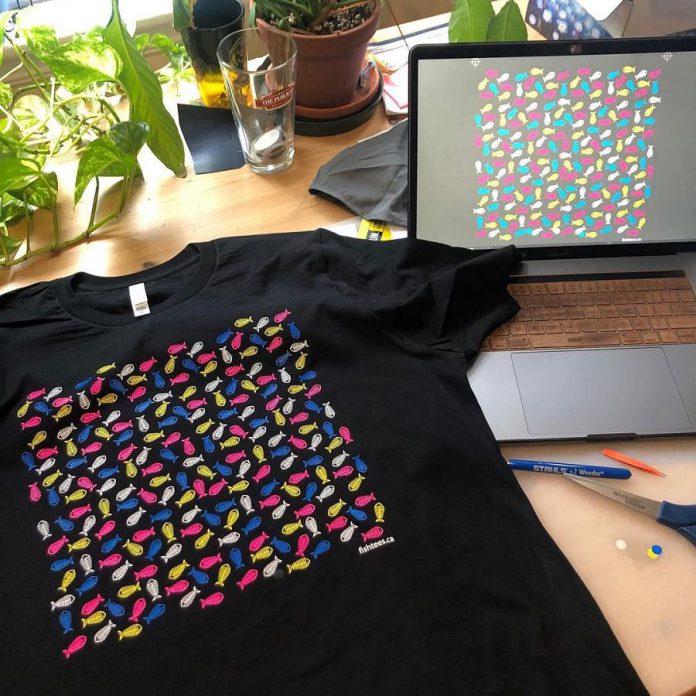 Those who visit the Nish Tees website will note that it has an Indigenous theme. James says although his business is open to everyone, he is a proud Indigenous entrepreneur. He also studied Indigenous studies at Trent University in his 20s.
James' people are from Whitesand First Nation on the northwest shore of Lake Nipigon, north of Lake Superior. James is a Sixties Scoop survivor, meaning he was adopted into a non-Indigenous family at a young age and had little to no access to his culture.
His own experience is why he is so passionate about donating funds from this year's Orange Shirt Day fundraiser to Sage and Sunshine, a new Indigenous-led culture-based private school in Nogojiwanong-Peterborough.
Advertisement - content continues below
Founded and operated by Ashley Wynne, Sage and Sunshine provides urban Indigenous children with access to their language and culture while working through the Ontario curriculum.
The school is currently raising funds to cover tuition costs for its students.
James says giving support to Sage and Sunshine is important to him, since he did not have access to Indigenous culture, language, or teachings as a child.
"I never had that opportunity," James says. "I feel, personally, a layer of urgency in the sense that I never had that access to Indigenous language and cultural tenets, and I really would have been receptive to that if I were a young person. Having exposure to that would have been a life-changing experience for me."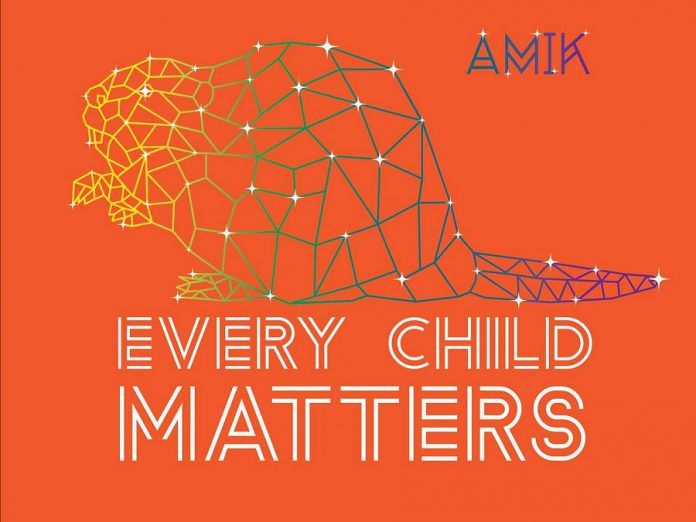 This is the fourth year Nish Tees has held a fundraiser for Orange Shirt Day, which takes place every September 30th to recognize and raise awareness about the history and impact of Canada's residential school system. In June, the federal government passed legislation to also recognize September 30th as National Day for Truth and Reconciliation.
For Nish Tees' Orange Shirt Day fundraiser, James chooses a different animal from the Anishinaabe Seven Grandfather Teachings to feature on the shirt each year.
"There are seven different characteristics that people should have if they want to live the good way," James explains. "Each of the animals I've depicted represents a different characteristic that should be embraced and learned about. Traditionally, grandfathers in the community would share stories about these animals with the younger generations. That's why they call them grandfather teachings."
Advertisement - content continues below
This year's t-shirt features the Amik (beaver) which, in the Seven Grandfather Teachings, represents Nibwaakaawin (wisdom). The beaver uses its natural gifts wisely to ensure its survival, including its sharp teeth and its knowledge of building. A beaver's teeth constantly grow throughout its life, but daily chewing on tree trunks and branches keep the teeth from getting too long (which would threaten its own survival), while also enabling the beaver to build dams and lodges to benefit its own family and community.
"I thought it was a nice way to incorporate the Anishinaabe culture into what I'm doing," says James. "Not only to teach other people, but to learn more about it myself."
The sale of the orange t-shirts is having a meaningful impact beyond the funds being raised for Sage and Sunshine. James says that, for many of his customers, the purchase of an orange shirt is a starting point to a conversation about the effects of colonization and the residential school system on Indigenous communities.
According to James, this year's fundraiser has been especially busy with the recent discoveries of unmarked graves at former residential school sites across the county. Orange shirts are in such high demand right now that James says his suppliers do not have any left. Luckily, James already had an ample supply of orange shirts stockpiled for the fundraiser.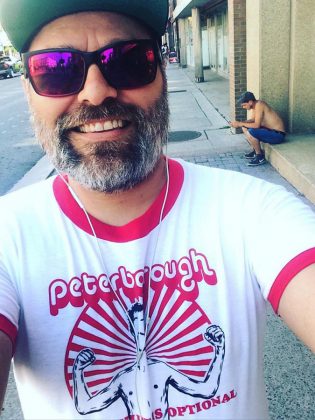 "There's a lot of people who want to support not only by wearing an orange shirt but also by supporting an Indigenous business," notes James. "They want to have a conversation with an Indigenous person. People are incredible. If you give someone a chance and talk to them for five minutes, it can be a game-changer."
"I had a client who came back and told me he wore his shirt, which was my product, to a family barbecue and had a very long, difficult conversation with his brother-in-law about Indigenous issues," James recalls. "He came back to tell me that he appreciated that happening. It's nice to be a part of that."
Regarding what allies can do aside from wearing an orange shirt and donating to Indigenous causes like Sage and Sunshine, James says now is a time to listen to Indigenous people.
"Action is great, but it's not time to take the lead," says James. "Allies should be supporting Indigenous organizations and groups and following their lead when it comes to action. It's super critical that Indigenous voices are the ones that are being heard."
One Indigenous-led organization you can support right now is Sage and Sunshine, by ordering Orange Shirt Day Amik t-shirts from Nish Tees. You can make an online order at nishtees.ca/product-page/orange-shirt-day-tee-2021-amik-beaver, but order before September 22nd if you want them by September 30th.
Check the website and follow Nish Tees on Facebook and Instagram for updates on availability and restocking of sizes.