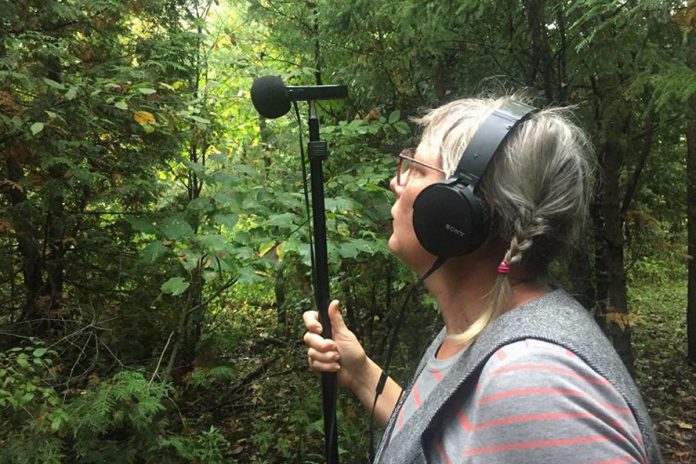 Melanie McCall has tried all kinds of artistic mediums, but textiles have always had her heart. Nevertheless, as a curious person and experimental artist, McCall knows it is never too late to expand one's expertise and come away with a new skill.
Practising textile artistry for 20 years, McCall is now translating her practices into another medium with Trent Radio's "Your Radio is Their Stage" artistic residency project.
When working with textiles, McCall works using natural fibres and plant dyes. Her practice employs a variety of folding, printing, and smashing techniques to create pieces of textiles with collage-like texture and pattern.
As the first of six Nogojiwanong-Peterborough artists participating in Trent Radio's "Your Radio is Their Stage", McCall receives mentorship, equipment, training, and support to reimagine her textile practices as a work of broadcast radio. Since sound also features pattern and textures, McCall is using the residency to recreate her cloth-collage process as a 'sound collage.'
Similar to her work with textiles, McCall's sound collage will be inspired by nature. She is setting out with her microphone to record and then layer sounds from local woodlands, wetlands, and animal sounds with Morse code, musical instruments, and more.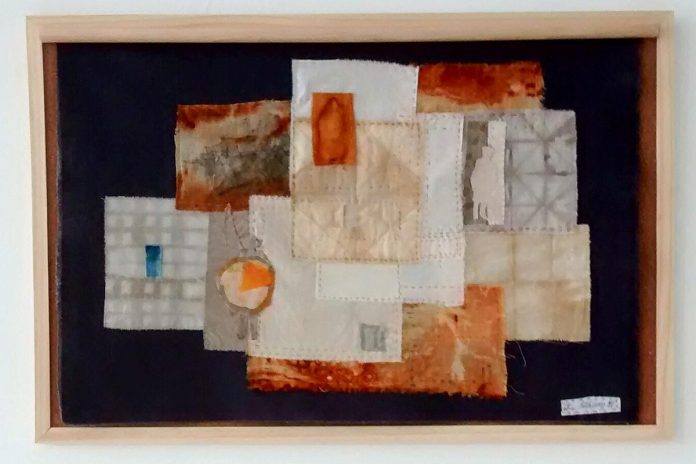 McCall's path towards artistry started when as a teenager, when she first met other creatives with the East City Soaps and the Union Theatre in downtown Peterborough and began designing costumes.
When McCall began art school at Nova Scotia College of Art and Design (NSCAD) years later, she had already fallen in love with the art of textiles.
"You're supposed to go to school with this open mind," McCall says in a recent interview with Trent Radio. "I already knew I was going to focus on textiles because of the costume background I have, because of my love of fashion, because of my love of strange attire, my love of Boy George, my love of all things eccentric. I was like, 'Yes, it's all about the textiles."
McCall graduated from NSCAD with a bachelor of fine arts in textiles in 2004. She also studied historical costume design at Dalhousie University in 2002. During her career, McCall has designed costumes for multiple productions and performing artists in Peterborough, including Old Men Dancing, Kate Story, and Brad Brackenridge.
McCall says her time at NSCAD has helped hone her technical skills to use them for executing creative ideas. Nevertheless, she says she loves unpredictability in art, and imperfection is fundamental to her work.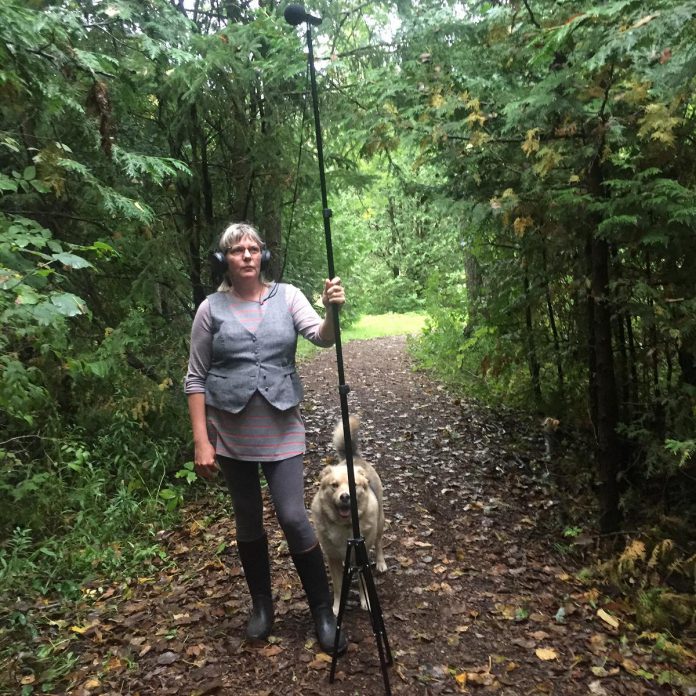 In her artistic career, McCall's work has crossed many forms including natural dying, hand arts, costume, surface design and manipulation, puppetry, hand drawing, installation, and now broadcast radio.
The "Your Radio Is Their Stage" artist residency project runs until March 2022, with McCall's five-week residency concluding on October 17. The other five artist residencies at Trent Radio are Jose Miguel Hernandez (oil painting), JoEllen Brydon (folkloric art and installation), Justin Million (poetry), Gillian Turnham (Islamic art), and John Marris (community arts).
"Your Radio Is Their Stage" is made possible by the Community Radio Fund of Canada, the only organization mandated to support campus and community radio stations in Canada financially.
McCall's completed "sound collage" will air, at the end of her residency, from 6 to 7:30 p.m. on Sunday, October 17th on Trent Radio at 92.7 CFFF FM in Peterborough, 287 on Cogeco Cable, and online at www.trentradio.ca.
To learn more about McCall's artistic practices, visit her website at melaniemmccall.wordpress.com and follow her on Instagram @mango.bandicoot.
This story was created in partnership with Trent Radio, a producer-oriented broadcast facility that started as a Trent University student club in 1968. Sponsored and designed by students from Trent University, Trent Radio incorporated as a registered charity in 1978. Trent Radio currently holds a Community Broadcast License, and is a resource that is shared with the Nogojiwanong-Peterborough community.