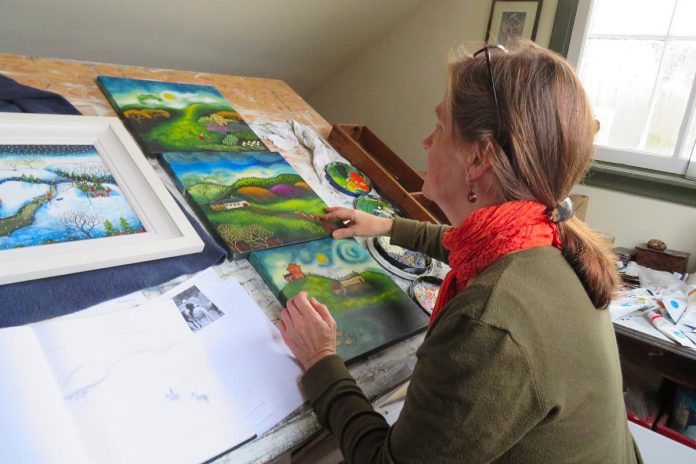 The art of creative storytelling is passed on as an heirloom in artist JoEllen Brydon's family. When her grandparents emigrated from Northern Ireland in the 1920s, they brought along their folkloric traditions.
Growing up, she watched her Irish family integrate poems, songs, and gossip into their conversations. Brydon's late mother, Jean Armstrong Brydon, made creative storytelling her career as a journalist.
Armstrong's written voice was as lively and witty as their family's colourful conversations.
Now an internationally recognized artist based in Cavan, Brydon also has the storytelling gene which she, like her mother before her, has translated into a career. Brydon's artistic practice adapts the day-to-day stories of friends, neighbours, and strangers into vibrant oil and acrylic paintings.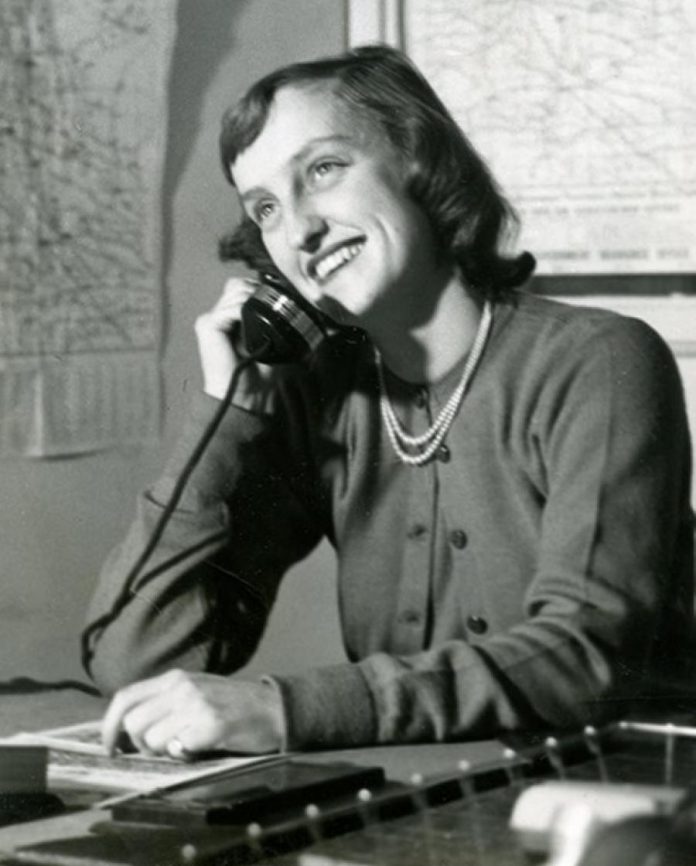 Brydon also retells buried stories by designing and creating large-scale mixed-media installations. During her artist residency with Trent Radio's "Your Radio is Their Stage" project, she is completing her third installation: a retelling of the stories left by her mother.
"My mother was the advice columnist for The Globe and Mail from 1966 to 1978," Brydon says. "She worked under the pen name Elizabeth Thompson, and I've got all the columns, the articles, the letters, and the copy she typed."
Through the Trent Radio residency, Brydon receives mentorship, equipment, training, and support to develop an audio component for the project. She is lifting a few of her mother's Elizabeth Thompson columns off the page by translating the advice-seeking letters, along with her mother's responses, into recorded voice-acting.
Brydon says finding a voice actor to capture her mother's voice as Elizabeth Thompson was important. She landed on Leslie Ashton, who has a background in theatre, voice, and puppetry. Ashton knew Jean Armstrong Brydon personally,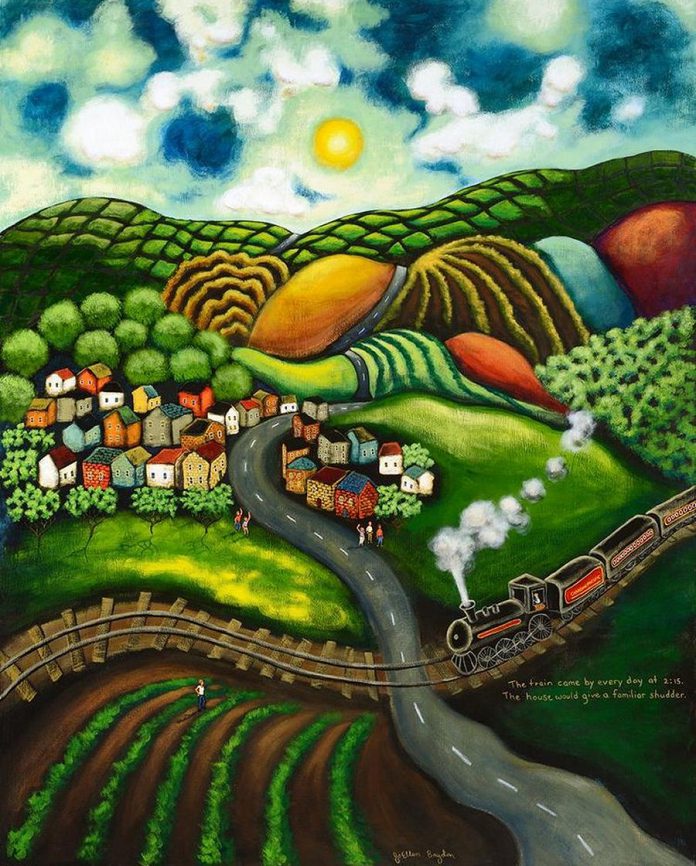 "Mom's friend's daughter Leslie, who I grew up with and who also grew up with Mom, is the one I got to be Elizabeth," says Brydon. "We've done some of the recordings, and she's really nailing it. I didn't need someone who sounded like Mom, but I wanted to get someone who felt like Mom."
Brydon says her mother had an edge to her personality, which was evident in her Elizabeth Thompson columns.
"She was a very progressive writer and thinker," Brydon explains. "She tackled social issues that people were starting to be willing to explore. And she tried to tackle trivial things. She was a great writer. She had the storytelling gift, and her writing was entertaining."
In addition to the audio component, Brydon's project will feature her mother's typewriter and other writing tools. Visually, the project will see large-scale photographs of those who wrote the advice-seeking letters along with paintings made by Brydon that illustrate the stories within the columns.
Like her mother's narrative voice, Brydon's paintings are vibrant. She comes up with ideas for paintings by listening to people telling anecdotal stories.
"If I hear a story, I often just write it down," says Brydon. "I usually sit down to do some drawings, and at some point, (the vision for the painting) comes to me. And often, even after the painting is started, something else will come to me, and it'll change."
Brydon likes to paint anecdotal stories that feel familiar to a wide range of people. She also likes to deal with parts of daily life that may be fading into the past — like the mail, or the traditional telephone.
For example, her painting entitled "The train came by every day at 2:15. The house would give a familiar shudder" is based on a Peterborough story about a building that is now gone.
"There's a building that was called The Old Banana Factory at Dublin and Aylmer," notes Brydon. "Artists used to live in the building in an apartment upstairs. The train came about two feet from the window every day. Their daughter used to wave at the conductor, and he'd wave back."
But since Brydon's current project centres around her mother's life, working on it has hit differently than her other projects.
She has been slowly working on the project since her mother passed away in 2019. When the opportunity to apply for the Trent Radio artist residency came along, everything fell into place for the project, since Brydon already knew she wanted to include an audio component in the project.
"I'm so lucky that they chose me to be one of the artists in this residency because it's so perfect for this project," Brydon notes. "It's been an emotional process. I've been working on this for a couple of years. Sometimes I have to put it away, give it some time, and then go back to it."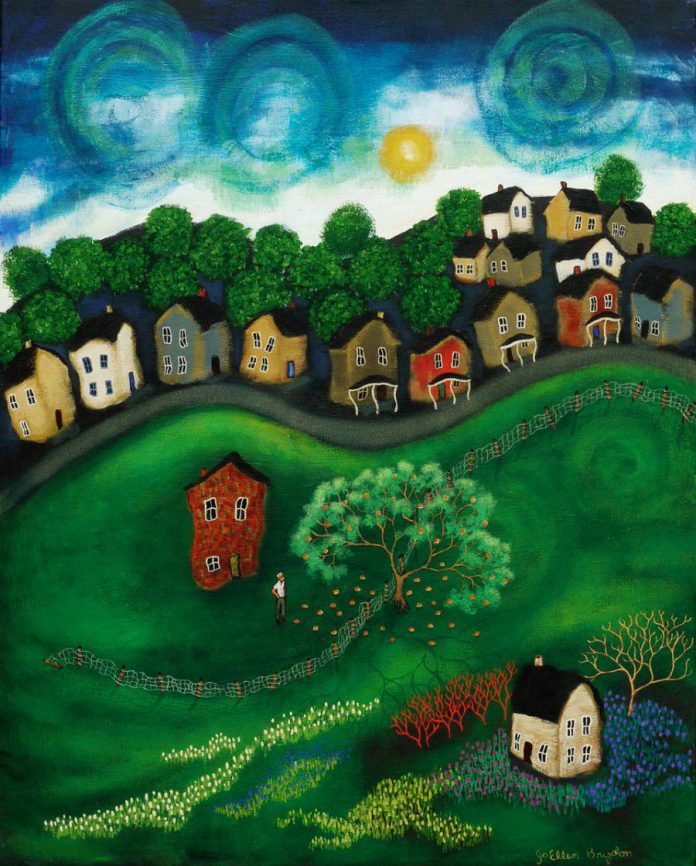 In the quest to retell her mother's stories, Brydon uncovered buried ones she didn't know existed. She recalls her mother asking everyone to send in letters for the Elizabeth Thompson column, since she always needed more material, and Brydon wrote a letter herself.
"I remember her always asking us to write, but I don't remember doing it," Brydon says. "I found a letter that I'm pretty sure I wrote and her answer. She signed it 'Jenny'. And then I remembered that Jenny was my favourite name when I was a little girl."
Re-discovering and reviving her mother's stories makes this a unique and special project for Brydon. She's keeping her mother's story alive in all of her work, though, every time she uses the storytelling gift passed down by her mother.
To learn more about JoEllen Brydon's folkloric artistic practice, visit her website at www.joellenbrydon.com. You can also follow Brydon on Facebook.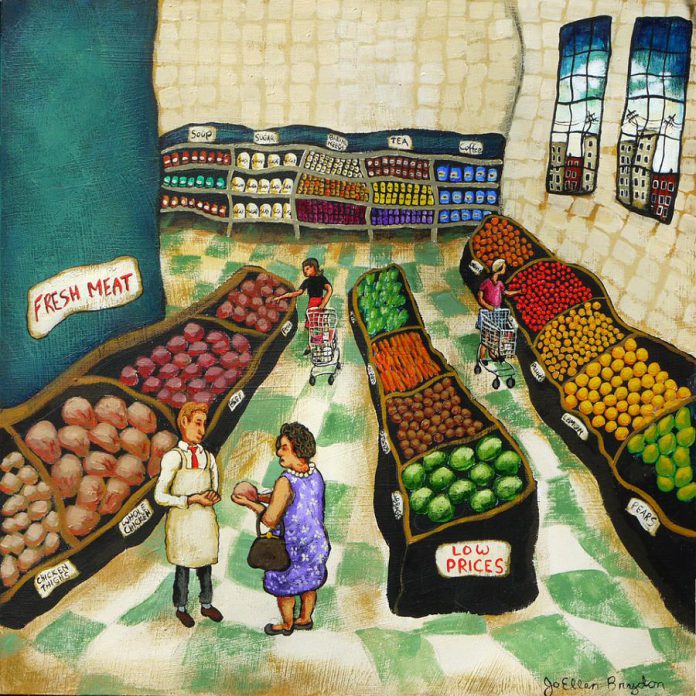 The audio component of Brydon's completed project is set to broadcast from 6 to 7:30 p.m on Sunday, December 12th on Trent Radio at 92.7 CFFF FM in Peterborough, 287 on Cogeco Cable, and online at www.trentradio.ca.
Trent Radio's "Your Radio Is Their Stage" artist residency project runs until March 2022, with Brydon's residency concluding on December 12.
Textile artist Melanie McCall was the first to complete her residency on October 17, followed by Jose Miguel Hernandez on November 14 and now JoEllen Brydon. The remaining three artist residencies will be with Justin Million (poetry), Gillian Turnham (Islamic art), and John Marris (community arts). The reimagined work of all six participating artists will also be broadcast next April.
"Your Radio Is Their Stage" is made possible by the Community Radio Fund of Canada, the only organization mandated to support campus and community radio stations in Canada financially.
This story was created in partnership with Trent Radio, a producer-oriented broadcast facility that started as a Trent University student club in 1968. Sponsored and designed by students from Trent University, Trent Radio incorporated as a registered charity in 1978. Trent Radio currently holds a Community Broadcast License, and is a resource that is shared with the Nogojiwanong-Peterborough community.