Poho Boho, a unique shop celebrating bohemian-style clothing and furniture and local art, has officially reopened in its new location at 93 Walton Street in downtown Port Hope.
When co-owner Kim Miller first met business partner and friend Carolyn Scatterty, she was a big fan. Kim owned "a number of pieces" from Carolyn's thrifted clothing and upcycled vintage textile line, On Second Thought Upcycling. At the time, Kim was booking vendors for local markets and invited Carolyn to showcase her work, knowing they were destined for bigger things.
"During the pandemic an opportunity presented itself," explains Kim. "My friend owns a tattoo shop in downtown Port Hope, Nick's Studio. She was pivoting to keep her shop alive. She decided to temporarily lease the storefront to help cover costs during lockdown. It provided me access to a downtown retail space while also helping a friend. I launched Poho Boho in the summer of 2020, a celebration of everything local and bohemian."
Advertisement - story continues below
Kim's goal for the shop was to provide a judgment-free place for women to "play" and try on unique clothing items. Poho Boho's mission is to celebrate unconventional and timeless style, as well as a variety of local Northumberland artists.
"Carolyn was obviously the first person I reached out to," says Kim. "Together we contacted people that we both knew, and we ran Poho Boho out of Nick's Studio for about six months."
Kim says that it didn't take very long for Carolyn's upcycled items to take off.
"Her stuff was selling like hotcakes," Kim recalls. "She had one rack to start and our customers, mostly boho babes, were buying it up faster than she could restock it."
As a curator of boho thrift shop items and with an eye for reclaimed found object art, Kim and Carolyn share the same type of clientele. The duo realized that Poho Boho and On Second Thought were inseparable brands.
But when pandemic lockdown restrictions were lifted, Nick's Studio reclaimed Kim's pop-up space and Poho Boho had to temporarily close.
Advertisement - story continues below
"I had a small studio close by and I was hoping to move to a new space, but all I could find was retail space," explains Carolyn. "So I called Kim and suggested that we open a storefront downtown."
The shop's new location, across the street from Nick's Studio, proved to be perfect after a few eclectic design upgrades.
"Poho Boho became Carolyn's atelier, her studio, the place where she does her magic," Kim says. "We predominantly feature her stuff in the store, but also sell things from other local artists. It's vintage, it's boho, and it's almost as if the original Poho Boho now runs in the front of On Second Thought Upcycling's studio."
Carolyn adds that the space is much more than that — it's a place where Kim creates an ambience that feels like home for customers.
"Many people visit and say they don't want to leave. People enjoy the space that Kim has created, and we love that because we want people to feel welcome here. We have so much for them to see."
Kim feels like customers experience a "moment of arrival" when they fully immerse themselves in the space.
Advertisement - story continues below
"Everything is repurposed or reimagined and when customers browse our racks, they see that every piece is unique," Kim says. "It creates excitement and, even if they aren't prepared to buy today, we want them to feel comfortable trying things on and playing dress up."
"When people have fun and play it creates an intoxicating vibe because people are experiencing true joy," she adds. "We get to share that vibe with our customers — it's why we do this."
Every piece at Poho Boho is one of a kind, whether it's Carolyn's creations, local art, or vintage and thrift items that have been curated and consigned to fit the "boho babe aesthetic".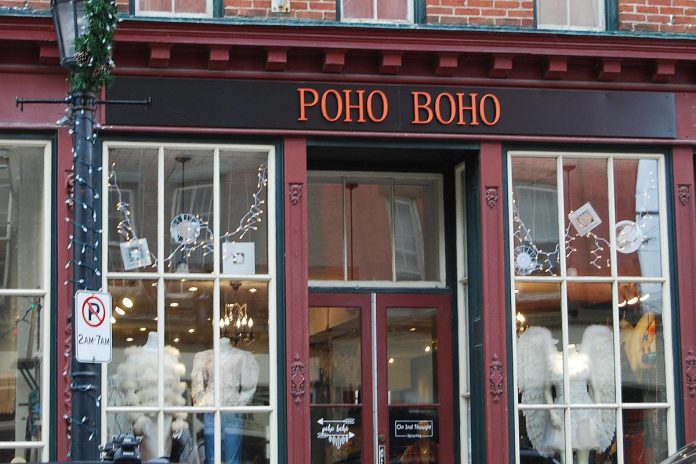 "The local artisans represented in our shop are all makers of handmade things here in Northumberland County," says Kim. "The group is comprised of many well-established local brands including Fluke Craft, Kiki and Co, as well as other brands run by female entrepreneurs. We have close to a dozen artisans in the shop, and we've also had pop-ups too."
"Our intention is to have a place where women can be safe without judgment to celebrate their individual style. The definition of bohemian is unconventional — there are no rules. We want you to wear what you like, what makes you feel good, we want you to rock it, that's our philosophy."
Poho Boho also takes donations of pre-loved textiles and will consign special items that any self-declared boho fan would gravitate towards. As Carolyn's services are in high demand, she has had to be very selective about what can be upcycled.
Advertisement - story continues below
"Because I'm committed to sustainability, I get a little stressed when I have too much in my workspace," she explains. "I feel like I have to use everything because that's what I'm here for. But I'm also just one person and unique pieces take time to create."
"When I realized the true environmental impact of fast fashion, I vowed to never buy new clothing again. That was four years ago and that's how I got started. Clothing that ends up in a landfill will rot over time and create just as much methane as anything else does so it's a carbon footprint issue. We collect things before they ever get there."
"And if someone buys an item from me, that they later don't want anymore, I have a buyback program, I'll buy it back and reinvent it again. Newer fabrics don't hold a candle to the old stuff. You can tell when you work with it that there are many lives left, and we owe it to the original textile creator to honour that."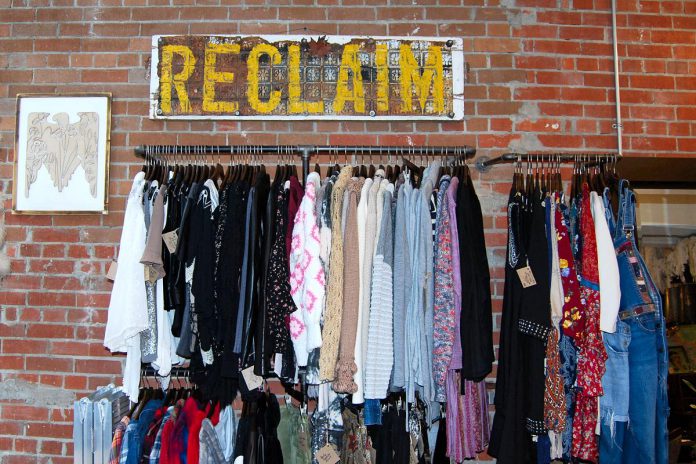 Fortunately, Carolyn has also found a way to upcycle her offcuts by donating them to a rugmaker who will weave them into boho rugs the shop hopes to sell.
"For me it's a real stress reliever to know that my offcuts won't end up in a landfill," adds Carolyn. "I try to use everything that I can but some of the small pieces can be very time consuming to upcycle. Now someone else can create wonderful things with them."
Kim has designed an "inspiration wall" where Carolyn hangs unique textiles. Customers find things on this wall that spark custom design ideas that have become very popular.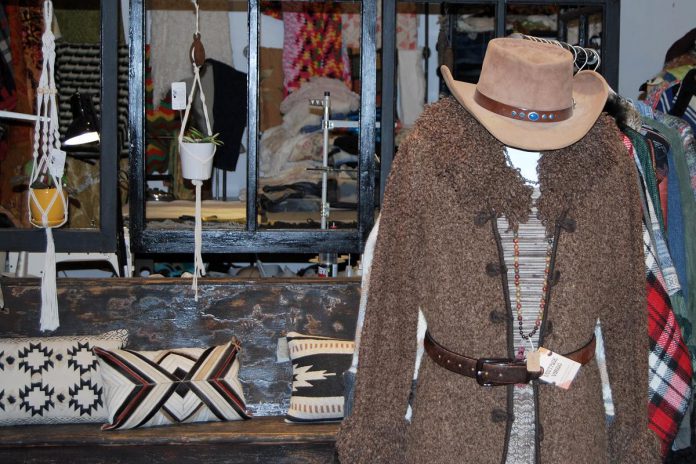 "People will tell us that they have something special in a hope chest at home, family heirlooms, and clothing that reminds them of people they love," Kim explains. "Carolyn will do a custom piece for them, so that they can rejoice in family memories and give new life to items that might not see the light of day otherwise."
Carolyn says the message of sustainability is getting stronger and that the repurposing energy is contagious.
"Customers know they are in a space where upcycling is not just what we do, it's what we encourage others to do," she says. "We're at the forefront and that's very exciting."
Kim also brings her unique upcycling talents to Poho Boho. What Carolyn does with textiles, Kim does with found objects that would otherwise end up in the trash.
"I love the mashup of industrial design and boho art," says Kim. "I will search for found objects like stair risers and salvaged foundry moulds and reimagine them — reclaiming them and sparing them from landfills. It makes this space creative and interesting and adds a storied feel to it."
Carolyn adds that Kim's eye for thrift items adds to the nostalgia. Visitors reminisce about things they had growing up, triggering good memories. Reimagined items still feel fresh and inspire playfulness, wonder, and imagination.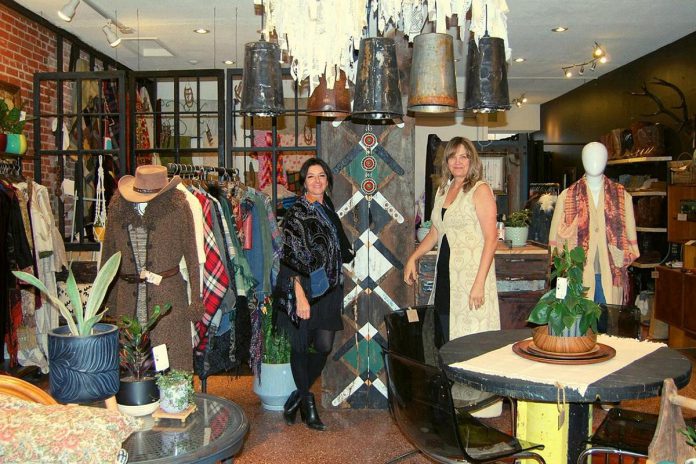 One of the things that Kim and Carolyn both love about Poho Boho is its sense of community.
"We'll have a group of girls in here, someone will try something on, and suddenly everyone is commenting on how great it looks," says Kim. "For us, feeling good in what you wear is all that matters, but to be encouraged by women you don't know — women supporting other women — is really cool, and we get to witness that all of the time."
Poho Boho is located at 93 Walton Street in downtown Port Hope. You can also find them on Facebook and Instagram.