This month, food writer Eva Fisher packs her own food tour with Cultivate in Port Hope, enjoys some summer nostalgia with The Little Frozen Yogurt Company in Douro, barks up the right treat with Burns Bulk Food in Lindsay, and braves the porch pirates with Kawartha Food Share in Peterborough.
Advertisement - story continues below
Cultivate's Big Backyard Food Tour in Northumberland County takes local flavour on the road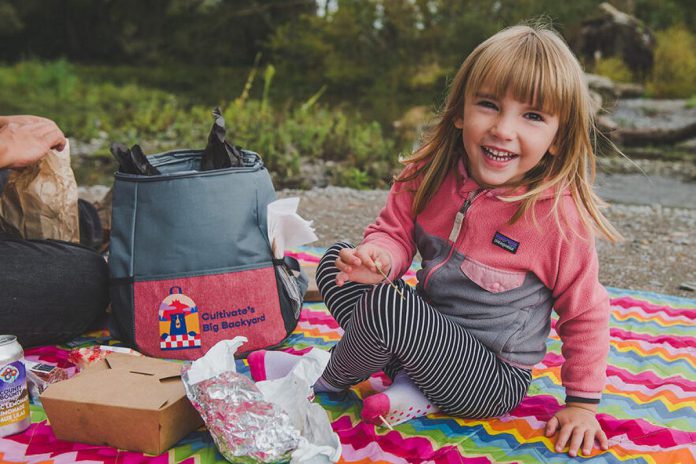 Cultivate in Port Hope has recently debuted a new self-guided food tour. "Cultivate's Big Backyard" sends participants on the road with a backpack loaded with local food and beverage gift certificates.
Cultivate festival director Jeff Bray curated the destinations on the tour, which features a variety of food and beverage stops in Northumberland County. There are two backpack options to choose from.
"A Walkable Port Hope" includes gift certificates to foodie destinations in the town of Port Hope. Participants will visit Happenstance Coffee Pub, Suntree Marketplace, Food Inspired, Olympus Burger, and Ganaraska Brewing Company.
"The Scenic Route" tours top food destinations between Port Hope and Grafton, and is a great opportunity for a cycling tour or a scenic drive. Tour partners include Haute Goat, Happenstance Bakery and Coffee Roastery, Ganaraska Brewing Company, Betty's Pies and Tarts, The Mill Restaurant and Pub, Market & Smør, and The Lass & Ladle.
Each tour also includes a Cultivate scavenger hunt and colouring pages, a free pass to The Mill's Hot Chocolate Hike, and a locally made hand sanitizer.
Tours are available until November 21st. You can learn more and book your backpack at cultivatefestival.ca/big-backyard/.
Advertisement - story continues below
Successful first season for The Little Frozen Yogurt Company in Douro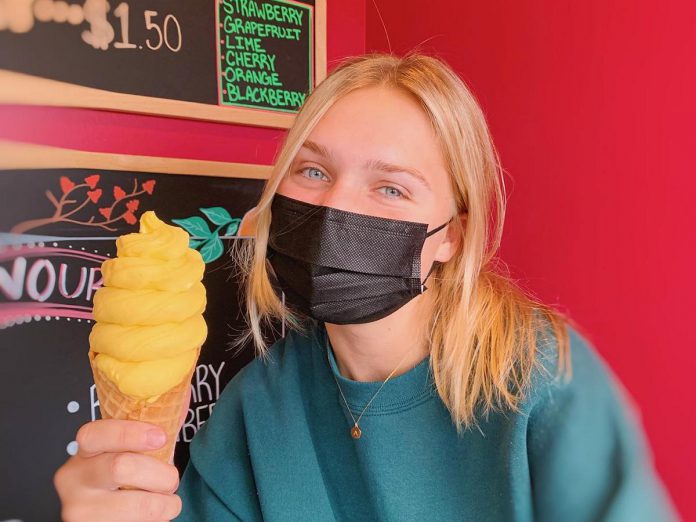 With real frozen fruit, vanilla frozen yogurt pucks, and a solid grasp of the magic of rainbow sprinkles, The Little Frozen Yogurt Company (17 Indacom Dr., Lakefield) has become a delicious and refreshing addition to Douro's growing food scene.
Operator A.J. Sansbury opened the business at the corner of Highway 28 and County Road 4 this past May. Working as a bookkeeper at her husband's business, the Little Building Company, she was inspired by the steady lines of customers visiting the Kawartha Buttertart Factory.
"Last summer we would sit in the office building that faces the parking lot of the Buttertart Factory and we would see the traffic and the line-ups and the wheels started turning about a business that could tap into that customer base but not compete with the Buttertart Factory."
The idea to do frozen yogurt came from one of A.J.'s childhood memories.
"I used to go to a frozen yogurt shop as a kid in north Toronto that had the same type of yogurt and the same type of machine," she recalls. "So really this business was born out of nostalgia."
A.J. has noticed that this froyo nostalgia is a shared experience with many of her customers.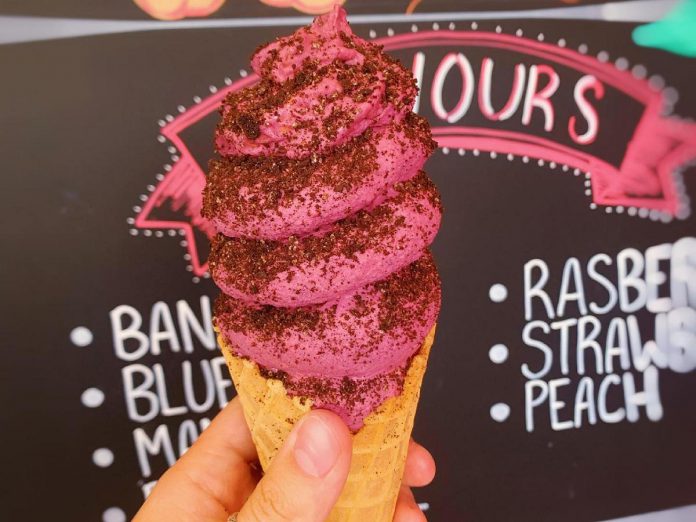 "Since opening, I have met so many people who tell me about the places they used to get the same kind of yogurt: Hamblin's and Maple's Corners to name a few. Our customers have been experiencing their own nostalgia as well. I love that."
The Little Frozen Yogurt Company is now closed for the season. Watch for them to reopen in April or May of 2022.
"The first season was a great success," A.J. says. "People loved the product and we had some amazing regulars who really supported us."
Burns Bulk Food's bark kits offer family-friendly candy fun in Lindsay
Looking for an easy and tasty activity to get into the Halloween spirit? Burns Bulk Food (118 Kent St. W., Lindsay, 705-324-8501) is offering Halloween-themed candy bark kits.
Trick-or-treat bark kits contain everything you need to make candy bark at home: white chocolate, a variety of Halloween candies, and even orange-filled Oreos.
Burns Bulk Food offers a variety of seasonal bark kits. According to co-manager Reese Burns, his mother Megan Burns is the creative brains behind the operation.
"It's my mom who comes up with all the different bark kits. She's got the creative gene in the family."
Advertisement - story continues below
He says that they first started offering bark kits early in 2020, at the start of the pandemic.
"With business slowing down because of all the confusion and lockdowns, we wanted to do something fun and unique to keep people coming in," he explains. "And with kids stuck at home, we figured a fun family recipe kit would be perfect."
They now offer bark kits for every holiday.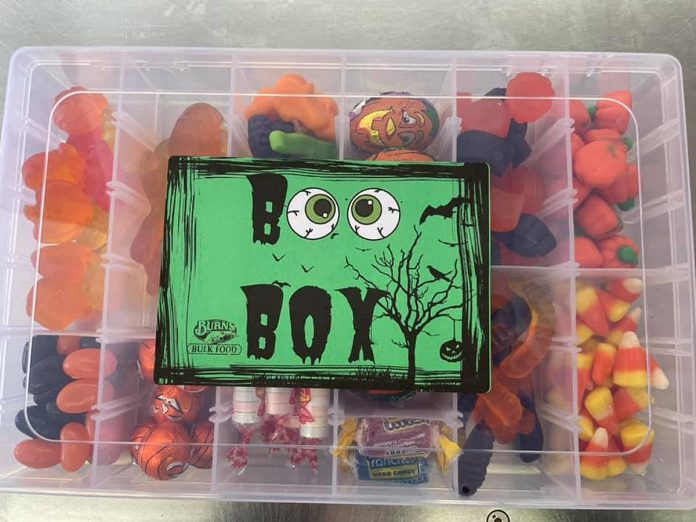 Not in the mood for a project? You can also grab a Boo Box: a fun seasonal candy tray of Halloween treats. Reese says that they have been very popular.
"The response has been fantastic. Kids love them and parents love how easy they are."
For more information on Burns Bulk Food, visit facebook.com/burnsbulkfood
Porch Pirates for Good set sail to collect 50,000 pounds of food for Kawartha Food Share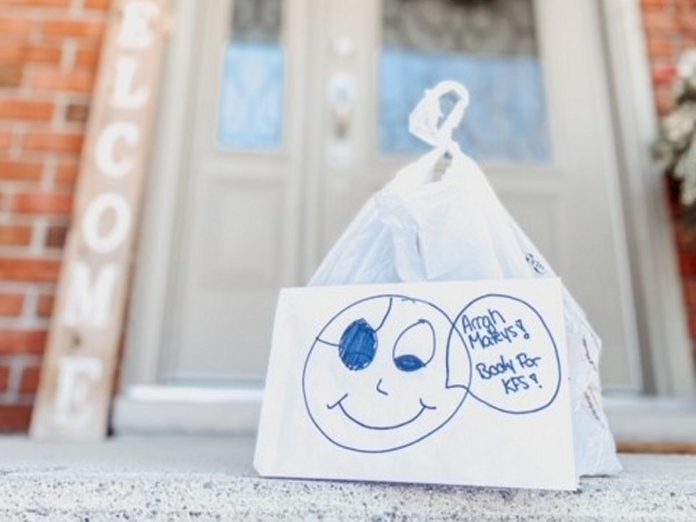 Avast ye hearties! If you live in the city of Peterborough, donating food to the Kawartha Food Share (665 Neal Dr, Peterborough, 705-745-5377) has never been easier. The Porch Pirates for Good are back, collecting non-perishable food from porches across the city for the Trick or Eat Community Challenge.
To participate, simply leave your donations out on your front porch by 9 a.m. on Saturday, October 30th and a crew of volunteers will pick them up.
Businesses can also participate by arranging a pickup time with the Kawartha Food Share. Business collection will take place on Friday, October 29th.
Advertisement - story continues below
Kawartha Food Share general manager Ashlee Aitken says that large-scale food drives like this one are key to ensuring food security for many in the city.
"Each year we purchase between $100,000 to $200,000 worth of food," Ashlee says. "However, we feed over 9,000 clients a month and we really need the support from our community to help supplement the things that we're not buying. We rely on our community tremendously and they always show up for us."
This past spring, the Porch Pirates for Good food drive collected over 50,000 pounds of food for Kawartha Food Share, and they are aiming to raise that amount again this fall.
That quantity of food will make a huge difference for food bank users, according to Ashelee.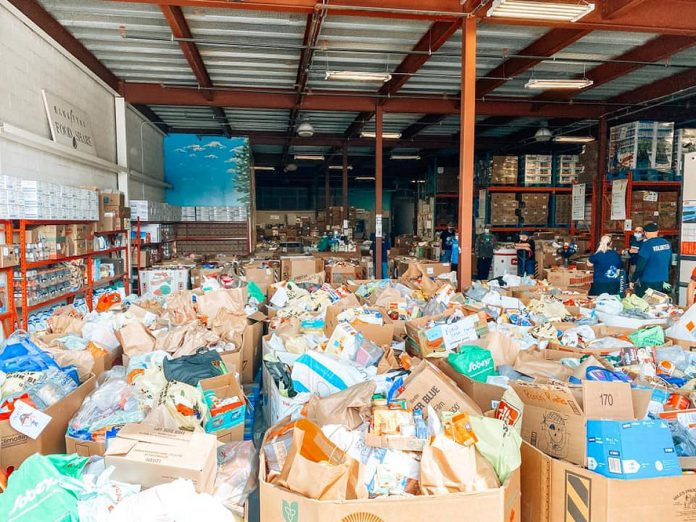 "This would ensure that our food banks and our meal programs and our shelters were supplied with an adequate amount of food until the holiday season," she explains. "That's our hope, anyway. We've seen our numbers fluctuate at our agencies over the last year and a half throughout the pandemic and we just want to ensure that as we're seeing more faces use our services that we have enough food to provide for them and their families."
While all donations are welcomed and used, the Kawartha Food Share is in particular need of high-protein items that don't require a full kitchen setup to prepare, such as peanut butter, tuna, and canned soup. They are also looking for individually wrapped kids snacks such as apple sauce, nut-free granola bars, and dried fruit snacks for school breakfast programs.
"A lot of our student nutrition programs are not able to run as they once did, which was to serve breakfast," Ashlee notes. "So we want to make sure that we have enough of these snacks to provide for the 17,000 kids that use those programs every day."