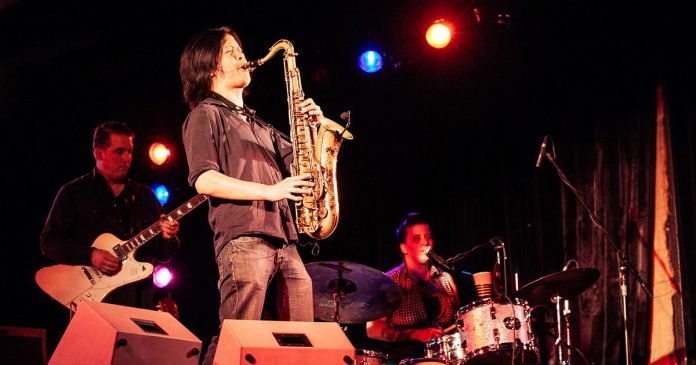 Peterborough's music community is mourning the loss of not only an incredibly gifted musician, but also a "beautiful, beautiful person."
Jonathan "Jonny" Wong died on Friday (October 15) at Toronto's Princess Margaret Hospital following a battle with leukemia. The Oshawa-born multi-awarded saxophonist was just 36 years old.
Wong's passing has brought forth a flood of condolences and remembrances on Facebook from many who shared a stage with him, across Canada and in Peterborough, including a particularly touching reflection from guitarist Emily Burgess, who performed with Wong as a member of The 24th Street Wailers.
Advertisement - story continues below
"Everybody loved him," writes Burgess, lead singer and guitarist of The Emily Burgess Band, and a member of The Weber Brothers Band.
"You never knew what kind of crazy shit he was going to do on stage, and he had no fear when it came to that. There was not a table too unsteady for Jonny to stand on while wailing on his horn. Sometimes I just had to look away and hope for the best."
"He was the ideal band mate — crazily talented but equally as humble, and a real genuine friend. He was so damn funny. He really cared about people and he always made friends so quickly and easily wherever we went."
"He made his mark in this world, and the outpouring of love and support for him at this time is a clear indication of the many lives he touched," Burgess adds.
The 24th Street Wailers — Lindsay Beaver, Michael Archer and Jesse Whitely were also in the mix — toured festivals and clubs across North America. In 2012, the band received New Artist of the Year honours from the Toronto Blues Society, and subsequently recorded and released five CDs over the next five years, including the Juno Award-nominated album "Wicked" in 2015.
But it was the band's live shows — electrified by Wong's superb saxophone playing and high-energy on- and off-stage presence — that brought it a legion of fans. Wong was individually recognized with four horn player of the year awards (2012, 2013, 2015, and 2017) from the Toronto Blues Society.
Advertisement - story continues below
"Kind and considerate and polite — a joy to be around," says blues singer Jane Archer, one of a number of Peterborough-area singers and musicians who welcomed Wong onto the stage over the years.
"To be on stage with him was something special. He had so much energy and joy. It was just wonderful to behold. He was so great when he soloed but you never had the impression he was hogging the limelight or showing off."
According to Archer, her boys Liam and Michael were taking music at Humber College where they first met Wong. It was there that Burgess, Whiteley, and Beaver also came into the same social circle.
VIDEO: The 24th Street Wailers perform at Lighthouse Blues Festival 2015

"Liam told me that Jonny was one of the first people to ask him to jam at Humber," says Archer. "They became good friends and before long they were all sharing an apartment."
Archer says the first time she performed with Wong was in 2011 at the Frankford Island Blues Festival.
"The Wailers were on the bill as was Balls and Jane (Archer's band) and we got him up to do a song with us. His walk-arounds were amazing. I have some video of him when they played the Holiday Inn (in Peterborough). He wandered through the audience, blowing his horn in people's faces. Whenever I watch any video of him performing, his joy comes through very clearly."
Advertisement - story continues below
After years of pursuing his musical ambitions, Wong changed course, launching a career in computer coding and web development. Recruited by Toronto-based Apply Digital, he worked his way up to a senior developer position and was thriving in that role until ill health forced him to step back this past May.
Visitation for Wong is Saturday, October 23rd from 8:30 to 10:30 a.m. at the Mount Pleasant Cemetery, Cremation and Funeral Centre at 375 Mount Pleasant Road in Toronto, immediately followed by an invitation-only service in the Mount Pleasant chapel.
To view the service, others are invited to visit Wong's memorial web page at at 10:15 a.m. and click on the View Live Stream link.
Here are a few of the many tributes to Jonny Wong on Facebook:
I was shocked and saddened on Saturday when Clay phoned to let me know that his friend, Jonny Wong, had lost his battle…

Posted by Jim Yates on Monday, October 18, 2021
I just read that Jonny Wong died. I cannot even grasp this. What a great guy and fabulous musician. RIP my friend. You will be missed.

Posted by Kim Doolittle on Monday, October 18, 2021
A few shots of Jonny Wong over the years. What an entertainer. I always knew it would be a fab show when Jon was there. Rest well.

Posted by Nick Harding on Monday, October 18, 2021
Saddened to hear about the passing of Jonny Wong.
A brilliant musician and a good man, Jonny was always a pleasure to play music with whenever I had the chance. Rest In Peace!

Posted by Sean Conway on Monday, October 18, 2021