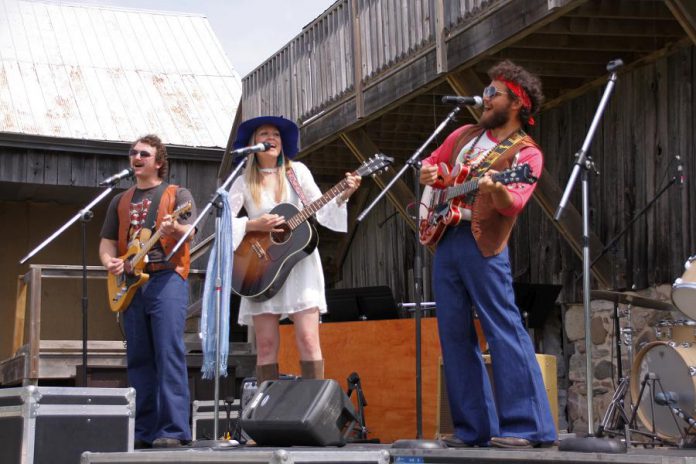 4th Line Theatre has released a digital cast recording, along with a "making of" short documentary, of the eight original songs from its 2019 hit production of Beau Dixon's Bloom: A Rock 'n' Roll Fable.
The songs, written by Dixon and David Tough, were performed during the sold-out production — one of the most successful shows ever at the Winslow Farm in Millbrook.
"We had so many people ask to hear more of the music," explains Kim Blackwell, managing artistic director of 4th Line Theatre, in a media release. "Now we have fulfilled that request, with this recording of all of the songs from the show."
Advertisement - story continues below
The songs can be streamed for free now at Beau Dixon's Bandcamp page at beaudixon.bandcamp.com/album/bloom-a-rock-n-roll-fable. An option to purchase individual songs or the entire digital album is also available.
All eight songs will also be available on Spotify and iTunes in December.
Bloom: A Rock 'n' Roll Fable followed the lives of two small-town best friends Neph Burstill and Eli Tanner (Owen Stahn and Griffin Clark) from Assumption, Ontario, who share a lifelong love affair with rock 'n' roll music and eventually form a band called The Spruce Street Ramblers with singer-songwriter Tess Wilson (Kate Suhr).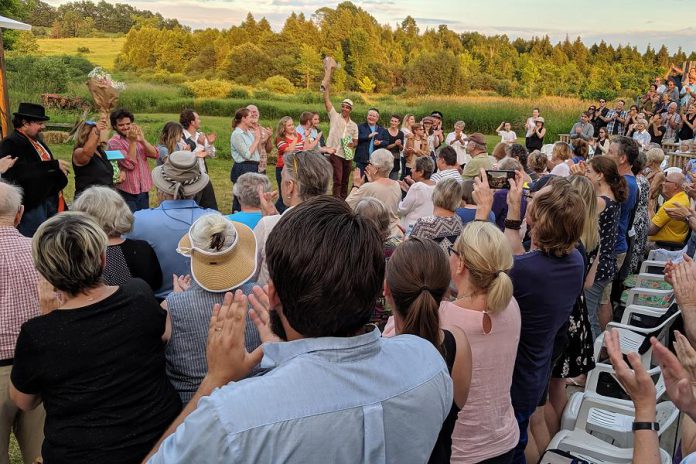 "The recordings on this album are about a time and place in Canadian rock 'n' roll history," says Dixon, who produced the album. "The songs also chronicle my own career as a touring musician and songwriter."
The eight original songs, performed in their entirety, included in the cast recording are:
Flower Man (David Tough)
Groovy Day (Beau Dixon)
Your Love Will Carry Me (Beau Dixon)
The Otonabee Rambler (Beau Dixon)
Blue Jean Heather (Beau Dixon)
Watch Your Step (Beau Dixon / David Tough)
Hangin' On (Beau Dixon / David Tough)
Royal Tavern (David Tough)
Advertisement - story continues below
The cast recording features several performers who appeared in the original production, including Griffin Clark, Justin Hiscox, Mark Hiscox, Jack Nicholsen, Sebastian Sage, Shelley Simester, Owen Stahn, and Kate Suhr, as well as Dixon and musicians Steáfán Hannigan, James McKenty, and Saskia Tomkins.
Musical direction was by Justin Hiscox and the songs were engineered and mixed by James McKenty, with additional engineering by Lil Thomas at The Sonic Temple in Halifax, Tim Foy at The Nelson Room in Toronto, and Steáfán Hannigan at Oisin Studio in Baltimore.
4th Line Theatre has also released a short documentary, directed and edited by Peterborough filmmaker Michael Hurcomb, about the making of the cast recording.
The 12-minute video features segments of the songs recorded in the Erica Cherney Theatre at Showplace Performance Centre, Gores Landing Community Hall, and James McKenty's recording studio, along with highlights of the recording process.
VIDEO: The Making of the Cast Recording of "Bloom: A Rock 'n' Roll Fable"

The cast recording project was funded through the Ontario Trillium Foundation's Resilient Communities Fund, the Government of Ontario's Reconnect Festival and Event Program, and the Peterborough Arts Alive Fund administered by the Community Foundation of Greater Peterborough, with sponsorship from Exit Realty Liftlock and the Pyle Group Wealth Management, CIBC Wood Gundy.