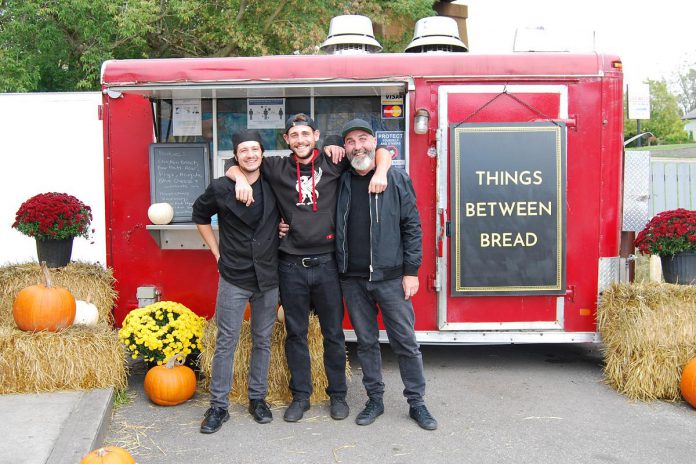 Located on the south side of Port Hope's Olympus Burger, an exciting new sandwich shop called Things Between Bread has popped up.
Co-owner Shayne Traviss is a multi-talented entrepreneur and author who had relocated to Port Hope from Whitby with his spouse Timm David prior to the pandemic. The couple brought their business Timm David Shampoo Company with them, and had been open for a few months before shutting down to abide by provincial lockdown rules.
During this time Shayne met Rikki Mckenzie and Eric Ashley-Harris, and their idea to open a sandwich shop was born.
Advertisement - story continues below
"We became good friends, our own little Covid pod," recalls Shayne. "We got to know each other well. Eric has always wanted to open a European deli and Rikki has always wanted to own his own business. We decided to do something together and started discussing ideas."
While there are lots of restaurants in Port Hope offering hot meals, the trio realized there aren't many lunch spots in the area outside of the big franchises. The next step was to find a location — not an easy task with very few commercial vacancies in downtown Port Hope during the summer.
To get things started, Shayne approached his friend, Olympus Burger owner Giorgos Kallonakis, and asked him if he knew of any available spaces to lease. Giorgos had purchased a food truck and, since he didn't have any plans to use it until the following year, he offered to rent it to the trio.
"When Giorgos said I could use his food truck, the three of us decided to move forward," Shayne says. "It's given us an opportunity to create something incredible and sustainable for ourselves, while offering something of value to our community. We were supposed to open in August, but we're glad we opened late and missed some of the hotter days. Our next challenge will be what to do with the cold weather coming, so we are still looking for a winter location."
Having Shayne, Rikki, and Eric rent his food truck has also benefited Giorgos, since the trio had to navigate the challenges of health, safety, and fire requirements, which are more difficult to meet inside of a small space like a food truck.
"It was nice to have someone else going through all of the steps to get the truck up and running with me," Giorgos says. "Before the guys could open, we had a few small things to do to make it fully operational for their needs. Fortunately, it wasn't anything major. It's been great having them here and it's generated some excitement for this corner of the property."
Advertisement - story continues below
To create seating for the food truck diners, Giorgos upcycled old pallets to build a unique outdoor dining area.
"It was something I saw in Greece," Giorgos explains. "A friend opened a little cafe by the ocean and upcycling is a bit of a trend right now. Back in June and July we were closed, and I wanted to make some enhancements to the under-utilized side of my property. We added a mural and seating to uplift the south-facing side of the restaurant."
The mural was painted by Toronto-based artist Sadar (Blaze Wiradharm) who specializes in large-scale graffiti art projects. His work can be found on Instagram @blazeworks.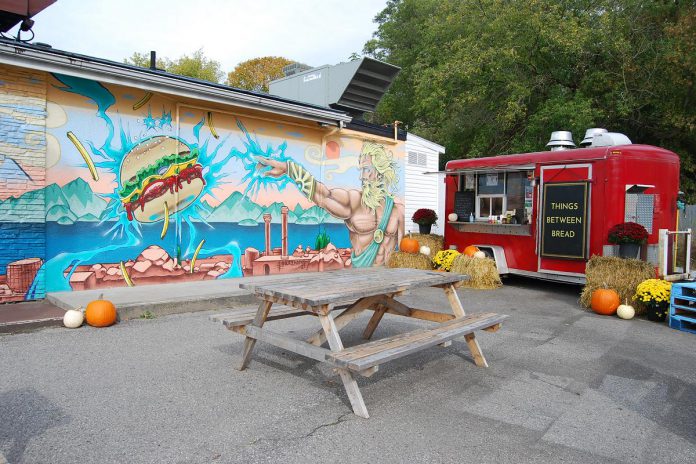 Shayne credits the success so far of Things Between Bread to a very supportive community, as well as Eric's attention to detail, Rikki's rapport with customers, and his own marketing chops.
"We've all had a hand in our branding and menu design," Shayne says. "We developed our menu items together and each contributed a favourite sandwich."
Shayne says that they've chosen partners like Spade and Spoon for their pickles and spreads because they are a local Northumberland business.
Advertisement - story continues below
"We wanted to add chips to our menu, so we've gone with Ray Woodey's Craft Chippery out of Waterloo, Ontario," adds Shayne. "We didn't want to sell Miss Vickie's made by Pepsi — we wanted to sell something made here in Ontario in smaller batches."
Things Between Bread also sells Number E Sparkling Teas (made in Prince Edward County) and hot coffee brewed at Port Hope's Happenstance Coffee Pub. A pop-up donut maker supplies them with sourdough donuts on the weekend and they feature baked goods from other local vendors on weekends as well.
"Supporting local has always been important to me," says Shayne. "I want to get as many fresh local ingredients as we need, but it will become difficult to find local produce as winter sets in."
Standard menu options include a handful of unique sandwiches. The Chicken with Curry Mayo, Shayne's menu contribution, includes sliced bartlett pear, arugula, and Spade & Spoon pear ginger jam on Happenstance quinoa sourdough bread.
Eric's choice is the capocollo sandwich, which features fresh tomato, arugula, white balsamic vinegar, and olive oil on Happenstance rosemary, cracked pepper, and maldon salt sourdough bread.
Rikki favours the tuna with honey crisp apple, celery, lemon, and basil on Happenstance quinoa sourdough bread.
"The tuna sandwich — it's like my childhood, it's so good," Rikki says.
Advertisement - story continues below
In addition to weekly features, their menu also includes an avocado with boursin sandwich and a Montreal smoked meat sandwich with meat directly from Montreal, cut to order.
Every time Eric finishes making a sandwich, he says it brings him a little bit of joy to admire its final presentation before wrapping it to go.
"I think the fuel or lifeblood that powers what we do is heart and personality," Eric explains. "When I prepare a sandwich it's not just a process, it's attention to small details — how a tomato is sliced adds character. We've designed a simple, fresh menu that isn't complex, but has a degree of complexity without being over the top. It's about letting the food speak for itself and pairing natural flavours well."
Shayne believes nurturing the strengths you have leads to success, purpose, and a joyful life.
"When you own your own business, you check your ego and do whatever the business needs," he says. "You adapt when you need to. When parameters change, I come up with a new plan. We are multifaceted human beings who can do all of the things we want to do and not be defined by any one of them. This is my life, these are the things that I do. I love it and I enjoy it. For me it's not about making money, it's about making a difference and a quality product while enjoying myself."
Rikki moved to Canada with his family at age 13, and Shayne jokes that his British accent charms every food truck guest greeted at their counter.
"It's weird doing it for yourself, but it's a good weird," Rikki says. "I've been in the service industry for a long time and it's a huge difference when it's your own business — and it's also a lot more fun."
Ultimately, Shayne, Rikki, and Eric want to open an old-fashioned boutique market store full of locally sourced food, where you can also get a fresh made-to-order sandwich.
Rikki and Shayne are also launching second new venture in Port Hope. Sip Mix Social will feature local pop-up events and cocktail service, drawing on Rikki's background as a bartender and Shayne's marketing savvy. They've already scheduled their first event, a holiday celebration featuring live jazz and a DJ on December 11 at The Port Event Space in downtown Port Hope. You can follow @sipmixsocial on Instagram for updates.
"I always say there is a trio for success," says Shayne, who has decades of experience working in business development, marketing, and promotions. "First, have a good name and second, a good product. When you've got those two, word of mouth will come in as the third element — and creating a buzz is something I'm an expert at."
When it comes to competition, Shayne says there is always room for more businesses if they are being true to themselves and create a high-quality product while doing what they love to serve the public.
"We're right next to a hugely successful restaurant that has perfected what they do best," Shayne points out. "If we perfect what we do, people will want to try our food. Authenticity is key."
Shayne believes his partnership with Rikki and Eric is an important ingredient of the recipe for Things Between Bread's success.
"We're all a little eccentric, but I think it's the perfect partnership and we're the perfect trio," he says. "We each have uniquely different skills, but together it happens to be all of the skills that we need to do this well. It's like how you need more than just the bread to make a great sandwich — you need the right things between the bread. We're the right things between bread."
Things Between Bread is located at 55 Mill Street South in Port Hope, in the Olympus Burger parking lot. You can follow them on Instagram and Facebook.