The Capitol Theatre in Port Hope has announced its 2022 season, the first under the leadership of the non-profit organization's new artistic producer Rob Kempson.
Kempson, who was appointed to the position in August, may be considered a newcomer to the area, but he is not new to the world of theatre — in fact, it's his area of expertise.
"I have never felt more connected to and supported by a community," Kempson said during a meet-and-greet session following the season announcement on Tuesday (November 16). "The community spirit here is so clear. The investment and reciprocal relationship between the community and this organization is also clear."
Advertisement - content continues below
"This building is incredible, the volunteer team is incredible, the staff is small but mighty and incredible, and we have a lot of potential," Kempson added. "It's exciting to be joining an organization where there is potential to grow and change and move things forward, and there is the appetite for that at all levels."
To celebrate its 25th anniversary of the Festival of Lights and Trees this year, theatre staff have put a lot of work into creating a pandemic-safe environment for audiences. Managing director Erin Peirce and her team have taken every precaution to protect theatregoers, staff, and visitors.
But Kempson said the effort to welcome back audiences goes far beyond plexiglass barriers and wearing masks.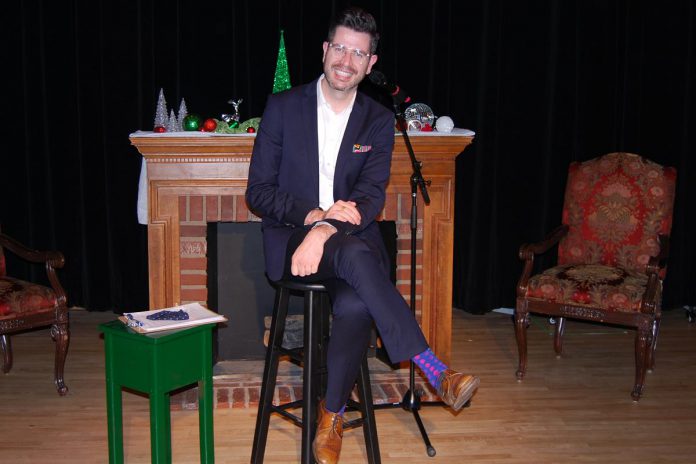 "I have programmed with artistic excellence in mind, because ultimately — if you're going to drive somewhere, park your car, pay for parking, and spend two hours sitting in a theatre wearing a mask — we need to hold up our end," he explained. "We need to give our audiences quality entertainment."
"That doesn't mean that the work on stage is going to be to everyone's tastes, but it will be of an undeniably high quality. Our community is changing constantly, and I want our stage to reflect that too."
According to Kempson, his approach to programming reflects community, diversity, and inclusion, and he has a few core principles in mind, including achieving balance and consulting with the community.
Advertisement - content continues below
Balance means holding onto the theatre's legacy, heritage, and history while moving forward to create a season with a little something for everyone. He said he wants the work on the Capitol stage to celebrate Northumberland County and the Port Hope community.
"This place should be a hub for the community," he said. "Everyone should feel welcome here at the Capitol, especially those who have traditionally felt marginalized. It is my job to make sure our community feels welcome here, and it starts with the programming. When there's something for everyone, it means that there's diversity in the programming, ensuring that everyone has access and is interested in what's going on."
Since he has been working at the theatre, Kempson said he has already spoken with many community members including the local arts organization, Critical Mass, the Northumberland Orchestra, and Alderville First Nation. He said he's committed to engaging with community organizations to find opportunities for partnerships.
"I think that there's a lot of opportunity for inclusion and access — making sure that traditionally marginalized groups feel increasingly welcome here by programming work that reflects the needs of those communities. We're engaging with amazing arts and cultural organizations and individuals."
VIDEO: "Welcome Back" to the Capitol Theatre in Port Hope by Rob Kempson
The 2022 season will begin in March with the "mind-blowing multimedia masterpiece" Boom, written, directed, and performed by Rick Miller. The production was originally scheduled during the 2020 season and was postponed because of the pandemic (ticket holders are scheduled to be contacted).
The summer season will kick off in June with A Closer Walk with Patsy Cline, Dean Reagan's tribute to the iconic country legend. In July, Mark Crawford's "high-flying farce" Stag & Doe will take the stage. in August and early September, the Capitol will present 9 to 5 The Musical, based on the 1980 hit film with music and lyrics by Dolly Parton and book by Patricia Resnick.
An experienced director, Kempson will be directing this production himself. He sees his directorial debut at the Capitol as the perfect opportunity to show the community who he is as an artist and as a person.
"I love Dolly Parton," Kempson said. "She has a miraculous ability to reach across barriers, across political divides, and generational divides. The thing that I like most about theatre is that it brings people who are different into the same room together."
Advertisement - content continues below
Ideally, moving forward, Kempson said he won't be directing very much. He is looking forward to many future collaborative productions with artists from across the country.
In addition to its main theatrical shows, the Capital has created four entertainment categories for additional programs within the 2022 season.
Capitol Kitchen Party will feature live bluegrass, country, Celtic and roots music in the Sculthorpe Theatre, while Capitol Concerts will be held in the Festival Theatre downstairs. Capitol Cabaret will feature intimate musical performances from "stages across the country". Capitol On Screen will include TIFF films throughout the year, as well as on-screen performances of the MetOpera Live. The Capitol also hopes to bring back broadcasts of National Theatre Live.
To give back to loyal patrons of the Capitol, the theatre has launched subscriptions for its 2022 summer season. Patrons can purchase tickets to all three summer shows and receive the perks of advance seating selection and special discounts for other Capitol events. Subscriptions are now on sale, with single tickets for the 2022 summer season available in January.
The Capitol's 2022 season will conclude with the holiday panto Sleeping Beauty: A Panto Awakening, written by husband-and-wife team (and Second City alumni) Paloma Nuñez and Kevin Whalen. Kempson said that, while the show will poke fun at cancel culture, performative politics, and our divisive society, it will not include any jokes that would jeopardize a safe and inclusive space for marginalized groups.
"I'm not going to put anything on the stage that's homophobic, racist, or sexist," he affirmed. "It's just not going to happen."
Advertisement - content continues below
With Kempson's background as a theatre artist and educator, youth access to theatre is something that is important to him. He said he's optimistic that school audiences will be able to return the Capitol in time for 2022 panto.
"I've spent a lot of my life teaching," he said. "I've developed college and high school programs. I've worked for Young People's Theatre as a resident artist and educator. It's a big part of who I am."
For this holiday season, the Capitol is changing things with an improv show instead of a panto. Miracle on Queen Street, running from November 30 to December 23, will showcase the improv chops of six talented Canadian performers.
The Capitol Theatre's managing director Erin Pierce said the show will deliver "the same energy, laughs, and holiday cheer" as a traditional panto and, like a panto, will include both family-oriented and "naughty" performances.
"This show offers the chance for audiences to come back again and again," she said. "They'll never see the same thing twice."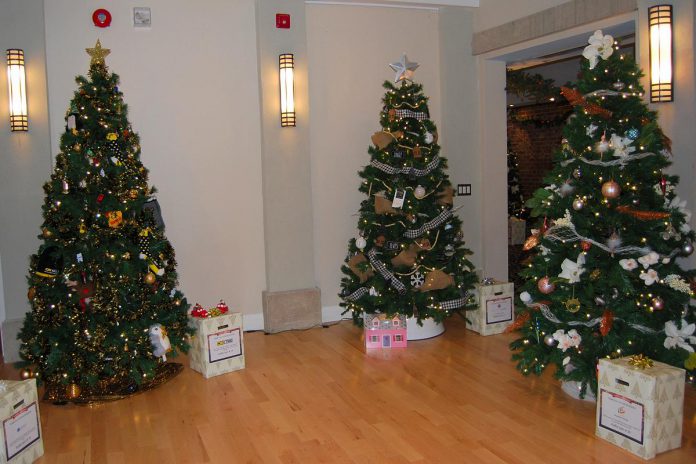 Kempson added it's a "pandemic silver lining" the theatre can bring together six of Canada's best improvisers for the show.
"I cannot believe that these people are available to deliver amazing comedy for our audiences every night," he said. "It's musical, it's hilarious, and it has the same kind of great panto energy of a larger production — and it's something we can safely produce during the middle of a pandemic."
The Capitol Theatre is also hosting its annual Festival of Lights & Trees, which is celebrating its 25th anniversary this year. The annual fundraiser for the theatre, which is on now and runs until December 16 (with the raffle draw on December 17), features a COVID-safe one-way tour experience to allow for physically distanced viewing of the trees in the theatre, as well as a virtual slideshow for those who prefer to stay home.
For more information about the 2022 season and to purchase season subscriptions, visit capitoltheatre.com/subscriptions/.