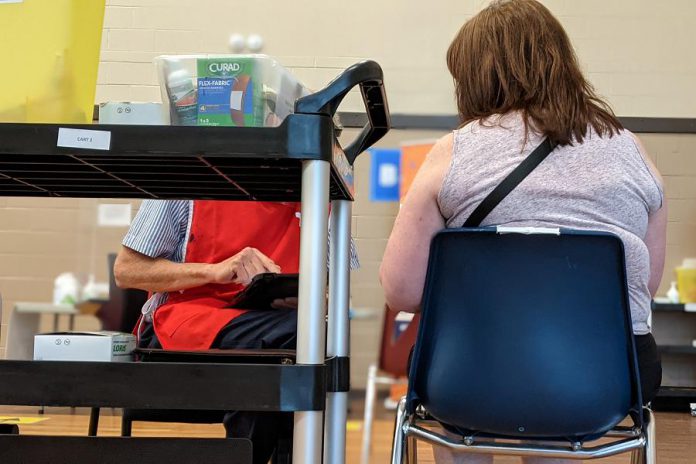 Peterborough's medical officer of health pulled no punches during a Peterborough Public Health media briefing held Thursday (December 16), warning that pandemic fatigue will lead to an unprecedented rise of COVID-19 cases over the coming weeks.
During a Peterborough Public Health media briefing on Thursday afternoon, a visibly emotional Dr. Thomas Piggott acknowledged that "people are tired of COVID" but warned that "this complacency, this fatigue, is coming at exactly at the wrong time."
"It's coming when we need people to be the most careful at the darkest moment of the pandemic to date," said Dr. Piggott. "With no additional measures, we are about to see exponential growth in this province of omicron cases. With no additional measures, we will see up to 10,000 cases a day in Ontario by the end of the month, which may translate to hundreds of cases in our region."
Advertisement - story continues below
"We know the measures and we know what to do, but the pieces that we can control at Peterborough Public Health are only so much," he said. "The decisions that people will make coming into the holidays are really what will impact our trajectory over the next couple of months."
"I am worried, and it takes a lot to worry me. I've worked in a conflict zone, I've worked in an emergency department, but I have not been as worried as I am right now with the omicron wave of COVID approaching. I'm concerned that people aren't nearly concerned enough, and I'm concerned what that will mean for our community."
An update on COVID-19 modelling projections issued Thursday morning by Ontario's COVID-19 science advisory table backs up Dr. Piggott's concern.
According to that update, omicron has overtaken delta as the dominant variant in the province. As well, despite what has been widely reported to the contrary, there is evidence that the omicron variant can indeed produce severe disease, prompting a warning that Ontario hospital ICU occupancy could reach "unsustainable" levels by early January.
With vaccines less effective again omicron, the focus is now on increasing the availability of booster shots for those who are eligible in combination with stronger public health measures.
Dr. Piggott reported that there are now four cases of the omicron variant in the region among the current 59 active cases — two first reported Tuesday and another two reported yesterday (Wednesday). To date this week, since Monday morning, 23 new local cases have been detected locally. Meanwhile, the number of local COVID-related deaths reported remains at 27.
There are currently active outbreaks at St. Catherine Catholic Elementary School on Glenforest Boulevard in Peterborough and at Millbrook/South Cavan Public School, while a third outbreak is associated with STC school bus route 627.
Advertisement - story continues below
"The most important thing that we can keep doing is vaccination — you need a third dose to now consider yourself protected," said Dr. Piggott. "We have been scaling up our efforts, and diverting all our attention and resources, to vaccinating. Because we know, with what is coming, booster vaccinations will save lives. We have stopped nearly everything that we can in order to divert resources into this."
Dr. Piggott said that effort has resulted in a six-fold increase in the number of clinic vaccination appointments that will be available next week. With the interval between the second and third shot now decreased to three months from six, it's anticipated that appointments will be booked much quicker now.
"If you are able to get your third dose booster, I implore you — get it as soon as you can," said Dr. Piggott. "I want the public to understand that this is a three-dose vaccine. You should not consider yourself fully protected with two doses."
That said, Dr. Piggott emphasized vaccination alone isn't the answer in itself, advising that other public health measures — proper masking, physical distancing, testing, and staying home from work if ill among them — must be continued with a new purpose.
The overall vaccination picture again shows modest increases across the board.
As of late Wednesday afternoon, 83.7 per cent of eligible residents aged five and up have received one dose while 79.3 per cent have received two doses and 11.3 per cent have received a third booster shot.
Meanwhile, first dose vaccination of local children aged five to 11 has seen a huge uptake this week, now at 29.5 per cent. With no walk-ins being taken, parents and guardians must book a vaccination appointment. Visit www.peterboroughpublichealth.ca/clinics for a listing of locations and times of clinics.
To date, 11.3 per cent of eligible local residents have received a third booster shot. Those seeking a third shot can book an appointment online at covid19.ontariohealth.ca or by phone at 1-833-943-3900. Walk-ins will not be accommodated. Some local pharmacies are also offering booster shots.
Advertisement - story continues below
Starting Monday, all Ontarians aged 18 and over can schedule their booster dose appointment, three months after their second dose. Those aged 50 and over who have already booked their booster dose for six months after their second dose can also rebook their appointments to the shortened three-month interval.
With the holiday season fast approaching, Dr. Piggott says the potential for a huge increase in cases is very real. That, he says, may result in more restrictive measures being put in place sooner than later.
"We're trying to be as minimally impactful on the economy and on society as much as possible while protecting the public," he said. "The areas where we're seeing the most transmission is in certainly public businesses and gathering sites, especially where people are eating and drinking and not wearing masks, as well as in private gatherings."
"There are parties and things happening where people are forgetting the reality of the situation," Dr. Piggott added. "We are actively looking at measures that could be put in place to provide the protection that we need."
Also participating in the briefing were Peterborough mayor Diane Therrien, county warden J. Murray Jones, and Selwyn mayor and Board of Health chair Andy Mitchell.